Small businesses spend time and money building websites and blogs to advertise. Why not also monetise that website or blog?
These are no quick fix 'make money fast' ideas, uncovered. Monetising a website does take dedication, but it is achievable.
Often people make money out of hobbies by supplying information online. They start for fun and expand into money-making websites. Depending on how you go about it, income could be earned whilst you sleep.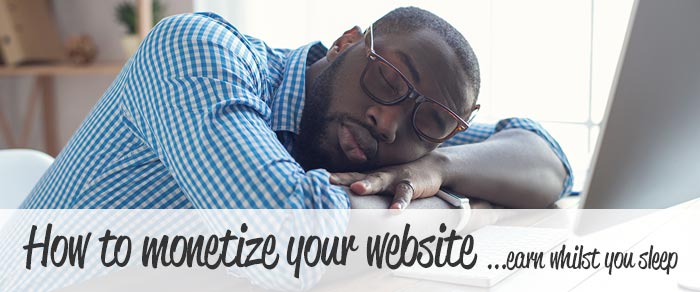 This post includes some ideas on where to start and how to earn money from a website, whether it is a small business product or service, or you would like to earn through advertising.
First, get the website into shape
To start with, you need a good website. It is not so hard to build your own website. The important thing to remember is that Google will not reward a SPAMMY looking website that has no content or structure.
Google penalises websites that are full of links, as this is the behaviour of SPAM websites. If you go for affiliate marketing make sure you build a good website first, that is full of good content.
SEO the website
Before trying any of the following ways to monetise a website, hard work should go into making the website interesting for the user and great for search engines.
If the site is not encouraging traffic there is not much point in trying to monetise it. Local advertisers will want proof of visits. Display advertising will not convert if there is no one visiting the site.
A website should be well structured, well written, have plenty of valuable content, easy to get around and be fast to download. Each page should be optimised for search engines.
When page rank is climbing and the site has a good following a website can be monetised.
Good page rank does not equate to the site ranking number one for every keyword on your list. Small business sites do much better when targeting long-tail key terms, which have a high search volume but low competition.
I recommend finding a niche and providing for that niche.
Do be aware that building a good website takes time and effort unless of course there are unlimited resources. Be prepared to work. It will be worth it.
Improve search engine visibility with a blog
Most small businesses 'get online' to sell a product or service. Getting online is easy, doing well is much harder.  Once a website is live it must be supported and analysed.
A blog is a fantastic tool, providing the support that a website needs. When the right key terms are targeted the right audience is captured. Blog useful tips and information around those key terms, and become an authoritative voice.
Being an expert within an industry will help to sell the product and get the site ranked well.
If you intend to monetise your website, consistently blog. Create great content for visitors. Analyse that content, and continuously make it better and better. Repeat!
How to rank higher on Google >
Use social media to spread the word
Use social media to spread the word and engage an audience. Google looks for signals from social media accounts to ensure a business is genuine. Natural retweets and shares that are earned go towards building a positive online presence.
It's easy for small businesses to lose energy, as instant benefits are not always apparent with social media.
Know that social signals are important, and will help to succeed in monetising a website.
Users are quick to leave a website, but activity on social media reminds followers about the business. If you strike often, you can strike at the right time.
E-newsletters to keep in touch
Cover every angle, as people use the net in different ways. As the website builds an audience, include an opt-in form to an e-newsletter.
To encourage sign-ups offer something for nothing. This could be access to a white paper, ebook, webinar or something else that your audience is looking for.
Regular newsletters to your list help to engage a community that have already shown interest in a product.
How to monetise a website
E-commerce website
Selling a product through an eCommerce website is a common way to earn money online.
If the business is not fully established, start with a small number of items. Test what works and what doesn't.
WordPress and WooCommerce are a great combination to set up an eCommerce website.
PayPal Payments Standard is a payment system that is really useful for startups.
PayPal does take a hefty commission, but the system is free to use, as opposed to paying for a gateway, at the outset. A payment gateway securely processes card transactions.
When the site is established then set up a payment gateway with a payment service provider, and pay a smaller commission.
Using both systems the company can take payments online as well as off-line.
Affiliate marketing
Affiliate marketing offers payment for promoting or endorsing a product. A special link to a product is added to a website or blog. Some PayPerClick, others offer a percentage of the sale.
The downside of the percentage of sale system is that small value products would need to pass on a lot of traffic to provide revenue. This is why it is important to encourage traffic suited to the site. Keep using that blog and social media to generate leads.
Using affiliate marketing important points to remember are:
Be sure the endorsed products are relevant to the website.
Content produced for a site, like blog text, should relate to the products that are endorsed. That way you will target the right audience, who will be more likely to click that affiliate link.
Be careful not to create a site that looks SPAMMY.
SPAM websites use black hat tactics to encourage better search results, such as using too many links on one page. Google soon realises that the site is invaluable, and will penalise the search position. So do not include too many endorsements on one page, and make sure your content is valuable. Google ignores too many links on a web page.
With such high numbers shopping online affiliate marketing is a good way to earn money whilst you are doing something else.
Amazon has a good affiliate programme. The 'Product Link' area lets you choose products, pages or searches that you can link to or embed.
CJ Affiliate is an international hook up company.
I really like Affilorama for help with affiliate marketing.
Display advertising
Display advertising shows itself in different forms, like banners on a website or adverts within a sidebar. Display advertising could consist of video, animations, text or static images. Usually, display adverts are obviously advertisements.
ClickZ's guide to display advertising
Google AdSense
AdSense is Google's advertising placement service. Advert topics can be selected using keywords so that they are relevant to the site.
Google provides the ability to choose the type of advert displayed on the site – plain text, links, text & links, images, video.
Use the embed code to add them to your website or blog. The adverts can be customised to fit in with your website colours, and the space it is going to fit.
Google delivers the ads to your site, depending on the highest bidder on their network, for those keywords. If you do not like an advert, it can be blocked. Your percentage is earned when someone clicks the link on your website.
Monetize YouTube videos
Google AdSense can also be used on YouTube, which, since 2006, is now one of Google's subsidiaries. YouTube is one of the biggest, most used search engines. Billions of videos are watched each day.
Created a YouTube channel for your business, and approve the channel for AdSense once you accumulate views. You can earn from adverts that are shown on your channel, or on your own website.
Ads are placed on or around videos, and YouTube pays according to how many times the advert is viewed. The rate is something like £1 every 1000 views (don't quote me on that), so keep up the hard work!
Even if you are not earning money from YouTube AdSense, YouTube videos embedded in blog posts tend to encourage higher page rank.
Amazon Affiliates
Amazon display ads are also accessed via Amazon Affiliates. These are PayPerClick adverts, in which you choose the type of advert to display on your website.
You can be really specific and choose what to display. You can display single products, whole product pages, product categories or a relevant product search.
Or leave it to Amazon, with their contextual links.
Native advertising
Native advertising is a lot more subtle than display advertising. Native advertising can be advertorials or sponsored content. Native advertising is usually disguised within the website but is paid for by an advertiser, or sponsor.
Native adverts are subtle with a call to action, but are not heavily branded, and are not obvious as an advert.
When your website has a high visitor rate, and low bounce rate, advertisers may be interested in taking out native advertising.
Local advertising
This is standard ad space, that you sell to local businesses. When your website ranks highly on regional searches local businesses could be interested paying for advertising.
Make sure you have set up Google Analytics so you can supply solid reports on your visitor numbers. The amount you charge depends on all important traffic.
Always take a personalised approach when selling local advertising. Find out who to approach and address them by name. A personalise message works much better than a mailshot.
Directories and business pages
Directories are websites that consist of business listings and can be built around one industry or one region.
Creating a directory is just like creating a website. Charges can be put in place for listings or page submissions.
Ask for donations
If your site is really useful and provides amazing content, ask for donations. Make it clear that you rely on the generosity of users to support your project.
If you've helped someone they could be in the frame of mind to pass on a donation.
PayPal provides a donation button that can be included on a web page.
Create a podcast
Podcasts are kind of on-demand radio programmes. They can be searched for by keyword and accessed on a device or a computer.
Podcasts help to reach a larger audience. There is evidence to show that Podcasts are more popular each year, as there is a greater need to learn on the go – driving, walking, running, cycling. All chances to learn something whilst travelling.
You will need a microphone, some free audio recording and editing software like Audacity and a confident speaking voice.
Host the PodCast on a feed on your website and submit it to a PodCast directory like BluBrry, so it can be accessed by everyone. It can then be streamed on iTunes Internet Radio and Apple TV, TuneIn, Sonos, SHOUTcast, Aha Radio, Android and Kindle Fire devices, Xbox One, iHeart Radio, Bose and more!
Buzz Sprout's page, how to make a PodCast (PodCast 101) contains all you need to know.
Locked website content
Locked content is content on a website that is password protected. Once your website ranks highly and helps your audience, you are in the position to ask for a membership fee.
Members-only can access important content. Content could consist of:
Ebooks for business
Creating an ebook has few overheads. Ebooks can be limited to Amazon Kindle or the Apple eBook store.
I recommend making your ebook available to everyone, using a free service like Yudu.
Create an informative but simple document that can be distributed across your networks. When an ebook contains valuable content, charge for it. Or use it as a marketing tool.
Coaching classes
Embed YouTube videos within your members' area, and some outside of your members' area so that people get a taster of what you do.
Use Google private hangouts to host a live coaching class.
Webinars
Webinars are a fantastic way of connecting with an audience. Build a webinar around a researched topic that will engross your audience. Webinars can really show off your expertise. People can ask questions as they listen in the comfort of their own homes.
Start monetising your website
As we've discovered, there are so many ways to monetize a website! Remember, gaining the traffic and retaining a following is first and foremost. In a low down:
Shout about it on social media
Repeat
Then start to monetize the website using the media above. Start with media that appeals to you, that you are good at.