SEO writing is the creation of written content for web pages and blog posts, written in a way that helps a website to rank higher on search engines.
Writing for SEO doesn't stop at posts and pages either, well-written PDFs, whitepapers and news articles can help a website to rank better.
A business can also write SEO articles for external websites, known as guest blogging or a guest post.
Choose to guest post on a website that already ranks well. Ask for a backlink to the original domain (website address). This will help gain authority for the domain which helps pages to rank better.
Basically, SEO writing is a way to gain further reach and establish yourself within an industry. More eyeballs will help a brand to become known to a wider audience.
A small business doesn't need to compete worldwide nor with corporations. It's very possible to become the expert within one industry and/or within a local area. You've just got to understand how.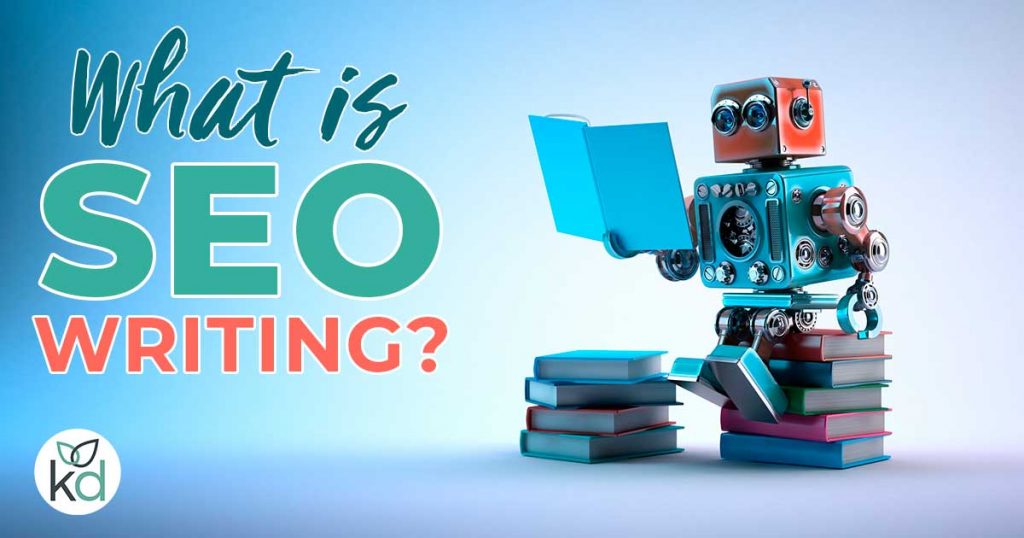 How does SEO writing work?
The purpose of a search engine is to provide us, humans, with the most relevant result when we make a search.
Search engines only rank web pages that are educational, entertaining or inspirational. A small business needs to produce content that is at least one of those things. If you can be two of those things, then great!
Just think – if Google sent us to a web page that was fruitless or meaningless, we wouldn't use Google.
SEO writing must have humans in mind. When you make your writing interesting and helpful for a human, you realise it is very easy to write for search engines.
A web page or post must be to the point, easy to read, scannable and use headings to break up the text.
Good SEO writing
Search engines look for certain excellence in content that they rank well. The author must have made an effort to supply a visitor with comprehensive information.
Put time into the article – I spend days and days writing and refining my blog posts.
Explore the topic thoroughly and take your audience on a journey. Include everything and anything a person would need to know about the topic and present it in an easy-to-understand order.
When there is too much to put into one article, create another blog post and link to it. This helps the visitor continue the experience.
How search engines rank a page
Google can now reform a search query and will base results on the visitor's demographics, how they searched, their location at the time of the search and sometimes what they have previously searched.
Search engines even add words to the query that have not even been typed in. So clever!
Visitors are directed to pages that have built on topics and discussed concepts, rather than pages that simply match the exact key phrase.
If you write well about a subject, you deserve a high rank. It's a reward for providing.
Scannable SEO writing
Write that content is easy to read and easy to scan through. Paragraphs should be fairly short – three sentences maximum.
Often visitors scan a document for information, picking out parts that are relevant to them. Search engines recognise this and reward text that is broken up into easy-to-read sections. Just like this one.
Ensure content is to the point, and not full of worthless drivel. Shorten sentences, instead of rambling. People want to find answers, quickly.
Key phrases for SEO writing
Key phrases give an article direction, so they are important in SEO writing. Research a key phrase that is useful for your target audience and make sure it is searched online.
Writing around something that isn't searched might be fun if you're a writer, but won't help gain traffic to a business website.
A long-tail key phrase might consist of 4 or 5 keywords to make a legible search term. Search engines fill in the joining words such as 'and', 'or', 'of', 'to'.
When used correctly, search engines can easily understand the page. It's a way of helping a search engine to do its job.
More than one key phrase can be used for each web page and this is worth keeping in mind. An article can rank for many different key terms, people search in different ways – there's a difference between a typed search and a voice search.
How to choose key phrases for your web page
Write a list of words and short phrases that describe the topic you are writing about.
Write a list of other information that is important to that topic, like geographic location, related topics.
From the keyword lists, you have made pick a primary and a secondary keyword.
Use keyword tools like Moz Keyword Explorer to discover the most popular search phrases (more below).
For example: 'Ski Chalet Accommodation Les Arcs', 'Mountain Bike Workshop Herefordshire', 'Blueberry World Tea Shop Deliveries'.
If you are location-based and you're starting out, include your location in at least one of your key phrases ie "Oxfordshire" or "UK". This will strengthen the website's position on local searches.
How to use a key phrase
Focus on up to three key phrases on each web page or blog post. Write the content, focusing on those key phrases but make sure the content always makes sense and helps humans.
Where to use a key phrase
The page URL (slug or permalink) should include a version of the key phrase.
Use the key phrase in the heading 1.
The first paragraph should be a summary of the page and should include the key phrase.
Include the key phrase in the last paragraph.
At least one subheading should contain the key phrase.
Save at least one image so the file name is the key phrase.
Use the key phrase on an alt tag.
Links back to the article should use the key phrase or at least a keyword.
Although you should include your key phrase in all the places above, be careful not to get penalised for keyword stuff. This is when a website overuses the term on a page in the hope to rank.
Avoid using the same key phrases for any two pages/posts on one domain name, mix your content up a little. It's okay to cover the same topic twice with a different take on it.
Tools that help with keywords
There are a number of online tools which can help you determine the most useful keywords for your business.
Analyse your website pages and posts
It is important to take a look at website statistics a month after launch to see which key phrases are working for your website. Every month pages can be tweaked and better phrases used.
Visit my page on search engine optimisation services
Duplicate content
Duplicate content is an absolute copy of the content. This is is either repeated on the same website – which appears very lazy – or copied in its entirety from another website.
Repeat content is okay in short bursts or if you are quoting someone, but you'll find that copying content is futile. Search engines only rank the original article, they'll actually just ignore the other pages.
Be more original, even when you have similar services or products, try to change the text at least a bit.
Thin content
Thin content means a very small amount of writing – the type of writing that really gives you little information. You may have seen it yourself when a small business writes two paragraphs on one page.
When it comes to SEO writing, thin content is one of the first areas a small business can improve.
Go through each page, research some key phrases and get revamping!
Search engines reward fresh content so revisit posts and try to bring them up to date regularly. This is also a great way to repurpose content.
Take the time to add essence, intention and personality.
Pages with less than 300 words can still rank well, dependent on the uniqueness of the content and if the page meets specific intent. It will also help if other articles on the domain rank well.
When pages rank well, the overall domain has a better ranking ability and that may float smaller pages.
To summarise SEO writing
To help a website to rank higher on search engines create written content.
Research key phrases – be sure they are being searched by your audience.
Use key phrases throughout the written piece – in the first and last paragraphs plus in headings.
Link to the page using text links that contain the key phrase.
Write well for humans, not for search engines.