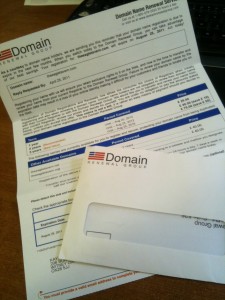 My client received an official looking letter from a company asking them to send money to re-register an existing domain name (website address).
The company even sends these letters to me; the person in charge of controlling the domains!
In fact, the domain that the letter refers to this week has already been renewed by me.
DON'T SEND THEM ANY MONEY
The second paragraph states;
"Registering your name with us will ensure you retain exclusive rights to it on the Web, and now is the time to transfer and renew your name from your current Registrar to the Domain Renewal Group. Failure to renew your domain name by the expiration date may result in a loss of your online identity making it difficult for your customers and friends to locate you on the Web."
If you have already registered your domain, it is yours, even if you let it lapse for a while – it takes AT LEAST 90 days for the domain to go back out onto the open market.
Simply rip the letter up and recycle it.