SEO often sounds complicated, but it isn't rocket science. It's about building a relationship between a website and search engine simply by following guidelines. Here are my tips on SEO for beginners.
Using SEO we encourage better position and exposure on search engines in order to gain traffic. We do this by providing an informative, active and trustworthy website.
The easiest way to think about is in terms of satisfying the visitor to the website above all. That's one of the biggest factors search engines take into account from any business website.
Search engines do not list inadequate websites. If they sent people poor websites people wouldn't use the search engine, they'd be out of business.
Google concentrates on providing the best and most honest results.
Black hat practices
A black hat website is an illegitimate website, created to take for not a lot in return.
These websites (and some marketers) find unorthodox ways to achieve listings – one you've probably heard of is keyword stuffing. Some would even use high-volume keywords that had nothing to do with the page. That's why the keyword meta-tag is no longer so effective.
When black hat websites start to rank well, search engines must respond.
Search engines continuously update algorithms, so optimisation continuously changes.
Google continuously works to weed out black hat practices and strives to improve user experience above all.
Good organic search results now come by being clear, informative, honest and open. These practices will be in effect for the long term.
Different search results
Once you place a search on a search engine you are presented with a list of web pages – this is called the SERP (search engine result page).
The SERP will be different depending on your location and the type of device used – desktop, mobile or tablet.
This is because Google tries to second guess the intention of the search.
Take a simple search like coffee. If you search coffee on a phone they can assume you are on the move, probably looking for a local coffee shop. Whereas on a desktop you could also be searching for coffee to buy.
Results will be different by country too – even if you are searching in English. Preference is given to websites in local languages.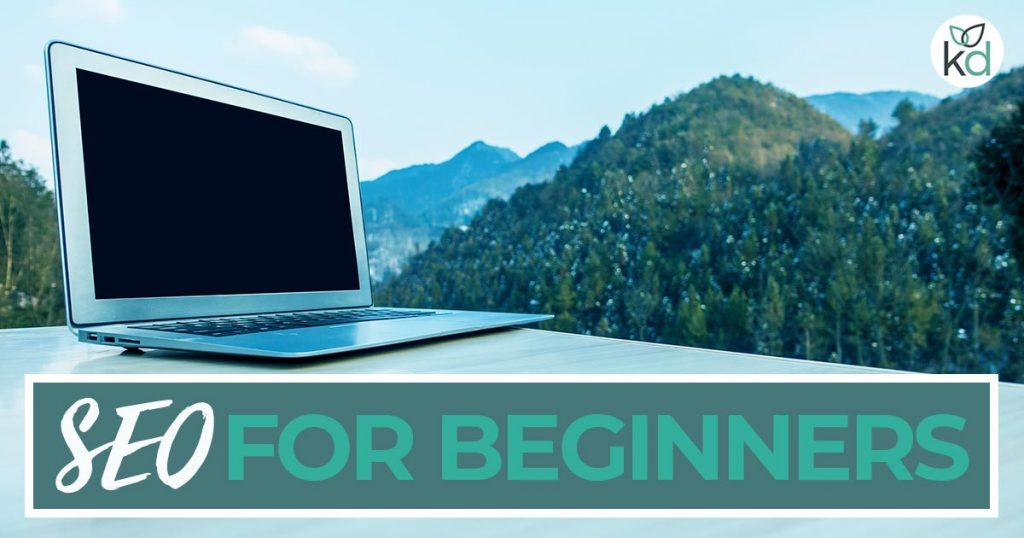 Basic factors that impact SEO
There are many factors that have an effect on organic search results.
I've included some here to help you understand SEO for beginners.
Programming of website.
Easy navigation for categories and pages.
Valuable, up-to-date content.
Page layout including readability and internal links.
Meta-title and description.
Key phrases used within the page.
Inclusion of media.
Back-links and website popularity.
The trick is to be sure that you are taking care of the website and that you are overseeing most, if not all the factors. If you can cover as many as possible search engines will soon consider the website.
Website programming to improve search results
Good organic search engine rank begins with the way a website is programmed. Google must be able to crawl the code of the website and easily understand it.
The best code to use is HTML, but other languages help websites to be more interactive, so are frequently used. You'll also find that shop-in-a-box websites like WordPress and Wix are code-heavy to enable non-developers to use them easily.
That's not to say that CMS systems should not be used – WordPress is a fantastic system and gives business owners the freedom to update and grow their own websites. That is a bonus for SEO.
Fast loading websites
Google understands that slow-loading websites are frustrating for the visitor. If it's too slow people won't hang around. Slow-loading websites are therefore penalised.
Too much code and large images are common elements that slow web pages down.
An unmaintained website can become code-heavy. The owner might leave plugins, themes and images on a WordPress install. The pages then 'call' the plugins each time the website loads, and that slows the site down.
Another common problem is that website owners upload images straight from a camera, without resizing or compressing them first. My video 'Why resize images for the web?' will help you to understand why this is a problem.
Websites that are optimised for speed will be ranked higher.
Provide information first
Visitors spend little time on a web page. The pace of life is so fast so the page needs to appeal to them quickly, within 2 seconds.
That's such a small amount of time to capture attention, do you think someone would wait for your image to download first?
This is why I advise against using large images at the top of the page, even though there is a trend for them.
Use text early on in the page to give the visitor something engaging whilst the page renders. We call this area the part 'above the fold'. It's what a visitor would see when they arrived. Everything below the fold can be seen when they scroll.
This helps the page rank too.
If your business is visual – a photographer for example – be certain that images are compressed for fast download. I would still always include text above an image. Your beautiful images can be seen on scroll and people are very used to scrolling.
Easy navigation
User experience is important. A confusing or hidden navigation system will damage the website's rank, so keep it clear and simple.
A standard menu on a desktop version of the website should allow the visitor to quickly visit other pages, limiting clicks. Have links to important pages at the top-level, rather than hidden in sub-menus.
I would also recommend sticking to two menu levels if you can.
Remember to check the navigation system as the website grows – they do start to get complicated.
SEO content
Humans have a constant need for knowledge, inspiration or entertainment. We're forever searching online.
That's why content is still the most important factor in basic SEO. Without content, there is nothing to rank. This is your starting point in SEO for beginners.
Everything that is used on a website is considered content – pages, posts, images, video and even PDFs. They can all rank for different key phrases.
Provide as much content as possible, around one industry. Everything on one domain should be related.
Write that would help your audience, publicly answer questions that clients ask. You can often find those questions within emails, that is a great place to start.
Once you've found a topic you'd like to write about, research key phrases. Make sure you are writing about something that is truly searched online. Don't guess.
Search engines value quality content and returning visitors. If people are clicking onto and staying on the website, that will help rank. Search engines have an idea of how engaging the content is.
Thin content
When we talk about thin content, we refer to pages with little text, it's thin. This is often seen on small business websites because the company writes their own text.
Thin content won't rank well. Anything that you include on your website should be voluminous and genuinely helpful to a visitor. A visitor wants to know why, how and when. Leave no stone uncovered and provide everything you can think of that would help them.
Duplicate content
Be careful when duplicating content on your own website, and when curating content from other websites.
Minimise similar pages where possible – if two pages are about the same topic either merge them or make them unique. I myself would take the time to make them unique.
This is not to say you should never duplicate content. There are times when it is perfectly okay to do so, such as a blog post turned into a PDF. Or a desktop and a mobile version of a page.
However, simply copying content, especially from other websites can lead to penalties. Search engines compare the content on websites and will date check copies, to establish which is the original. They basically won't rank the second version at all, so it's not worth the bother.
The only place I can see for copied content is when you'd like to quote an article. That's fine to do, even in length but do add your own thoughts about it and be sure to credit the author.
Curating content is okay too – you'll find that most content writers find inspiration and check facts on other websites.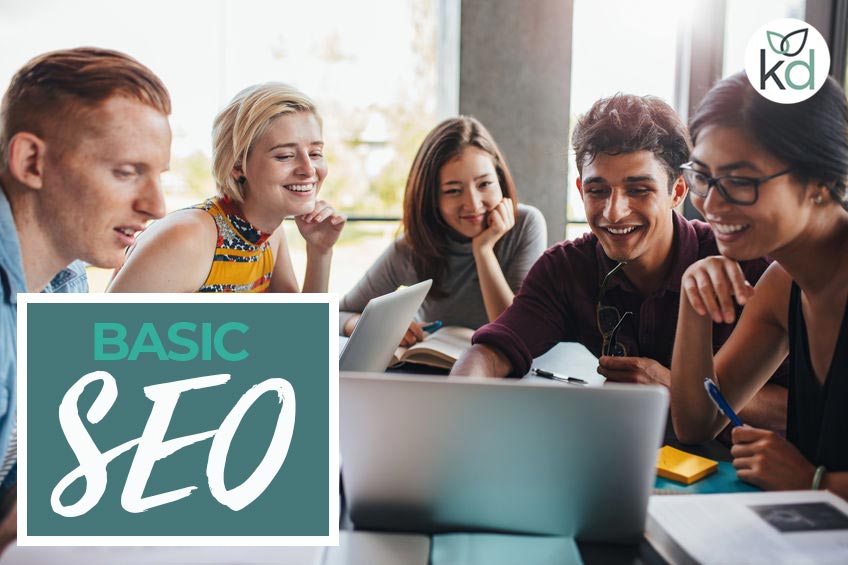 Page layout and hierarchy for basic SEO
There are basic SEO tricks to use throughout the copy on pages and posts, a sort of structure that is quite easy to follow.
Firstly remember that website copy should always be written for humans, not search engines. You'll do well to remember this whenever you are writing.
Then, as covered earlier remember to research key phrases and use them throughout the page. A page can rank for a few long-tail key phrases, as long as they are related.
You'll see where to include them if you read the next few sections.
Page name
The page name is the file name of the page – WordPress calls it the slug. You also might hear it called URL.
Name the page according to the main key phrase. This will help search engines to recognise what the page is about.
For example:
"page1.htm" is unhelpful to search engines.
"garden-design-oxfordshire.htm" will help a search engine recognise the topic and geographical location.
Page title
When you visit a website, you'll see some text within the browser tab. This is the page title and is an important meta-tag. It informs search engines what the page is about. It also helps us humans recognise our open tabs. The two are again aligned.
The title tag must be relevant to the copy on the page, and it is good practice to use the main targeted key phrase here too. Use the key phrase at the beginning of the title tag, the company name can come afterwards for branding purposes.
Meta descriptions
Use the key phrase within the meta description too. Ideally, it should be placed at the beginning but I think this can look spammy. The meta-title and meta-description will both be picked up by Google if deemed fit. They will appear on the search result page and are a call to action for potential clients.
A meta description should be included on every post or page.
Headings
Headings break up the text – great for humans who scan content and that means search engines look for them.
At the beginning of any content be sure to include an H1 tag. I sometimes see websites missing this tag because it might not follow their design aspirations. However, it is the most important heading tag and should again include the key phrase.
Every 400 words or so should then be sectioned by an H2 tag. These do not have to include the key phrase but should be useful and related to the content that follows. You could include one or two of your key phrases within H2 tags to strengthen the page, but don't go overboard.
Paragraphs
Paragraphs are where people start to overuse key phrases, so do be careful. Keyword stuffing leads to penalisation. The aim is to have the article make sense.
What is ideal is to use the key phrase in the first paragraph, maybe once or twice more throughout the content depending on how long it is. Then wrap up with the key phrase too.
Alt tags
When you save an image, save it in a descriptive manner, so that the file name is similar to the targeted key phrase. For example "garden-design-oxfordshire.jpg" rather than "image0001.jpeg".
Always add an Alt Tag to it. These help search engines but more importantly will help visually impaired visitors to understand what the image contains.
Images can rank independently to the page it is embedded on, within the Google Images search results. Always host images on the same domain as the website, so that they help rank.
You can also add a logo to each one, to build brand recognition as people surf the web.
Do include an image on each page or post, as long as you have a relevant one. Search engines like to see images because they understand humans are visual creatures. Web pages look much nicer with an image included.
My video "WordPress image SEO for higher search engine position" will help WordPress users add Alt tags.
Links for basic SEO
There are two types of links you can include on a website, internal and external. They are each as important as the other.
Internal links help visitors to move from one piece of content to another and because they help the visitor they are rewarded by search engines.
Linking internally also helps search engine bots to crawl the website, which helps them to find and index articles, especially ones that might not be linked in the top-level menu.
Always include at least 3 internal links on any page or post, and be sure to link descriptive text, rather than 'click here'. Descriptive text will help the search engine to know what to expect when they follow the link.
Too many links can have a negative effect on the rank of your website and will look spammy, but we are talking hundreds of links.
Some businesses shy away from linking to external websites for fear of losing traffic, but the gains outweigh the losses. Make sure any links are relevant to the article, and that they help the visitor to dive deeper into a topic. Apply the same rules about linking descriptive text.
Always check links and maintain them because dud-links will have the opposite effect. Dud links are a sign that you are not looking after the website.
Backlinks
Backlinks are one of the ultimate basic SEO factors. They are hard to achieve but are so valuable because they indicate that the website is useful, active and popular.
You should look to gain backlinks from websites that are within your industry. The value comes from websites that are trusted and ranked well on Google or are official websites. These will improve your website rank.
Links from SPAMMY websites can actually damage credibility.
Accumulate backlinks naturally. Taking part in link reciprocal exchange schemes or link schemes (such as link wheels or link pyramids) disregards the quality of the links or the sources. This is in violation of Google's Webmaster Guidelines and will have a negative impact on your site's ranking.
Basic SEO for beginners
The basic things to remember are:
Have humans in mind.
Be helpful, informative, honest and trustworthy.
Never use black hat tactics.
Build content using my simple tips.
Improve pages and posts by regularly checking through.