Why blog? Blogging is underestimated; there are multiple benefits of blogging. It is an effective way to grow a business ultimately for free.
Search engines and humans just love content. We simply never get bored of it.
Humans use the internet to consume content – we learn, are entertained and are influenced by web content every day.
Therefore search engines rank good content.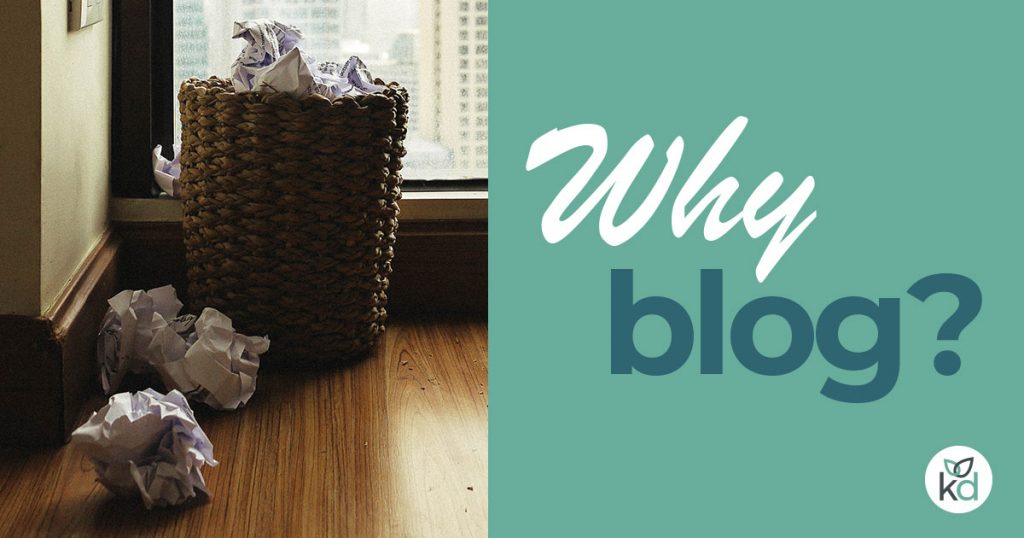 When people think about a blog, they often only think about written content, but a blog is much more. It's a place to host photos, illustrations, graphs, video and audio.
Start with the written word; it's one powerful medium.
If you'd like to learn to write blog posts and articles well, Everybody Writes by Ann Handley is a book I highly recommend.
How content helps a website
A domain name is another word used to mean 'website address'. The word domain encompasses everything hosted there – website, blog, shop and media.
An up to date, well used, popular and trusted domain is ranked higher by search engines.
A search engine calculates this through SEO factors such as backlinks (incoming links from other sites), click-through rates, value, security, longevity, social shares, and consistency.
Grow a business by expanding the reach of a domain. The best way to do that is using an extension of a website – a blog.
Keep the website and the blog on the same domain name, so the content supports each other—link frequently between them — known as internal linking.
Make the domain visible by targeting multiple key phrases within one industry.
Create and host useful, original content to teach, entertain or inspire an audience. With each valuable article, the domain will become stronger.
Search engines start to recognise the domain as authoritative, so rank just gets better.
A blog is a way to reach out to people and convert them to clients – known as inbound marketing or search engine marketing.
Blogging will genuinely be beneficial to your business.
Let's look at more reasons to blog.
How a blog will help a business
Blogging for business will:
Support a website by providing search engines with the quality content they crave.
Gain meaningful backlinks, which will improve the domain authority.
Build a trusting audience and form relationships with strangers.
Develop a voice to influence an industry.
Grow brand awareness.
Provide valuable content to share across social media networks.
Become an online customer service hub.
Help to find out more about an audience using analytics.
Build an email list.
Content marketing with a blog
People look up topics related to your business all the time – there are billions of searches each second. Capture that user on the search path.
Let's look at an example. Imagine you're a freelance web designer that would like to encourage local business.
A web designer might create a website and optimise a page for the phrase 'Web design Oxfordshire'.
There are hundreds of web designers in the Oxfordshire area, all competing for that exact phrase.
It's a high competition phrase.
What would work well for the web designer is to rank highly for more specific searches.
Aim for a less competitive key phrase, like 'website design for hotels oxfordshire'.
Answer related questions such as 'how to maintain a website'.
The post will rank better on search engine result pages (SERPs) as there is lower competition.
Posts that rank well support other posts and pages on the domain. Search engines will rank them higher too.
Overall, search engines rank sites higher if there is valuable content that their users want to consume.
Use a blog to build brand awareness
Business owners use a blog to write about their industry, influence and show personality and knowledge.
Think back to the web designer used in the example.
A simple search term could be 'How do you design a website?'.
The user finds the answer to their question, reads the post and often disappears. High bounce rates are common – people have busy lives.
But, you see, the purchase process is more complicated.
Competition is high; we all know we can find whatever we want at the click of a button.
What happened here is that the web designer helped the user. The brand sticks in mind by providing the audience with excellent content that gives an informative and friendly answer.
Users visit a website multiple times before they think about buying.
The conversion from looking to buying takes time and consistency. The job of the blog is to gain reach and build awareness of the brand.
Gain meaningful backlinks
Search engines see natural backlinks as a powerful reason to rank a website higher. Why?
Backlinks are like recommendations; they help build a good reputation online.
The website that provides the link says to its audience, 'go here, it's good, it'll help you in your quest'.
That triggers a search engine – if the content is worth linking to, it is worth ranking.
But worthwhile backlinks are incredibly hard to achieve. Don't encourage backlinks from low ranking websites that have no value – they are more likely to drag your domain down.
Trustworthy, accurate websites won't link to inferior websites – why would they? They've spent time and effort to provide for their users. You need to provide for yours.
The difficulty in accumulating natural backlinks makes them a potent SEO factor.
Build trust with a blog
One of the advantages of using a blog is in trust-building and creating new relationships.
Buyers no longer pick up the phone to discuss what is best for them. They learn it all online.
Their mind is 60% decided before they even contact the business.
Consistently help the audience during their decision-making process.
Visitors explore a blog or website more than once before they trust the brand. Once they trust the brand, they return and eventually buy.
Develop a voice to influence an industry
You might be the most knowledgeable person in your industry, but people won't contact you if people don't know you. Use a blog to be understood.
Write down your opinions, facts, and insights in blog posts. Video and images will strengthen that. Show the audience the depth of your knowledge.
By keeping your expertise to yourself, you are damaging your business.
Find a passion for your business and find your voice. Inspire, entertain, or teach your audience.
Advantages of using a blog alongside social media
Blogging helps you produce content to share on social media. You can even share the blog post itself, which will drive traffic back to the domain.
A popular site ranks better, and social shares count.
Providing good content builds trust, increases brand awareness and makes your networks way more interesting.
Take snippets from your blog posts and use them across platforms. Generate a social media post from parts of your blog.
Build the blog content into e-newsletters and share it with an email list.
A customer service hub online
Use a blog to answer clients' questions – it saves time in busy periods and makes you look ultra organised.
Answer questions directly on the blog, then send a link to the post – it's an online customer service area.
Send the link to a potential client when they ask a similar question.
As people plan their next steps, a clever blog post will ensure your business is involved.
Your connections already trust you, and by answering their questions, you strengthen that.
Blog content writing
Blog posts help to get to know an online audience using reliable information.
Google Analytics helps to track demographics, geographic locations and visitor interests.
Tools like this can open up a whole new client profile to a company. Knowing an audience can help you produce material that is more accurate and interesting for them.
Why you should blog
Now you know why you should blog! A blog will help grow your business and enable you to charge the prices you're truly worth, and create freedom in your life.
Search engines strive to produce the most relevant, beneficial search results possible for the person searching. Inspiring, entertaining, informative and valuable posts rank highly, so here I provide a few tips to help you on your blogging journey.
Take time over each post – make each one brilliant.
Research key phrases that your audience would search.
Choose key phrases that aren't on the website.
Stick to one industry on one domain.
Write well and be to the point.
Optimise each post for search engines.
Use media like images, info-graphs and video to support written material.
Read my post on blog post ideas to help find topics.
Get started and keep going. Your writing will improve over time, and you can circle back and improve old blog posts. Blogging is a fun way to support your small business.