SEO is an acronym for Search Engine Optimisation, which means to enhance a website for better position on search engine result pages, known in the industry as SERPs.
A search engine result page is a list of results returned when someone types a query into a search engine – also known as search term.
The term SEO also includes the refinement of a company's online profile, outside of the website itself.
Google rewards websites that make an effort to abide to search engine quality guidelines.
Many factors affect the rank of a website on a search engine, so the term 'SEO' now means a number of things.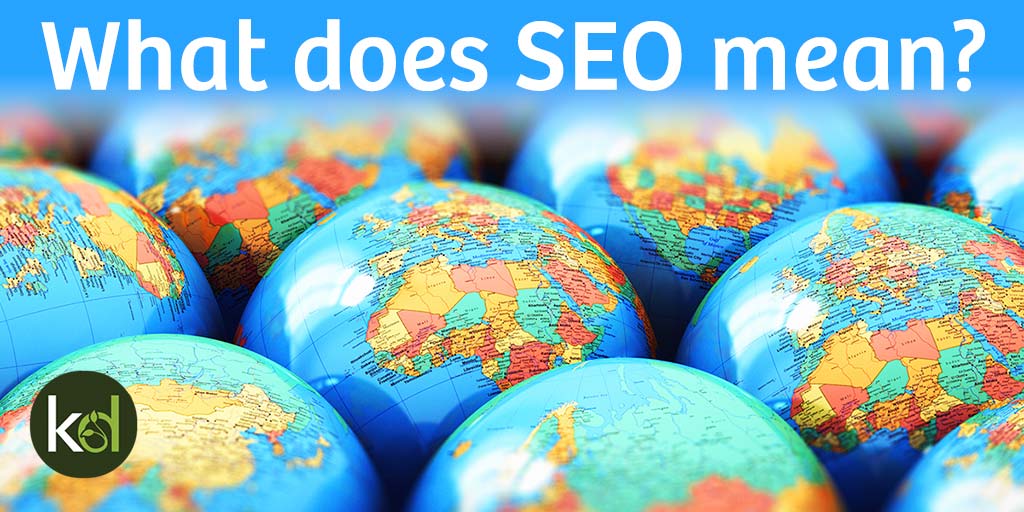 What does on-page SEO mean?
On-page SEO is a branch of search engine optimisation which, as the phrase determines, takes place on the website itself. Mostly on individual pages and posts.
The build of the website, all the way through to written content, have influence on where a website is ranked. Here's how.
How website build affects rank
The obligation of a website owner is to help search engines understand the reasons that a website has been created.
Predominantly, search engines understand HTML (Hypertext Markup Language) – the standard language developed to build web pages and applications. Similar languages have been written to add functionality and to comply with rules such as DRY (do not repeat yourself).
Whatever coding is used, each page should be clearly and correctly marked up so that search engines understand them.
In-a-box website packages add unnecessary code to enable non website designers to make design changes. Which is less desirable for search engines to sift through. Code heavy pages are less favourable.
Website structure
When web pages are put together, HTML elements like title and paragraph tags show search engines what is most relevant. HTML5 and schema markup are the standard ways to let search engines decipher the page.
H1 tags must be used at the beginning of the page to let the visitor (and search engines) know what the content consists of. The H1 tag should include the key phrase to help the page rank better.
H2 tags, paragraphs, links and media need to be correctly tagged and positioned in the page hierarchy.
Security certificates
Search engines look for a secure certificate on websites because it shows the owner of the website is looking after information transmitted between the server and the user's computer.
Written content for search engine optimisation
Good written content is search engine fodder. Search engines find content on a website which enables them to rank it.
Well written pages supply search engines with information that help users once a search query has been made.
This is the basis of ranking well – providing informative or entertaining answers.
Images on web pages
Images strengthen articles and help a web page or post to rank better – search engines want to see visuals because users want visuals. A web page with no image looks very uninviting.
Photos are ranked independently on Google's image search as well. An image ranks that very well helps the page to rank even better.
Videos on web pages
On certain searches, where video is appropriate, YouTube videos are the top result because so many searches that are made end up in the watching of a video.
YouTube is the second most used search engine today and is also a social platform.
User experience
Ultimately search engines strive to provide users with the most appropriate answer and the best experience, so the next few SEO tactics are truly important.
Website navigation
Websites must be really easy to move around. This is not only for humans, but also for search engine crawlers. These crawlers spider websites, discovering content. When pages are well linked, and those links are marked up crawlers find them easy to crawl.
Search engines reward websites with navigation that is very easy to use and it must be mobile friendly too.
Mobile friendly
Over 60% of searches made are on a mobile device. Websites that are not mobile friendly create a difficult experience for the user. The text is too small on the screen and the user has to swipe around the page to see the content.
So mobile friendly websites are rewarded on SERPs.
Website speed
Considering so many searches take place on mobile devices, website owners must be sure that the site downloads quickly on all connections.
Google has the ability to test download time. If a page takes too long, it won't rank well. Google refrains from sending users to a slow loading site.
Users leave sites that take longer than 2 seconds to download. That's just two seconds for you to capture a new client.
Clarity on websites
More important than you might think is your ABOUT page. Google looks for clarity on company websites  – a sense of honesty.
Write about yourself and give plenty of background information on the company – this clears uncertainties and helps buyers make decisions.
Align the information on your site with your social media and directory listings. Google will pick up signals about your business from all over the internet.
Which leads us to off-page SEO.
Off-page SEO
Off-page SEO has become increasingly important in recent years because it is somewhat more barefaced than on-page SEO.
These are influences that are largely controlled by the company's clients and colleagues. Which is why they are also feared.
Google likes to see others appreciate your hard work and your awesome content. That way they really can recognise the effort you make.
This makes off page influences so valuable.
Online reviews
There are a few popular and widely recognised review sites like Facebook, LinkedIn, TripAdvisor, Yell and Google+.
These large, well known sites already hold millions of loyal user profiles and they spend time weeding out fake ones.
Reviews on your business profile helps your website to rank better – search engines see real people giving true value.
Never be inclined to review your own company or have friends create reviews.
Search engines can collect information – like relationships – through social sites, so will easily determine a fake review from someone close to you. Fake reviews are more damaging than beneficial and will hurt online credibility.
NAP consistency
NAP stands for Name Address Phone Number and is a term used to refer to the alignment of all company information on pages and profiles across the web. If details are incorrect the listing could be seen to be for a different company all together.
It is not just a requirement that 'name, address and phone number' are aligned either – the term also refers to logo, company name, opening times, prices and much more.
Search engines receive positive signals when they see, clearly, that the company is using other platforms and is listed well across the net.
Be sure your own business profiles on all websites and social media platforms are up to date, explanatory and have clear links back to the company website.
Back-links
Back-links are links to your website from other websites. Back-links on relevant websites are advantageous to page rank.
However, links from sites with a high spam risk can negatively affect rank.
Build honest relationships with companies who have similar online values.
Links throughout your content to other websites also benefit website rank. Support a point by linking to articles.
Don't be mean when it comes to links out. Google wants to build an accessible web of interesting content, so be generous.
Social media
Social shares have been shown to count when it comes to SEO. When social users share or engage with content often articles are ranked higher. I believe this is because search engines see it as popular and worthwhile.
Summarising what SEO means
The term SEO means so many things now as there are a multitude of factors that help search engines to recognise when a website owner is helping users.
Guidelines give very good reasons for website owners to look after a website.
Just a few of the better known ranking factors are:
On-page SEO
Build and structure of a website.
Security certificate.
Written content.
Images.
Video.
User experience.
Website navigation.
Mobile friendly.
Speed of web pages.
Clarity provided by a company.
Off-page SEO
Online reviews.
Back-links.
NAP consistency.
Social media engagement.
There are lots more.
Provide a good website for your audience, with informative answers and never be deceitful.