SEO is the promotion of a website online. Potential clients and connections constantly search on Google for terms within an industry. Website owners work towards a better position on search engine pages for variations of these search queries.
We optimise a website using content like written articles, images and videos. That content must develop and evolve.
A business can gain further online reach, build connections, and encourage sales by growing a website and popularity through SEO.
Read my five basic SEO principles to understand the steps to SEO success.
Search engines set quality guidelines website owners should adhere to if they want the website to be competitive on search engines. The guidelines help agreeable websites rank well and prevent malicious websites from reaching the top.
There are many ways to perform search engine optimisation. The minute factors are accumulative; they are building blocks. A high ranking website will follow all (or most of) the rules.
SEO can encompass anything and everything a brand does online to promote itself – including social media.
You may have heard some of the terms which I illustrate in this post:
Learn how to do SEO yourself? >>
What does SEO stand for?
So, what does SEO stand for? SEO is an acronym for Search Engine Optimisation, which simply means to optimise a website for a better position on search engine result pages – known in the industry as SERPs.
When you make a query (a search), the SERP lists the results. You likely use a SERP every day.
When SEO comes into play, we aim to maximise the website's potential to get visitors. We drive web traffic to brand exposure and encourage sales.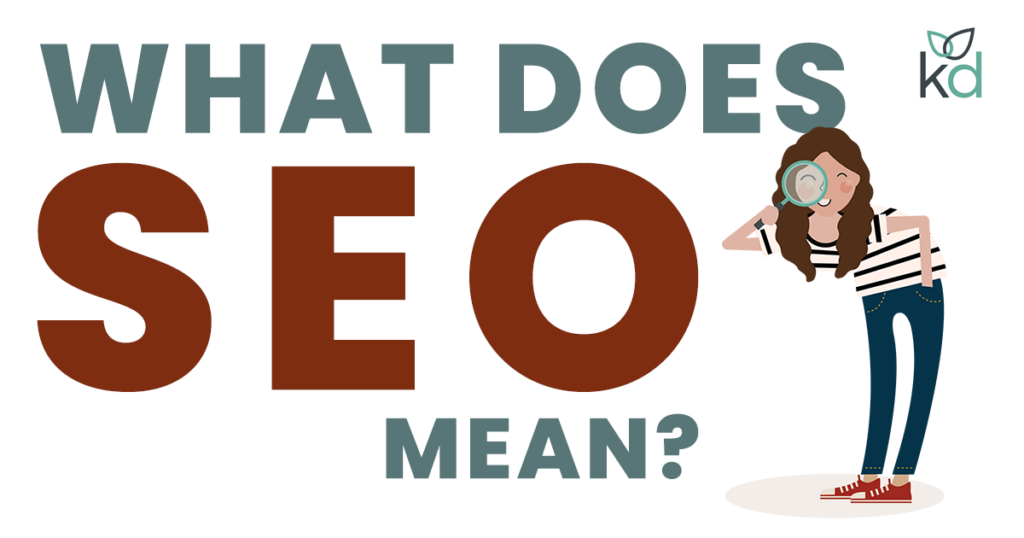 Organic SEO
The word organic relates to nature, being natural and habitual. Organic SEO is to 'achieve a position on a SERP, naturally'.
Honest and straightforward website rank on SERPs better. Successful websites provide for visitors through engaging articles, inspiration and entertainment.
An individual page, post, image, PDF or video can rank well organically, whereas others on the same website might not do so well.
Higher quality parts of a website will help weaker parts rank better, although to become more prominent, a business should constantly revisit poor content to improve it.
Another determiner of search rank is the website's popularity. Is the audience engaged? Do people visit it frequently, and do they return?
Google Analytics can evaluate these dimensions.
So there is a natural process in organic search engine optimisation.
Read what is a 'search engine organic listing'?
Paid-for advertising
Paid-for adverts appear on search engines like Google and their partners.
Adverts are marked 'Ad' on Google; they appear at the top and bottom of organic results.
Paid advertising is also known as PPC – pay-per-click because marketers pay for each received.
Paid for advertising is an SEO tactic in itself. We're unsure if paid advertising helps organic SEO; Google doesn't tell us.
PPC can help exposure because visitors see brand names more frequently. A visible brand makes it simple to buy or connect as people navigate the web.
I'm far from a PPC marketer. Here is a good post from Digital Third Coast which explains paid for advertising – Does PPC Help SEO?
Local SEO
Local SEO is crucial for businesses competing within a local area.
Google created local search so that businesses need not compete with similar companies on the other side of the world.
For example, if you search for 'coffee' whilst you were in Melbourne, Australia, you'd unlikely want results for cafes in Oxford, England. Google provides local results.
Google understands the location and the intent of the search.
A colossal contender in local search is Google maps because of its popularity – local businesses need the top spot on Google maps to gain more business.
The visitor will likely pick a cafe from the first few results – an instant loss for businesses that don't show up.
People readily do searches that include words such as 'near me'. A contending website needs to be visible in those results.
Factors such as links (to and from) websites in the geographical area, reviews, and localised content help a business appear in local searches.
On-page SEO
On-page SEO is a branch of search engine optimisation within the website itself, as the phrase determines.
We use content such as articles, images and videos to improve on-page SEO but many other on-page SEO factors influence where a website ranks. Here are some of them.
Website build affects rank
A website must help search engines understand why it exists. Google rewards websites that make an effort to abide to search engine quality guidelines.
Predominantly, search engines understand HTML (Hypertext Markup Language) – the standard language developed to build web pages and applications. Similar languages add functionality to comply with rules such as DRY (do not repeat yourself).
For search engines to understand them, each page must be correctly marked-up. Code heavy pages are less favourable because search engines have to sift through them.
Website builders add code to enable non-coders to make changes, which is less desirable. In saying that, website content management systems have their place, allowing website owners to make updates.
Website structure
HTML elements like title tags and paragraph tags show search engines the most important parts of the page. HTML5 and schema markup are the standard ways to let search engines decipher the content.
Let the visitor (and search engines) know what the page content consists of by using H1 tags at the beginning of the page. The H1 tag should include the key phrase to help the page rank better.
H2 tags, paragraphs, links and media need to be correctly tagged and positioned in the page hierarchy.
Security certificate
Search engines expect a secure certificate on websites because it shows the website owner is protecting visitors. SSL certificates encrypt information transmitted between the server and the computer.
Written content for search engine optimisation
Well written content is search engine fodder. Search engines trawl content (and media) on a website which helps them know where to rank the page.
Use informative answers, inspiring content, and good old entertainment to encourage search engines to rank the website well. Information is the basis for high rank.
Images on web pages
Images strengthen articles and help a web page or post to rank better – search engines want to see visuals because humans like visuals. A web page with no image is uninviting, almost like a Word document.
Images rank independently on Google's image search. An image that ranks well helps the page to rank better.
Videos on web pages
During specific searches, where a video is appropriate, YouTube videos are often the first result. A high percentage of searches result in video watching. Google makes an informed guess that a video is favoured.
Searches that start "how to" will often trigger this. Google tries to preempt the intention of the search.
YouTube hosts a considerable percentage of videos that appear within search results. After all, Google owns YouTube, the second biggest search engine today.
So when posting videos, utilise your YouTube channel and make sure you include your key terms there.
Embed related videos from YouTube onto your posts/pages to strengthen your content.
User experience
Ultimately search engines strive to provide visitors with the most appropriate answer and the best experience once on the website. The following SEO tactics are vital to a hard-working website.
Website navigation
Effortless navigation is a positive for us humans and search engine crawlers. Crawlers are programmes that trawl (or spider) websites, discovering content. They send data back to the search engine.
A website is useless unless there is a simple way to move around it. The website menu is vital to its success and is often too complex or even hidden from sight within an elaborate design.
Hyperlinks are part of a website's navigation system in internal links and breadcrumbs and can make or break a website's search engine success.
Use hyperlinks to link your content, directing visitors to other parts of the website. Always make sure the links are helpful and part of the visitor's journey.
Breadcrumbs or just 'crumbs' appear at the top of web pages set deep within a website's hierarchy. They link backwards almost; for example, a breadcrumb on a product page would link back to its category page. They are signposts to navigate back to categories.
These valuable links help crawlers spider the content and find other pages to index.
Mobile friendly
Whilst searching, we've arrived at a website that isn't mobile-friendly.
You search Google only to be sent to a website with text so small you need to zoom in to read it.
Or you have to scroll back and forth to any content.
It's a joyless experience, and we are likely to give up on the website.
On a B2C website, almost 90% of searches made are on a mobile device. Even on B2B websites, people switch from desktop to mobile, especially when travelling.
Search engines penalise websites that aren't mobile-friendly. Their mobile-friendly competitors will be ranked higher.
Website speed
Website owners must ensure that the pages download fast, even when visitors have a slow connection.
Think of those in rural areas, bottlenecks in the bandwidth, people travelling or on holiday. Not all of us are on fast connections all of the time.
Any one of us would be quick to leave a website that takes longer than two seconds to download. We return straight to the search.
Therefore, Google refrains from sending its visitors to a slow-loading site. A slow website is an ordeal, and Google penalises websites with slow load times.
Search engines test the download time of each web page, and a page that takes too long won't rank well.
Clarity on websites
Google is appeased by transparency – a sense of honesty and openness from the company, so visitors can ascertain who's selling to them.
More and more, when we shop, we look at a business ethos. A sense of knowing and belonging helps us make faster buying decisions.
Include a page about the business owner and the team on your website. Tell the unique story of how and why the business started and how it operates.
Background information creates a solid connection with an audience.
Now let's look at off-page SEO.
Off-page SEO
Part of SEO is the practice of refining a company's profile outside of the website itself. Off-page SEO includes the business' appearance on social media and directories such as Yell, Local, Hotfrog, FourSquare and hundreds more.
Off-page SEO has become increasingly important because it is somewhat more barefaced than on-page SEO.
These are influences that the company's clients and colleagues largely control, so they are also highly feared.
Google likes to see others appreciate your hard work and your excellent content. That way, they really can recognise the effort you make.
The transparency of it all makes off-page influences so valuable.
Online reviews
There are loads of popular and widely recognised review sites like Facebook, LinkedIn, TripAdvisor, Yell, Yelp and Google Business Profiles.
These large, well-known sites already hold millions of loyal visitor profiles, and they spend time weeding out fake ones.
Reviews help a website rank better because search engines see real people giving actual value.
Search engines collect information – like relationships – through social sites, so they will quickly determine a fake review from someone close to you. Fake reviews are more damaging than beneficial and will hurt online credibility. Never be inclined to review your own company.
NAP consistency
NAP stands for Name Address Phone Number. It's a term used to refer to company information listed on directories across the web. In reality, the term also refers to the logo, opening times, prices and much more.
When minor details are incorrect, a search engine can assume that the listings for a single company are entirely different businesses. The business loses the credibility of that listing and the link juice.
A company that lists correct information on all platforms across the net sends better signals to search engines – they are saying, "we are one business, at one address, and we have bothered to update our listing in all these places". Google picks up signals from all over the web, not just from a website.
Listings on directories and social media platforms must be updated regularly and, where possible, link to the company website.
Delete duplicate listings. Consistency helps an audience.
Back-links
Back-links are links to a website from external websites. Links from well-ranked websites in similar industries are advantageous to page rank.
However, links from sites with a high spam risk can negatively affect rank. Always check backlinks and remove them from risky websites.
Encourage backlinks into a website from quality websites. A great way to do that is to build honest relationships with companies with similar values. Try guest posting.
Google aspires to build an accessible web of exciting content, so linking to other websites will benefit website rank. Link externally throughout your content.
External links help support points throughout the content, benefiting visitors and websites.
Social media for SEO
Although unconfirmed by search engines, there is evidence that social shares count for SEO.
I've seen analytics that suggests articles with high engagement rank higher. It makes sense because popular, worthwhile content is a ranking factor.
Continue to be active on social media to help your search engine rank.
Summary – what SEO means
SEO means so many things now as many factors help search engines recognise when a website owner provides for its visitors.
Guidelines give good reasons for website owners to revisit their websites.
An excellent way to think of SEO basics is by splitting it into on-page SEO and off-page SEO.
The better-known ranking factors are listed here:
On-page SEO factors
Build and structure.
Security.
User-experience.
Speed.
Clarity.
Content – written, imagery, video.
Off-page SEO factors
Online reviews.
Back-links.
NAP consistency.
Social media engagement.
Provide a quality, interesting and up to date website for your audience with informative answers and never be deceitful.