A website can be well designed, pleasing on the eye, but not ranked on Google's search result pages.
Certain techniques should be used to please Google, and that increases your chance of a high ranking.
I cover Google's quality guidelines, to give your website a head start.
See my post: How to increase page rank
Quality guidelines for your website
Google's basic principles
Google has basic principles, that it looks for in websites. Google wants to give its users the best experience, which is why these principles are in place:
The pages should be primarily for users, not for search engines. Help your users, do not write for search engines.
Do not deceive your users.
Avoid 'tricks' intended to improve search engine rankings.
Make your website stand out from others in your field.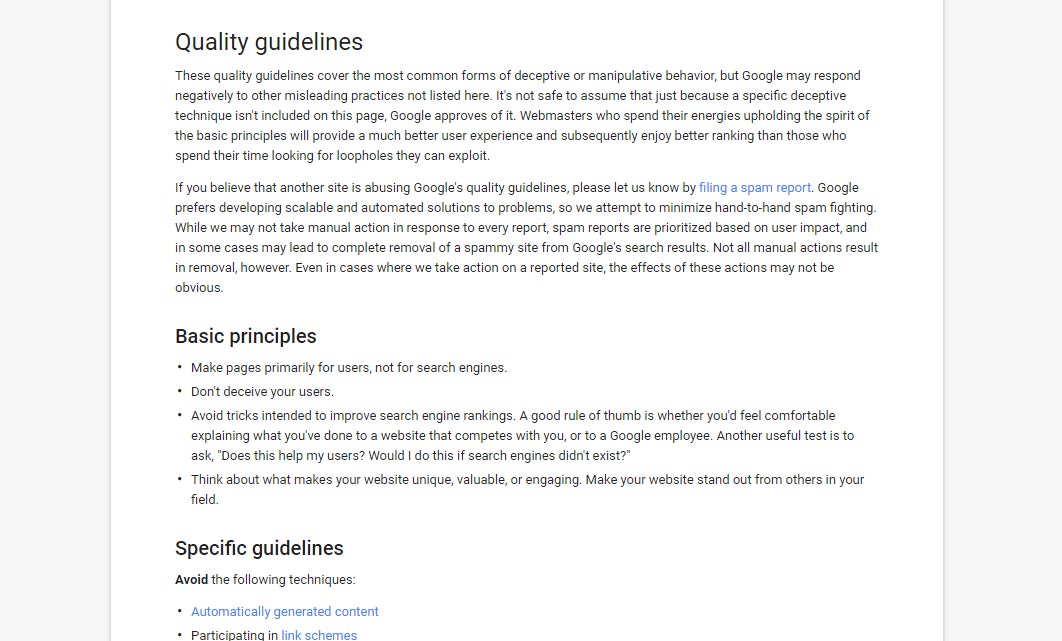 Each web page should be reachable from at least one static link.
Navigation systems are often programmed in Javascript, Java or Flash which hides the links from bots. That means they can't follow the links, and assumes that the website is made up of just 1 page.
Make sure your navigation system is legible by search engine crawlers.
Keep the links on a given page to a reasonable number.
Too many links may be seen as stuffing by Google, which can stop your website from being ranked at all.
A website should be useful, and information-rich.
A website should be interesting and original.
Write clearly and accurately to describe your business, service or product.
Think about the words users type to find your pages. Your site must include those words within its pages. Dedicate each page to one search term.
Text should be used, instead of images to display important names, content, or links.
Use ALT tags on images, include descriptive title tags
If images are used use the "ALT" attribute to include a few words of descriptive text.
Make sure that your <title> elements and ALT attributes are descriptive and accurate.
Check for broken links and correct HTML.
Be cautious of dynamic pages – those on a database system (i.e., the URL contains a "?" character). Be aware that not every search engine spider crawls dynamic pages.
A site map can be helpful to users, Include links that point to important parts of your site.
If the site map has an extremely large number of links, break the site map down into multiple pages.
Using images on a website
Search engines cannot visually see images/graphics. They need to be informed what the image is. Named correctly images on your website can be listed in Googles' Image search too, which is great for your sites rankings.
Give Google as much information as you can about the images on your site. This is done in a number of ways:
Actual file names
The actual file name can give the Google bot clues about the image subject matter.
I always make the file name a sort of description of the image.
A product image should be saved as <purple-polka-dot-wellingtons.jpg> rather than Image2.JPG. That way the name is more descriptive to Google.
Image file names may be used in search results.
Image ALT tags
ALT tags are short descriptions in the code of your web site.  They give bots information about the image.
ALT tags are important for several reasons:
They provide Google with useful information about the image. They are used to determine the best image to display when a user makes a search.
Those with visual impairments, or people using screen readers or who have low-bandwidth connections may not be able to see images on web pages. Descriptive alt tags provides these users with important information.
If you are using Internet Explorer you should be able to see the ALT tags by hovering over your image.
Google Chrome and Mozilla Firefox do not display ALT tags when you hover over images.
Good, descriptive titles and captions on all your images will help your organic ranking.
SEO 'tricks' to be avoided
Hidden text or hidden links
Hiding text or links in your web content may mean that Google perceives your site as untrustworthy. This is because you could be presenting false information.
Both text and links can be hidden in the following ways:
Using same colour text on a coloured background (eg. white on white, black on black)
Text behind an image
Setting the font size to ZERO
Google may completely remove you from it's index if your site is found to be deceptive.
Loading pages with dud keywords
Keyword Stuffing
Do be aware that you can over fill pages with keywords, known as keyword stuffing.
This sort of behaviour can also be seen as spamming, and Google will return a negative result on your site.
Keyword stuffing can harm your ranking, or you could be taken off the results page all together.
Focus on creating useful, information-rich content that uses good keywords, in context.
View your website in a text browser such as Lynx – this is how search engines would see your website.