Blog content writing strengthens a domain, drives traffic to a website, builds trust and supplies a brilliant online customer service platform.
As you write, you'll learn, discover new blog post ideas, create social content and build a relationship with your readers, turning them into clients.
More times than not, before they even contact you, the buyer has decided to purchase.
People consume the content on your website, blog and social media over months or years. You build trust, and they connect with you. We make decisions in this way every day.
As a business owner, it's your job to show your knowledge and make your personality shine online.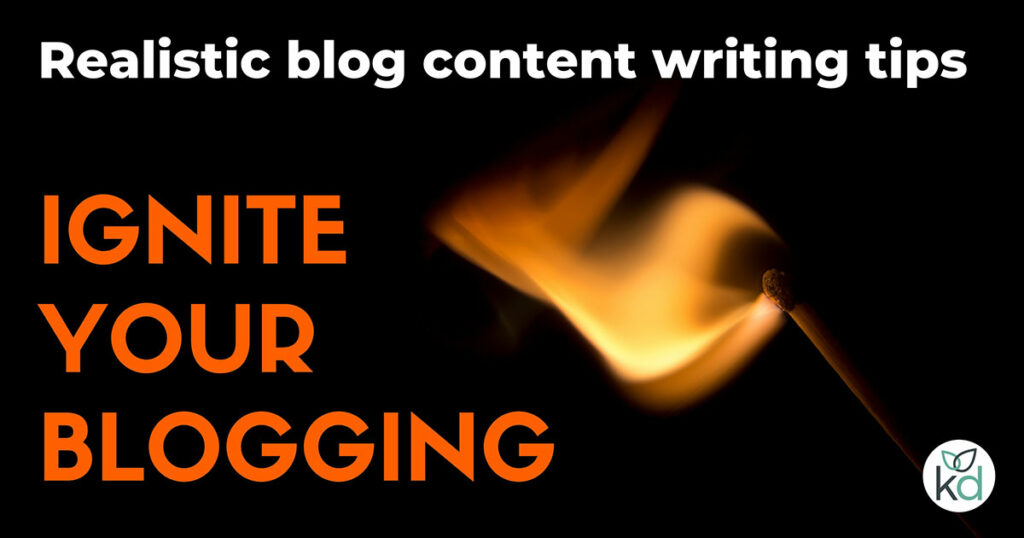 Good writing for blog content
I'm throwing my hands up; I have a secret. I am not the best writer, can you tell? I'm cool with that, I'm growing all the time, and my blog has a great relationship with Google.
Want a few realistic, straightforward tips to write good blog content? Here we go.
Use keyword-rich titles
Treat blog post titles in a different way to newspaper headlines and attention-grabbing social media titles. Those should be catchy and clickable.
Post titles must be relevant to the blog post itself. Search engines aren't interested in click bate – blog post titles must clarify the content.
Include the relevant key phrase for the content but add a powerful word to get clicks from search engines.
Consider sub-titles
Heading 2 tags break up paragraphs – use them to make the blog content clear and split it into obvious sections.
Headings help people to scan content.
Shorten sentences and break up paragraphs
Mostly, people have no time and a short attention span. We are busy; we hop from article to article and pick up our phones whilst juggling family life with work life.
Make things easy.
Help people to skim the blog post and to pick out parts they want to read. Break up paragraphs, and use shorter sentences and bullet-point lists.
Breaking up the text helps humans, and therefore, search engines reward the effort.
Write how you speak
You may find that when you start to write, you write in a business-like manner. Too much so, using very long words and stiff sentences.
Don't use super long words unless, of course, you use them every day or you're writing a science paper.
Know your audience, connect with them and don't alienate them.
People can be quickly put off if they don't understand the piece.
Use contractions – we tend to roll words together when we speak:
It is to it's.
They are to they're.
They will to they'll.
Join them up within your blog posts, and write how you speak.
Don't use the passive voice
The passive voice is a term you'll recognise if you've used the WordPress plugin Yoast. It's when the subject receives the action. Passive voice has a place, but blog posts are more straightforward when written in the active voice.
Let's take me, Kelly, as the subject:
The post was written by Kelly.
The active voice is when the subject performs an action:
Kelly wrote the post.
The active voice is much more effective, produces shorter sentences and has more authority. Try to use an active voice in your content writing.
-ING
I find that the addition of -ING to the end of too many words makes sentences confusing.
Use -ING sometimes (write how you speak, remember), but you'll see that sentences become clearer without it.
For example, I could write:
Readers will appreciate you for communicating openly and honestly.
Or
Readers will appreciate that you communicate openly and honestly.
Tell me you can see the difference. 🙂 Is it just me?
Leave out the word VERY
I read this in Steven Pinker's book on writing – The Sense of Style. It's a simple rule.
The word VERY is overused.
Very overused.
Steven explains that a word either has a meaning or doesn't. Important is important – it can't be extra important, i.e. very important. It almost devalues the word itself.
Leave the word out of your writing; it makes things easier to read and more believable.
When I read my old posts back, I cringe at the number of times I used the word. It was very often.
Help to find great words
Make the thesaurus your best friend. I can't always find the word I want to use, it's there at the back of my mind, but I can't dig it out. The thesaurus always helps. You can find one online.
I also use a website called WordHippo because it gives some brilliant word alternatives.
Discover words you could use in talks or podcasts – learn as you go. It's awesome.
Spelling and grammar
Spelling and grammar are essential in blog post writing. Google detects horrible writing and won't rank it as highly. Remember, Google wants to give visitors a good experience.
Grammarly is an excellent grammar and spell-checking tool which you can install as an extension on your browser. Use it to check blog posts as you type or once you've done the first draft.
The free tool will ensure your commas are in place and spell-check words. Using the free tool, I quickly learn to reconstruct a sentence if Grammarly highlights a word that seems correct.
Usually, the sentence delivery becomes clearer.
In the paid-for version, Grammarly highlights incorrect sentence construction and even suggests alternative words.
Again, you learn from your mistakes as you write.
A word to the wise – Grammarly is resource-heavy so if you're in draft mode, turn it off.
If you're not keen on Grammarly – use Google Docs to write blog posts and use the in-house spell-checker there.
Try not to repeat yourself
Don't flesh out paragraphs to create longer blog posts. Fluffing creates confusion, and people will quickly get bored of reading.
Try not to circle back around to a topic unless it's vital to do so. Keep the information in well-constructed sections.
And just write! Like anything else, you have to do it to learn it and to become confident.
How do you write content?
Blog post writing can only be successful when it's explanatory and helpful. Articles should help or inspire people.
Imagine you were explaining the topic to someone – there would be a beginning, a middle, and an end.
They might ask questions as you explain, which would extend your answer. Give them every detail you can about that particular subject.
The ideal number of words for blog content writing
There is no right or wrong when it comes to blog posts. There's no ideal number of words. Just make them informative.
Most of my successes have been longer blog posts (or web pages).
I've also ranked well for short posts that are to the point – this works when you've got strong content already.
Long blog posts succeed because they can rank well for several key phrases. So a post at 1000 words is an excellent place to start because they go more in-depth.
Produce content that matters
Write compelling content. People will recognise your brand as one they learn from and click your links from social.
Search engines identify the domain as knowledgeable within an industry and worthy because it gets those hits.
When you write blog content that matters, your domain becomes stronger and ranks higher.
Readers will appreciate it when you communicate openly and honestly. Sales don't increase through bragging text or hard-sell tactics.
Think about what you can do for your customers. Not how you can sell to them.
Show your skillset, knowledge and personality.
Search engines rank content that provides answers and is produced with care – for humans.
The trust you build will pay off. It is not a short-term marketing strategy – you are in this for the long haul.
Click here for blog post ideas >
How often should you produce written content?
Well-written content takes time to produce. As business owners, we're busy people. I'd love to see you writing a blog post per month and eventually increase that to 2 a month.
I tend to settle in at the weekend to write because I love it, I love my blog, and I know that I can repurpose everything I write.
You'll find that you'll improve your writing and build a stack of blog posts. There's no doubt you'll circle back to improve earlier posts, which just helps you produce more at a faster rate.
Improve the old ones – try to avoid deleting them entirely.
How long does a written blog post take?
Hours. Truly. If you put enough into them, which you should – like I've said, the better the post, the better it ranks.
I spend a morning writing the first draft: a morning rewriting and another morning editing.
It's up to you how long you put in; you might be a much better writer than I am with the ability to crack it the first time.
What to do with blog content when it's complete
Most writing pieces are always incomplete, or at least in the writer's mind.
But at some point, you need to get this blog post out to the world. Hit that Publish button.
When it's published – shout about it. Post a link to it on your social media accounts and do this within days of publishing it.
If the post gets hits in the early days of its life, it'll do better, faster.
My post on the open graph image will help you to create a beautiful-looking social post for it >
Reuse the blog content
Let the blog post sit on your blog for a week or two. Check that Google has indexed it.
PRO TIP: Add it to a sitemap. Submit URL to Search Console.
When Google has indexed the original content, you can now republish it. Good places are LinkedIn, Medium or onto an external blog.
Publishing on your blog first will help Google to understand which is the earliest version. They should rank that highest.
Written content for microblogs
Now put the written blog content to more use, my friends.
Take small sections of it and use it on your Instagram posts, on Facebook posts, in a Podcast and in short videos.
Reusing the content in this way is known as repurposing.
Final words on blog content writing
Now you see how brilliant blog content writing can be and how you can improve constantly.
Blogging helps your business online in multiple ways. What's stopping you?
Let's wrap it up into realistic blog content writing tips:
Use keyword-rich titles.
Consider blog post sub-titles.
Shorten sentences and break up paragraphs.
Write how you speak.
Write in the active voice.
Avoid using -ING.
Leave out the word VERY.
Use a thesaurus.
Check spelling and grammar.
Try not to repeat yourself.
Stay in touch to keep learning.