Originally created for blogs, but now widely used for websites WordPress is a platform that enables non-web developers to publish online. WordPress.com or WordPress.org – which should you use?
WordPress facilitates businesses to get a website online. Text, images, event calendars and more can be easily be updated in-house.
There are two very different platforms, both calling themselves WordPress: WordPress.com and WordPress.org.
Not sure which is the best to use or why? I'm here to explain the advantages of each.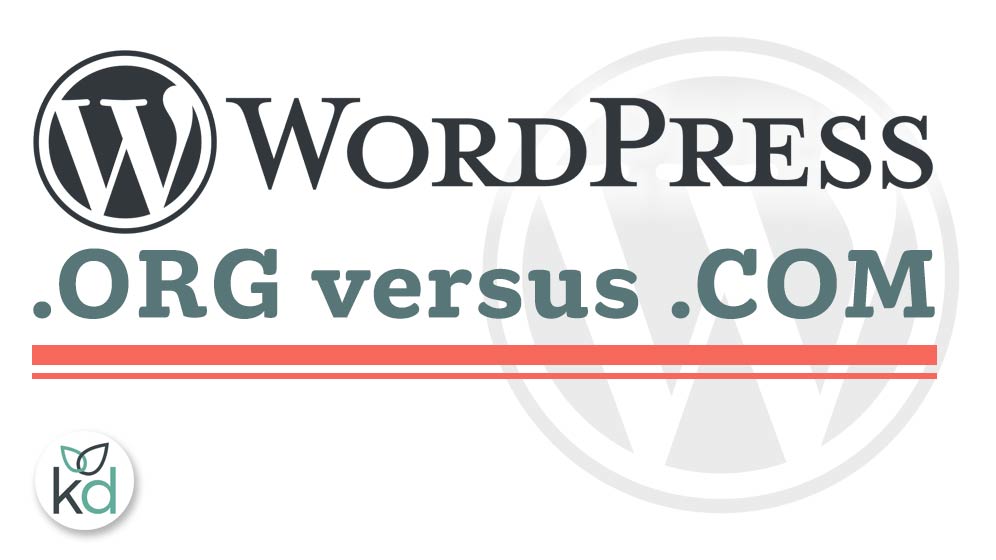 WordPress.com
WordPress.com is the hosted version of WordPress, and the easiest version for a non-web developer get set up on, initially. It is free to get going.
To start with you don't pay a thing. WordPress is already installed for you – you just sign-up, log-in and you are ready to start your website design. A fantastic way to get online fast.
Free plan, WordPress.com
WordPress.com provides a free plan which is easy to set up and brings with it most things you need for a simple website:
A number of free themes to choose from.
Automatic WordPress core updates.
Security.
No need to buy hosting.
No setup fee, nor pains.
Paid for upgrades
As a business though, once you delve into the world of WordPress.com you will definitely need to use the upgrades. There are three paid-for plans – Premium, Business and E-Commerce.
In the FREE plan, Display Ads from the Google Network will be shown on your site. They should mostly be relevant to your site content, but sometimes they are not.
You'll need to pay for the PREMIUM plan at £7.00 per month to have Text Ads removed from your site. So as a serious business this is something you should do instantly.
Let's look at the second plan, the Premium Plan, which looks cost effective for bloggers.
The WordPress.com Premium Plan
Premium Plan
£7.00 per month
"Build a unique website with advanced design tools, CSS editing, lots of space for audio and video, and the ability to monetize your site with ads."
Within the Premium Plan you can choose from 200 premium themes – a theme controls the design and layout of your site, such as menu and logo position.
Using the WordPress.com Premium Plan the Text Ads will be removed. The site will, however, still carry the WordPress branding – usually quite a small "Powered by WordPress" caption in the footer.
A disadvantage with the Premium Plan is not being able to utilise the powerful WordPress plugins which equip a website with functionalities like contact forms, event calendars, booking systems and improved search engine optimisation.
So small businesses will need to upgrade once more. On to the next plan, the Business Plan.
The WordPress.com Business Plan
Business Plan
£20.00 per month
"Power your business website with custom plugins and themes, unlimited premium and business theme templates, Google Analytics support, 200 GB storage, and the ability to remove WordPress.com branding."
The WordPress.com Business Plan means NO Text Ads and additionally the WordPress branding is removed from the footer.
The real draw, though, is the ability to use plugins, of which there are thousands.
Third party themes, purchased outside of the platform, can now also be uploaded, including bespoke themes. So WordPress.com is now looking a lot more attractive.
Purchasing the Business Plan means that extra storage is provided for images and videos, and the WordPress branding is removed.
You are also walked through the setup with a handy wizard.
The Business Plan is twice as much per year as a stand alone hosting account (which you'd need for the non-hosted WordPress.org) – but on the positive side the WordPress.org team handle core updates, ensure the website is running smoothly and manage security.
You can even set plugins to upgrade automatically (be careful though as updates can sometimes conflict – be sure to always have a backup).
The Business Plan provides search engine optimisation tools – which, with assurance from WordPress.com on their blog, "takes care of 80-90 percent of the mechanics of SEO for you".
Be that as it may, I cannot see any mention of Opengraph generation, so you may need a plugin like YOAST SEO as well.
Here's a review that's honest and easy-to-compute – WordPress.com Business Plan Review from WinningWP.
WordPress.com eCommerce Plan
eCommerce Plan
£36.00 per month
"Sell products or services with this powerful, all-in-one online store experience. This plan includes premium integrations and is extendable, so it'll grow with you as your business grows."
What interests me looking at the eCommerce Plan is that website owners pay £432.00 per year – £192.00 more than the Business Plan. And seeing as you would still need to pay commission to a payment gateway like Stripe or PayPal, you are basically only paying to use WooCommerce.
If you haven't many products or feature requirements, my advice is to stick with the Business plan and install WooCommerce there, which WordPress.com say you can do on their Monetize your website page, under "Selling Physical and Digital Products or Requesting Donations and Tips".
The advantage of the eCommerce plan is that you have premium WooCommerce plugins installed such as UPS shipping and Product Ad-Ons. But until you need that kind of thing the basic WooCommerce package will do nicely.
Free domain name
In all of the above plans one domain name is supplied free for one year, but then every year it is renewed at about 30% above industry prices.
The real problem I can foresee with WordPress.com domain names is email. If it is reserved with WordPress.com you can take advantage of their forwarding service, where any email address ([email protected]) can be forwarded to any email address ([email protected]).
Forwarding addresses, however, are unprofessional. When you reply, you reply out on the free email address (Gmail for example). This confuses clients.
My advice here? Buy your domain from a hosting company, point the MX records at G Suite and the hosting at WordPress (I guess another blog post is coming on here, in the meantime email me).
Importing to WordPress.com from Wix and SquareSpace
Another convenience I've spotted within WordPress.com is the ability to import data from other website builders like Wix, Blogger and SquareSpace.
Don't be fooled – you're website won't look the same as the one you've imported, but you will have your precious content (posts and pages). I am going to assume it will need some major organising though.
I'm excited to see this tool, as I see lots of small businesses start on Wix and SquareSpace then want to move. I still put WordPress a category above when it comes to search engine optimisation.
Conclusion about WordPress.com
WordPress.com initially looks free and easy but soon starts to add up for a business that wants to grow. A good point though is that you will need to put money into your business, full stop, so however you build your site there will be outgoings.
The costs are business costs that you would likely pay to a WordPress website designer anyway.
When they expand, small businesses tend to outsource more and more web development, realising that it is a time consuming job. Someone with skill and experience can do the job better, and much faster.
Is WordPress.com suitable for Graphic Designers that supply websites? Or those providing websites that want avoid involvement with hosting services? Yes, I think the new Business Plan it is a really good way to set your clients up, and relatively easily. Just be aware of the email issue covered above.
A disadvantage I can see is that if you come to monetise the website through Ads – you can only use WordAds and you must pay a commission fee to WordPress.
WordPress.org
As a non-website designer, the initial setup of WordPress.org looks very complicated.
You have to purchase a domain name and hosting. Then install WordPress on the server.
The advantage of the self hosted WordPress, WordPress.org is that once you are setup there are no ongoing fees to WordPress. WordPress.org is free, open source software.
What you pay for using WordPress.org is:
Your own hosting per year.
Domain name renewal.
And optionally:
Professional email addresses.
Third party premium themes.
Third party premium plugins.
You would also pay for a payment gateway such as Stripe or PayPal if you have an eCommerce shop. But you'd pay gateway fees on either platform.
Many third-party themes and plugins can be used for free – there is no need to pay extra unless there is a specific purpose. If you have a web designer on board, they often have premium packages available to use at the developer level.
As the owner of a WordPress.org site you, or your website designer, are responsible for security, backups and updates.
This can become costly because big upgrades can break a site; out of date plugins and themes can cause security holes. It's advisable to keep the site up to date at all times.
The advantages of using WordPress.org
For a knowledgeable WordPress website designer there are many advantages to using WordPress.org.
They mainly involve control, monetising, re-targeting, membership and expansion.
Maximum control on a WordPress.org site
Access to hosting account plus email addresses.
Access to the database.
FTP access to the server.
Customise the site as much as we like.
Access to php, html files which can be edited.
Add code to header and footer.
Monetising
Using WordPress.org you can freely include paid for adverts without sharing profits with WordPress nor the risk of having a site taken down, due to breaking the rules.
Re-targeting
Using WordPress.org it is easy for a website designer to include Facebook Pixel in the header code, so that visitors to the site can be tracked for what is known as retargeting. That is, advertising to them on different platforms.
Migrating from WordPress.com to WordPress.org
My experience of migrating a site from WordPress.com to WordPress.org has not been seamless nor inexpensive for my client, but since those days WordPress.com has made big changes.
Migrating content is usually fairly simple, depending on the original theme and plugins that have been used to position text.
Just do not expect your beautifully designed website to transfer over in its entirety. There will most definitely be some organisation and tweaking to be done.
Conclusion WordPress.com vs WordPress.org
WordPress.com is pretty enticing now that it provides more freedom within the Business Plan, because it is so easy to set up.
Having said that – I believe there would be constraints for companies that want to expand and eventually use a web developer.
I know not one good WordPress developer that would prefer to use WordPress.com, so if you'd like to expand the site within two years there would be no point starting with WordPress.com, as you would end up paying for a migration.
WordPress.com, the hosted version, would be really good for people that are happy to continue to develop their own content without too much technical know-how. Be sure though that you'd be in that position for a number of years to make it worthwhile.
WordPress free installation
I install WordPress free when you take out a hosting package. Just email me for details.