I was asked recently, 'why do I need a website?'. This is a great question because we have so many other platforms available to us for free.
The answer isn't simple to explain in depth, which is why I wrote this post.
For full disclosure, I've spent my adult life as a website designer. You'll probably think me biased.
However, I'm confident a business will need it's own website for many foreseeable years, no matter how many online options there are. I've got several strong reasons.
A window to the world
A website is a window into our business, which is accessible to anyone. Visitors look in to find out about us, view products, services, skills and inspiration.
It's a nerve centre to communicate with an audience in depth. One place a business can demonstrate knowledge and achievements. We share background stories, an ethos and our goals.
It's found in searches locally and across the entire planet.
A website contains everything a buyer needs to know in one organised place. Crucially, that information can be retrieved quickly.
Use a website to make every online encounter with your business professional, clear and easy. Their experience will have a direct reflection on how users feel about your brand.
People rely on search engines and websites for solid, no-nonsense facts.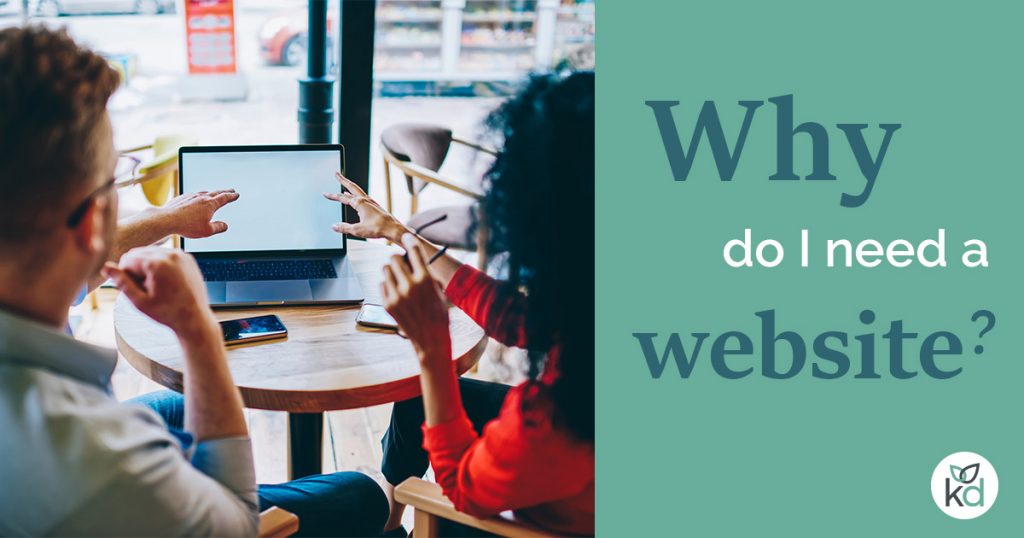 A successful website
Like anything in life, to get return from a website a lot of effort has to go in. Effort is the way a successful website owner will stand apart from the unsuccessful.
A website is the place to a build an archive of fantastic content which ranks on search engines.
Use that content on social media, building brand awareness.
Shareable content is something so many small businesses struggle to find – a website and blog are the perfect tools to host material.
Being the owner of a successful website takes time and dedication. Marketing your business online takes courage and passion.
The fickle world of social media
Social media helps customers familiarise themselves with a brand on a more personal level.
The platforms are fantastic places to engage and connect and there are a few trustworthy platforms we really depend on for online marketing.
Businesses can do so much on the platforms – display services and sell products.
Marketing through social media really does work well. It's a compulsory addition to online marketing, but it's a fickle world.
Vanity metrics, such as likes and shares, can rarely be monetised. We've seen influencers with tens of thousands of followers unable to sell even a t-shirt.
Social media versus a website
A business can't rely solely on social platforms because of their limitations.
New followers miss posts.
Social feeds constantly update and news quickly gets drowned out, even on the businesses own page. The post about a new product, an award or recognition quickly gets drowned out.
Algorithms change.
Social platforms are money making machines in reality. When they see reason to change algorithms, they do. Facebook damaged the visibility of businesses in January 2018, by changing the algorithm to prioritise family, friends and groups over businesses, brands and media. This actually encourages businesses to purchase Facebook ads and is the money making Facebook we see today. Businesses never completely own or have rights over social profiles.
Out of date information.
Users recognise that social platforms are unreliable sources for opening times and prices. There are not enough businesses who keep the information up to date. This can be damaging for businesses.
Audience not on the same platform.
With several social media platforms to choose from, your preferred platform may not be the same as a potential customer. People who aren't logged into a platform won't see bios, opening times and prices. This cuts off entire audiences.
Demographics change.
Social platforms are popular in waves. User age range changes. At the moment teenagers spend more time on TikTok and YouTube rather than Facebook. There's a shift in platform popularity every few years, so it's likely that an audience will change over time.
Let's stop social media bashing and now look at search results.
Google the business name
When someone discovers a business, the most common course of action is to look them up on a search engine.
What do people find when they search for your business online?
I'd like you to search your business name and variations of it. As well as your own name.
A business that has been trading for a while will see results from platforms such as LinkedIn, Facebook, Twitter, Google Local, Pinterest, Cyclex, MyLocalServices, Yelp, Yell, Tripadvisor, Booking.com and Trivago.
Take a good look through and ask yourself if you are happy with what potential leads will find.
Can people access information without being logged into a platform?
Does your business look professional?
Do people feel welcome?
Can they connect, book or buy easily?
Are all the important contact details available?
Do they understand what you provide or how you can help them?
People don't take the time to accumulation information from each result. We're too busy.
Search results for a website
Search results should be dominated by the company's web pages. A well programmed website would rank highly and be the result a user clicked.
That way, the business owner is more in control of what people see and how they view the business.
Provide a website, a dedicated place for a smooth user experience.
Supply clear, concise, updated information created for your ideal customer.
Highlight awards, achievements, news, events and current photos.
Make it easy to find premises via interactive maps, provide a collection of reviews and a compelling story about the business owner or team.
Good results are not hard to gain if you put time and effort into a quality website.
Google local search
A geographical search is known as a local search. Google treats local searches slightly differently.
Your next task – use Google to search for a local business, like your own.
For example – "hairdresser Plymouth".
This is a familiar search if a person is looking for a service. They're not aware of the name of a company, but they search a local area to weigh up their options.
The most prominent result is on the Google Map. An aspect of search engine optimisation.
The top businesses shown on the Google Map are determined in a number of ways.
The first is by proximity to the search, which is kind of obvious.
Results are then listed by popularity and prominence. What does that mean exactly?
Popularity coincides with Google Reviews – businesses with more reviews – and those with the most stars – will appear higher up the list.
Prominence refers to the rank of an associated website on Google itself. Yup! Website position on search results is taken into account here. It has a direct affect on the position of the business on Google maps.
Complete and up to date information is also a factor. Google places businesses higher on map results if their Google Local page is complete, clear and explanatory.
Business results on Google maps are linked to 'Google local' pages. You can claim and update yours via Google My Business – a free tool to manage the business appearance and reviews.
Website rank
The build, structure and design of a website will affect search engine rank. I want you to start any website build with a few things in mind:
Website usability.
It goes without saying that a website should be responsive. A responsive website adapts to the device it is viewed on, be that phone or desktop computer. Not only that, text needs to be legible on both and Google will penalise a site in search results if the text is too small to read on certain screen sizes.
The website also needs to be easy to navigate around, on all devices, with a clearly marked menu system and links throughout content.
Dedicated landing pages.
Structure the website so that each product or service has its own dedicated page. A landing page is just as important as a homepage because people search directly for services or items. Research a key term that is related to your product and build the landing page around that term to get good results on search engines. Remember to include all the information that you can.
Clarity.
Display opening times, prices, contact details clearly on the website. Include a good background story, photographs and terms of service. Google rewards websites that are clear about their intentions – simply because deceptive websites tend to hide these details. These simple inclusions also help visitors to connect with you personally.
Page structure.
Each page and post must start with a heading 1 – a H1 tag – which includes the nominated key term for that page. Following from the heading 1, use heading 2 and paragraphs to separate the written content and make it easy to follow. Be to the point. Well structured, concise pages rank better.
See headings and paragraphs (in WordPress)
Images.
Use images that are the correct pixel size for the positioning on the page and reduce the image resolution, so it downloads quickly. Google penalises websites with slow loading media. Save images according to key terms.
I explain more in my post – how to resize an image for the web.
Gain further reach
There are two steadfast ways to gain further reach on search engines and create a buzz around your website. Blogging and YouTubing. I'll explain why.
Blogging
A blog is a dedicated area to create articles around topics that interest your ideal client. They could be knowledgeable, technical, passionate. Use your writing to give people reasons to choose you over the competition.
Using a blog you can draw traffic into a website using more and more searchable key terms.
How can a blog increase traffic to a website?
YouTube
Google owns YouTube and YouTube is a powerful search engine its own right. Relevant YouTube videos strengthens rank.
An associated YouTube channel will increase the visibility of the website.
Choose which interests you most – writing or recording. However, doing both (well) really helps rank.
Host the blog on the same domain name as the website, because good articles will strengthen bad articles. Use embedded YouTube videos to reinforce written articles.
Content ideas
One easy way to find content ideas for blog posts and YouTube videos is to answer the questions your clients ask you.
Note questions down each day and you'll build a long list to answer.
The fun and passion comes with confidence.
The more you produce, the bigger the website becomes and the more visible your business becomes online. And you can get freelance professionals to give you a helping hand.
Take your time! No one is asking you to do this all at once – this is a future vision for a fruitful and rewarding website.
A quality newsletter list
As soon as you start to build and grow a website, set your sites on hosting a newsletter sign-up form there too.
Encourage sign-ups by developing a valuable give-away. People need a good reason to leave their email address with you.
The give-away could be a money off voucher, a white paper, an informative guide or an infographic.
A list of names that give you permission to email them on a regular basis is beyond valuable.
Don't let the numbers worry you. Ten people that truly want to hear from you is better than 1000 that dont. Nurture the community.
Stay in touch with your list regularly and offer valuable advice or entertainment.
How buyers come to a purchase decision
People go through a succession of actions before they come to book with you or make a purchase. You've likely been through the process yourself.
We hop from the phone, to the tablet, to the computer.
Then switch between YouTube, email and social media platforms, devouring information.
Content is scanned quickly and we save what inspires us. We scroll, we browse, we subscribe.
The way we come to a purchasing decision is more about what we see over an extended period of time.
We get to know a business and learn about them through articles and videos hosted on the hub that is the website.
Be in front of your customer consistently and support them. Do a good job of making them feel that you're the right company for them.
People are loyal when they come to a final decision – if you've provided for them they'll usually stay true.
Conclusion
I feel quite liberated having answered the question 'why do I need a website?'. It's been on my mind for years. And you can see why there's not a short answer.
The reasons are so obvious to me because of my search engine knowledge and I hope they are now more obvious to you.
Dedicate to gaining online reach using a website and a blog. Build and develop them together for a strong rank and increased visibility on search.
Get in touch with me if you need advice or sign-up to my newsletter.