Someone asked me, 'why do I need a website?'. This is an excellent question. We have so many other platforms available for free; why spend time and money on a professional website?
My answer isn't simple, so I wrote this post to explain why I believe it's essential for a business or organisation to have a great website.
For transparency, I've spent my adult life as a website designer and technical SEO.
Not all websites are built the same.
First, I want to stress that not all websites are built the same. A website can be put online with little chance of success – no traffic, no enquiries, nada, nothing – tumbleweed in its whole lifespan.
A lack of traffic comes down to how a website has been built and written. Achieving website success is not for the faint of heart.
So maybe there is an argument not to have a website at all if one is not going to put effort into marketing it.
Like anything in life, to be competitive, the business needs to work at it; a high-quality website with high-quality content will undoubtedly bring leads.
No matter how many other online options are available, a business will always need a search engine friendly website to generate business. Why?
Social media platforms aren't reliable.
We use search engines more than ever.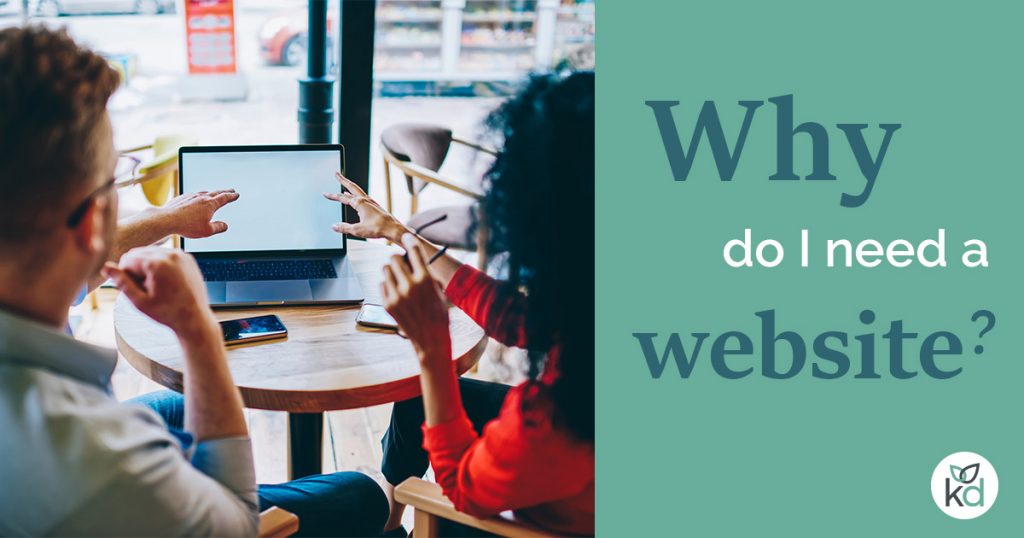 1. Social media platforms aren't reliable.
Social media helps customers familiarise themselves with a brand on a personal level. They are fantastic tools where we engage and make connections.
Businesses can achieve a lot on the platforms but will lose money relying exclusively on social media. Here's how.
The 'not logged-in effect'.
When logged out of the social platform of choice, we can't see essential company information – bios, times, events or posts. The 'not logged in' effect cuts off entire audiences.
There are several reasons a person may not be logged in to their social account:
Perhaps they log out of social media accounts to prevent hacking.
They may visit on a browser where the password isn't stored. For example, the Gmail phone app opens links within the app.
The visitor does not have an account at all. Your preferred social platform may not be the same as a customer.
Missed posts.
The feeds on social platforms constantly refresh; posts quickly get drowned out.
News you may feel proud of gets no social engagement, and it's easy to become despondent. To be effective on social media, you have to be very active.
Algorithms change.
When platforms see a reason to change algorithms, they will do so.
In 2018, Facebook reduced the visibility of businesses on the feed – the algorithm now prioritises family, friends and groups over companies, brands and media.
Business posts hardly get shown in feeds unless there's a paid-for boost. In reality, social platforms are money-making machines.
We've seen influencers with tens of thousands of followers unable to sell even a t-shirt.
You don't own your social accounts.
A social profile can get taken down, losing the content you've produced for it.
Bans can happen when someone posts inappropriate content or a compromised account administers it.
Businesses never own or have rights over social profiles.
Tip: Backup videos and graphics you produce for social. Download the Lives you create.
Demographics change.
Social popularity comes in waves. Age groups regularly change. Every few years, there's a shift in platform credibility so that an audience will change over time.
At the moment, teens spend more time on TikTok and YouTube than on Facebook.
I love social media. They are excellent communication tools.
But a successful business has both – they run social media accounts and use a website and blog.
A website is owned and run by the business and is consistently accessible.
2. We use search engines more than ever.
There are something like 5.6 billion searches on Google per day. Daunting, I know.
Using search, people can inadvertently find out about a business they didn't know existed.
We rely on search engines and websites for assistance, facts and original points of view.
Even a small website can rank well for plenty of search terms. When a website ranks well, it achieves clicks and boosts leads.
A small business needs, what, 10/20 new enquiries per month? Larger ones may need 40/50 sales.
How would extra business improve life?
Charge more and work less.
Spend more of your time doing something you enjoy.
See more of your family and friends.
Become an authority and mentor online.
Build a newsletter list and a community.
Employ more help.
Aren't these reasons we strive so hard to build a business?
A website is a nerve centre that can communicate with an audience in depth; it's a place a business can demonstrate knowledge, achievements and personality. The audience learns about a business efficiently.
A website should include:
An ABOUT page with a compelling background story.
Individual product or service pages.
A blog area with helpful articles, news and events.
Graphics and images that give an insight into the business.
Videos.
Awards and achievements,
Interactive maps
A collection of reviews.
Remember that people consume information in different ways – one person may watch videos, the other may read.
Their usage also depends on their situation. We hop from the mobile phone to the tablet, to the computer.
Each experience must be made effortless.
Searching for the business name
When someone discovers a business through networking or word of mouth, the most common course of action is to look them up on a search engine to find out some more.
What do people see when they search for your business online?
How about when they search for your first and last name?
Try searching for the name and its variations.
Ask yourself if you are happy with what you find. Put yourself in a customer's position.
Can people understand the point of the business and its ethos?
Would potential leads choose your business over another?
Can people access information?
Does your business look welcoming?
Can they connect, book or buy easily?
Are the essential contact details available?
Is the information consistent across all platforms?
Do they understand what you provide or how you can help them?
Never assume people understand what you do. Steer clients into the website using great content that ranks well.
When a website ranks well, the owner controls what people see when searching for a business name or an individual's name.
Good search results aren't too difficult to gain when a business owner is passionate about an industry and will strive for an excellent website.
Every online encounter must be straightforward. The experience people have will directly reflect how they feel about a brand. Let people find what they're looking for within a couple of clicks.
Being the owner of a successful website built for search engines takes time and dedication. Marketing a business online takes courage and passion, but it is worth every minute.
3. A website is a customer service area
Whilst building a reputation online, a website also helps your current customers. The other day, a customer emailed me to ask, "How do I change the text within Elementor?".
I sent them straight to the how-to instructions I had written on the Elementor text editor.
They were impressed by how organised that looked. I'd had the foresight to write that page because it's something my clients need to understand, and I offer that.
The piece also ranks well under the YouTube videos on the topic, making my website stronger within my industry.
Not only is the website easy to find, but I also give people an easy experience and I answer their questions. The website isn't about me, it's about my audience.
Conclusion
So, there you have it; I've answered the question in detail, 'why do you need a website?'.
It's been on my mind for ages, and you can see it warranted an explanation.
To me, the reasons are evident because of my search engine knowledge, and I hope they are now more apparent to you.
Commit to gaining online reach using a website and a blog. Build and develop the two for a high rank and increased visibility on search.