I'm often asked 'what is a hashtag' and 'how do hashtags work?' at my marketing talks.
Hashtags can look really confusing to the untrained eye, bunched up together on a social media post. 
To add to the confusion they are often used incorrectly.
Let's learn what a hashtag is and how to use them more effectively on social media.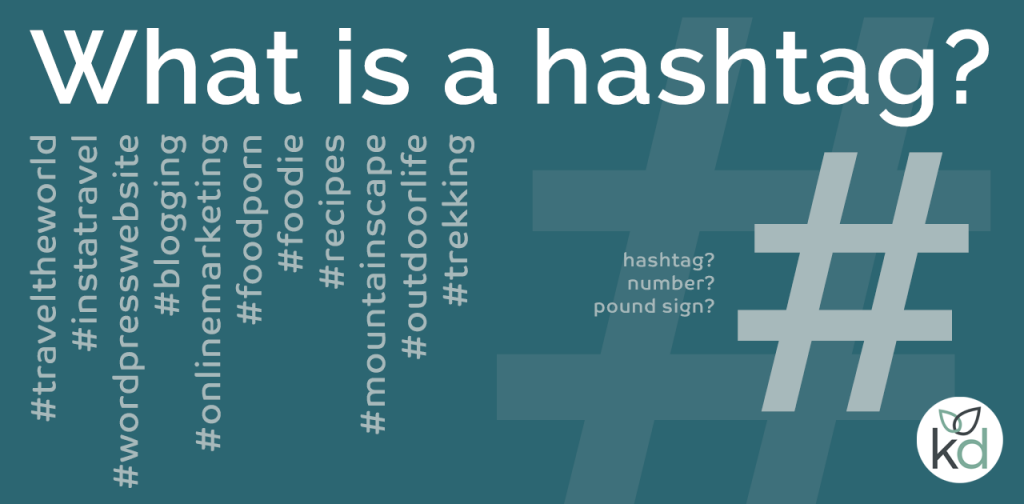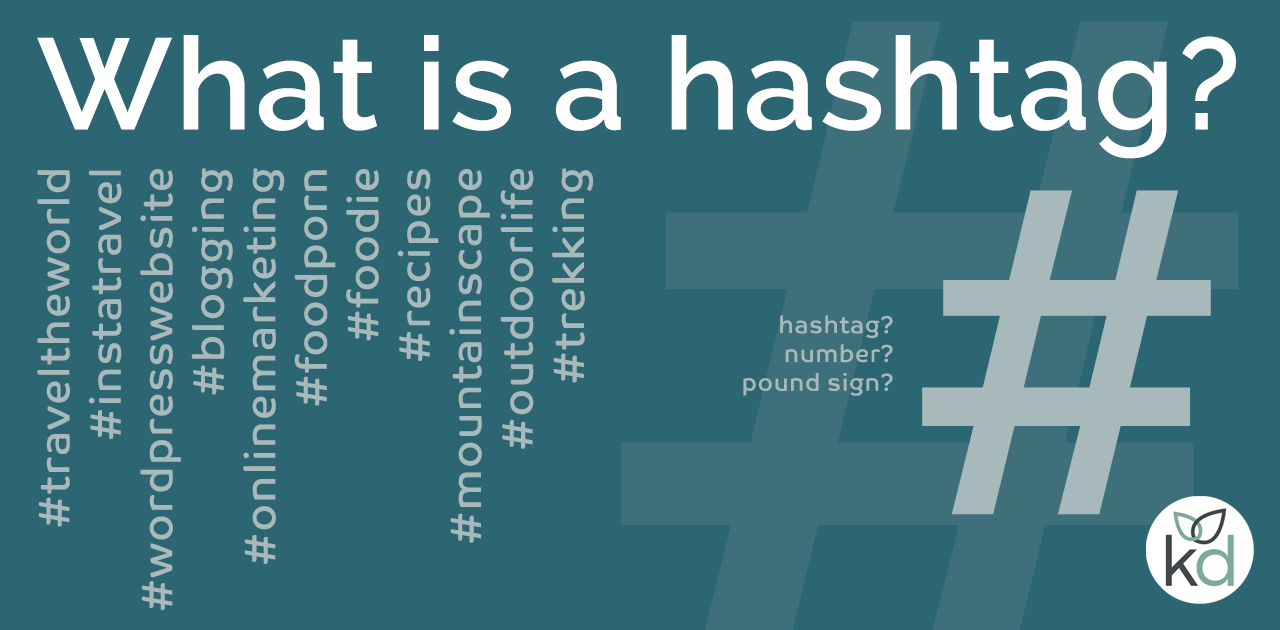 Hashtags explained
Associate social media posts with a topic by using hashtags. A hashtag could represent an opinion, an event, a task, a pursuit, a mission or a movement.
Fundamentally, they enable others to track the topic.
However, people often use them to give meaning to a post in obscure ways which we'll talk about later.
On most platforms, clicking a hashtag will reveal all posts that used the hashtag.
Results are ordered chronologically (Twitter) or by popularity (Instagram).
Follow a hashtag to take a journey, find more posts and dive deeper into a topic.
Use hashtags to discover people you'd like to follow – those with similar (or adverse) mindsets and posts of interest.
Use hashtags to organise content
So you can see that hashtags are a way to organise material or start a conversation. When running a business, understanding this is useful.
Use hashtags within posts so that people can discover your content. Follow hashtags to identify accounts interested in what you have to offer.
By discovering like minded people, following and connecting with them, you start to build relationships.
Marketers use particular hashtags that they want to be found for – such as #travelfrance. They directly target groups and spark conversation.
This is how social media marketing works.
How to use use hashtags
All hashtags start with a #.
The old skool name for that is the 'number sign'. North Americans know it as the pound sign: not to be confused with the £ (pound sterling).
It's more recognisable these days as the hash key or hash sign.
The text for your hashtag comes directly after the hash sign. Do not use spaces. You'll be unsuccessful creating a hashtag if you use a space between the hash sign and the text.
If your hashtag contains multiple words, group them and, again, do not use any spaces.
We usually keep hashtags all lowercase, adverse to everything we've learnt about writing. An example is #travelwebgirl.
People use capital letters to differentiate between words. I.e. #TravelWebGirl.
Capitals are used infrequently, but are helpful if a hashtag is hard to read. For example #teaatthetyne. The eye has difficulty separating the words here. #TeaAtTheTyne is much easier to decipher.
Uppercase letters will not alter search results. Searches for #travelwebgirl, #TravelWebGirl and #TRAVELWEBGIRL will have the same outcome.
Numbers are supported, and example being #TyneTeaAt12.
Do not use punctuation marks: commas, full stops, exclamation marks, question marks and apostrophes will break the hashtag.
Don't use special characters like an asterisk (*) or an ampersand (&).
Don't use the @symbol. The @ symbol tags people. I.e. @kaydeeweb.
You can tag people with text content, known as a mention. This will directly tag someone and notify them. Not the same as a hashtag.
Which hashtags should I use?
Use hashtags according to industry and target audience.
Easy huh? I jest …
Help people to find and follow your brand using hashtags, by using ones that are relevant to your business and to your post.
Let's imagine you run holiday cottage in the Cotswolds. Try to put yourself into the mind of an ideal customer – probably someone who likes to travel and/or appreciates historical areas, quaint villages, traditional English pubs, hiking and biking.
Whilst browsing, that person would follow hashtags such as #bikingholiday #hiking #adventures #travelengland. So hashtagging posts in this way helps an ideal client find you.
Hashtags also work the other way round. Search for these hashtags to find accounts that are using them. Connections are created by following other accounts and liking posts.
Make sure social profiles are up-to-date and interesting for when people check them out. Humans spend hours on the internet just to be inspired, educated or entertained.
And please take all of the above gently, online connections take time and effort.
My video on targeted audiences may help you here.
How to find trending hashtags
There is not a true, official list of hashtags, no Oxford dictionary we can use.
Popular hashtags change constantly due to news and fashion.
There are some constants though.
Most popular (trending), relevant and frequently used hashtags per platform can be found for free on websites like ritetag.org – the Hashtag Suggestion Tool is my current favourite.
On Twitter trending hashtags are easy to find. You'll see them in the sidebar on a desktop.
On a phone, hit the search button. Straight away you'll see 'Trends for you' which is personalised to your account. Hit 'Show more' to find a whole new world of trending hashtags around the world.
Using obscure hashtags
Obscure hashtags, as I call them, appear a lot on Instagram because people have an unlimited space.
A picture can paint a thousand words, they say, and that is so true on Insta.
A simple hashtag can change the way a photo is perceived. Using hashtags might make sense of a post, although it can also do entirely the opposite.
You'll see a lot of people using hashtags that have no connection to the post. I discourage you from using hashtags in this way.
Hashtags that are unrelated to content look desperate. Using too many hashtags on one post also looks like a hard-sell, spammy post, and just de-values it.
Some people do use a certain hashtag on each and every post, the story may become clear on viewing the content.
On Twitter or LinkedIn use a maximum of three hashtags.
In the world of Instagram, Facebook and Pinterest a huge number of hashtags can be used. I believe this is because they're not seen in the feed. Even if you can use so many, stick to no more than 10.
How to create a hashtag
It's easy to create a hashtag.
To create a hashtag just use the hash symbol before a series of words, no spaces.
Done! See I told you it was easy.
If the has tag has never been used before you've invented your own – and this is something to check if you are trying to create a following around a hashtag.
Be careful when creating a hashtag, it could already be popular for a certain event or movement – you could be marketing to the wrong tribe.
Check Google to see if the hashtag exists. Literally search for the hashtag. You'll find plenty of information and can find out how it's been used in the past.
Use a new hashtag to market a product, motivate people, start a movement or strike up a new conversation about a topic you are passionate about.
People know they can simply search, follow or use that hashtag and they will be able to join in.
Hashtags up can be a bit of fun, showing a feeling or a thought. These aren't highly searched but can help a post to make sense and be more personable – such as #randomthought.
How to follow a hashtag
On Instagram and Twitter a hashtag can be 'followed'.
On Instagram if you follow a hashtag, popular posts containing the tag will appear on your feed. This can make your Insta feed much more exciting as you can discover new people to follow.
I recommend businesses find and interact with people who could have an interest in their product.
How to register a hashtag
A hashtag can be registered, although it is not strictly necessary.
"Registration provides you with a record of your claim that can be used in any trademark or other legal challenge."

States Twubs, one of the bigger hashtag online directories.
Registration helps people to find the original source of a hashtag, so it is well worth it if you are building a following.
Registration doesn't stop other brands using the hashtag.
A website called Twubs provides a directory of hashtags registered to users.
Hashtags on images
A hashtag won't be searchable on a graphic or within a photograph. A hashtag must be written, clickable text.
However – Instagram and Facebook stories support hashtags and they are searchable.
Using the text option, three hashtags can be added to an Instagram/Facebook story. Using stickers only one hashtag can be added. Text therefore has the advantage on stories because more hashtags can be used.
What have we learnt in this post?
Hashtags must start with a #.
There must be no spaces in a hashtag.
Hashtags are more commonly all lowercase.
To decipher words uppercase and title case can be used.
Numbers can be used in hashtags.
A hashtag can be completely made up.
Follow hashtags to find like minded people.
Brands or movements may find it useful to a register hashtag.