A 'search engine organic listing' refers to the natural or unpaid indexing of a website on a search engine result page (SERP).
Organic listings are the natural listings of the web pages that Google has crawled, indexed and then ranked because they deemed it valuable for the search. The more informative and helpful the page is around the search term, the higher it's rated.
On the image below, you can see the search term: "digital marketing".
The first result is an advert at the top of the result page. It is marked Ad in bold, on the left-hand side of the SERP.
The organic listings come after the Ad.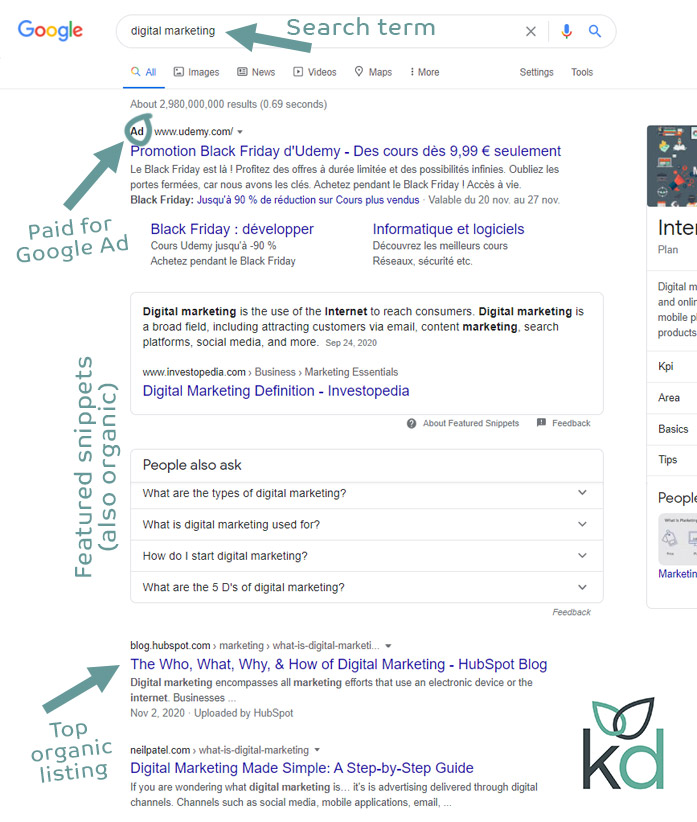 Website owners can use organic search engine optimisation tactics to gain a good search engine listing. Here are a few basic SEO principles to get you started.
My post 'What does SEO mean?' may also be useful.
Google Adwords; paid for listings
Google Ads are listed at the top and bottom of the Google search results page and are paid-for listings. These companies use Google AdWords to get the placement. They bid money on a keyword to reach the top spots.
When that company stops paying, the advert disappears.
The bid price on a keyword or phrase can be high depending on the competition.
Google Sitelinks
When searching on Google, the first result within the organic listing includes the standard title, description and website address, and sometimes additional links for web pages.
These are known as Sitelinks and are part of Google's Featured Snippets collection.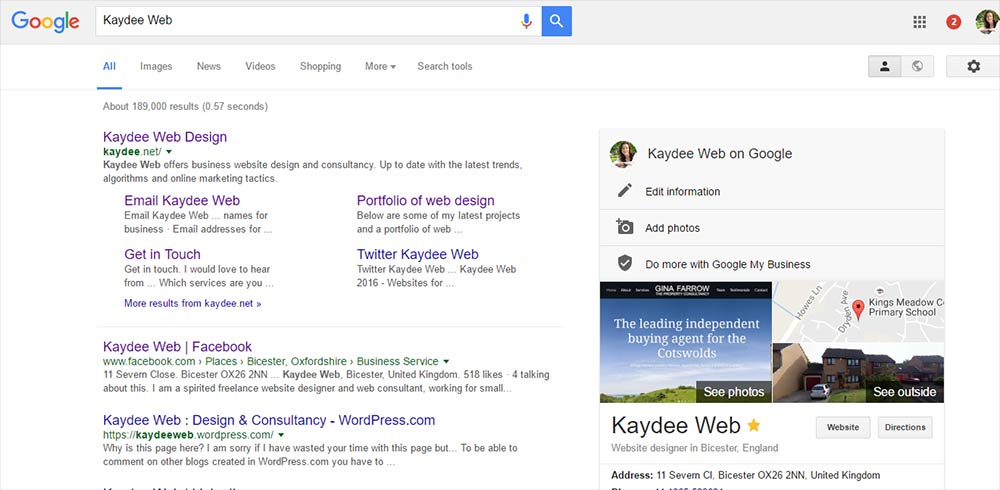 You can't request or pay for these additional links for your site. They are achieved organically.
To encourage Google Sitelinks, ensure the web pages are well structured using schema mark-up (also known as structured data), provide great content and link internally through the site.
When one or more web pages match the search term closely enough, Google will present them as Sitelinks.
'Search engine organic listing' versus 'paid for' listing
Few people part with their hard-earned cash without knowing and trusting a brand first.
That's why I advise website owners to initially strive for good organic search engine listings and brand recognition before taking out any paid advertising.
As buyers, we repeatedly search a topic to find the perfect product or service. We switch between desktop and mobile to check and learn about brands.
A website that appears consistently starts to build trust and brand recognition during those searches.
Organic search engine listings last for years and will consistently improve if you cultivate the website. Website owners must keep an eye on the website, fix errors regularly and send positive messages to search engines.
Maintain a robust organic internet presence; learn how to do SEO yourself.
Paid-for adverts are brilliant to aid the organic online marketing strategy.
Once the website has a robust online presence, use paid adverts to drive traffic to particular products and services, launch new ones and announce special offers.
How to achieve a solid search engine organic listing
Achieving a good search engine organic listing for your website is a long game but thoroughly worth it if you want to grow a business.
When trying to accomplish good search engine results, a small business owner must consider:
The size of the website and how information-rich it is.
How regularly the website is updated.
If the site is properly optimised for the search engines.
Use of social media to spread the word.
Links to and from external, relevant websites.
SEO results also depend on how big your competitive market is. Discover and target your audience.
Websites with influence
A company will rank highly on Google when it has influence across the internet known as off-page SEO.
Off-page SEO considers the presence outside of the website, like on Google Business Profile, YouTube, social media platforms and directory listings on other websites with authority.
The more frequently the website is mentioned and linked to, the more authority the domain has.
Simply put, Google recognises that your website offers worthwhile content and responds by ranking your website more highly.
The more effort a brand makes to genuinely help customers, the better it will do within search engine organic listings.