'Landing page' – it seems like a confusing web term and some of the explanations I've found on the internet are really quite complicated.
In SEO terms, the meaning of 'landing page' is a page on a website that is ranked on a search engine result page (SERP) independently of the homepage; for an independent search term.
Search engine giant MOZ still use the term this way.
Confusingly a second explanation seems to have taken hold – that landing page is a page created outside of the website – to which marketers will direct traffic. It usually excludes the menu system and other website information. The visitor is limited in the direction they can take on the page.
For example: a sign-up to an e-newsletter.
Either way, the term landing page is a concept to help your online business thrive. In this post I outline both explanations.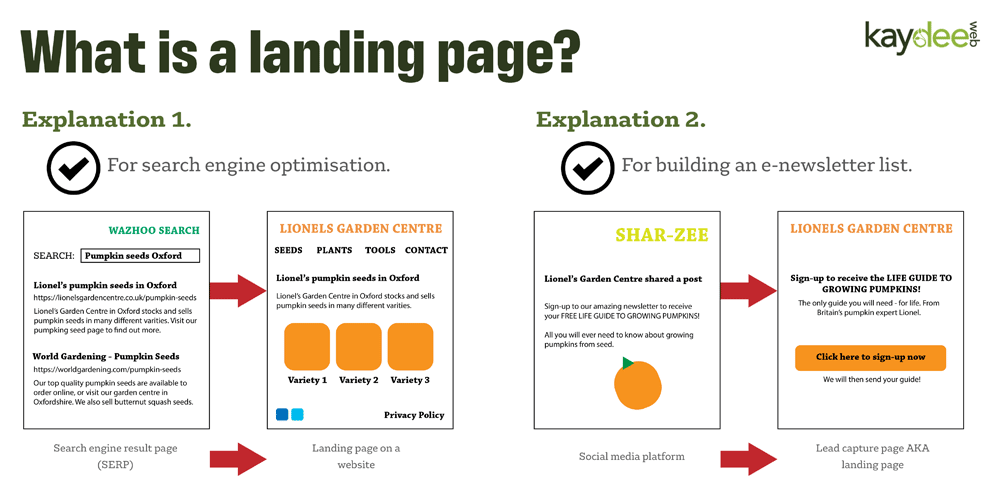 A landing page as part of your website (the original explanation)
Many website owners see the home page like the front page of a book.
So you may, or may not, be surprised to discover that visitors don't always initially arrive at your home page from the SERPs.
A website that offers different services or products is likely to (or SHOULD) create different pages with information about those items.
As we are more accustomed to typing longer search terms and voice search is readily available, searches are ever more specific.
When someone generates a specific search for an item, the results are much more likely to list a SERVICE page, than a homepage.
Let's use a florists as an example.
"Florist" is a very general search term, which someone might use whilst doing a search on their phone. Especially when they are looking to arrive at a florist that moment.
But what if they are more accurately looking for wedding bouquets?
They use a term such as "wedding bouquets oxford" or even "classic wedding bouquets oxford". People have now grasped that the more specific the search term the quicker they find their answer.
Coming back to the florist's website – once the search is made the search engines list the service page – Wedding Bouquets. This page would be part of the florist's site and would be optimised around the key term "wedding bouquets Oxford".
This is the original meaning of a landing page.
A landing page on a website is a page developed around a specific search term, giving the visitor the result they want, fast.
Many different landing pages can be added to a website and developed around key search terms.
A lead capture page AKA a landing page
Services like MailChimp, HubSpot and Ubounce have coined the term 'landing page' as a page with a single objective. People would arrive at these pages through social media or a link on a website.
I've always known these as capture pages or lead capture pages.
The marketer encourages clicks to this page by promising a really useful product in return for a sign-up to a newsletter or even a sale.
A capture page has no other links to the main website. The user can do one thing only. There should be no distractions.
These landing pages, or capture pages, can be hosted on a different platform to the company website – for example on MailChimp's host.
Why use a landing page?
For clarity I will call a landing page within a website 'a website landing page', and the latter explanation I will call a 'capture page'.
Within a website
Website landing pages target a specific search term as opposed to having one page that would confusingly and ineffectively target lots of different terms, such as a homepage.
The landing pages can be honed and advanced to do very well on search engines for up to five similar key terms.
The better your landing pages are positioned on SERPs, the better your site will rank overall, especially if the pages are well linked.
As a capture page
Capture pages are an intelligent way of building a newsletter audience, which is extremely valuable.
A newsletter list means you can communicate directly with an audience who are acutely interested in your service, and are very close to the buying stage.
The email address of a user is a well guarded and precious commodity, and a capture page should have a really fantastic offer to gain any sort of sign-up.
How to create a landing page
Well this depends on which type of landing page you would like to create.
How to create a landing page on a website
For a landing page on a website the first thing to do is to research a key term – one that people actually search for, and that your site might be able to list for.
A small business website would have little chance of being listed for a general search term such as "bouquet".
If you have a CMS website like WordPress and you are able to create your own pages, do just that. Create a page for your service and create the page around the researched key term.
How to create a capture page (also known as landing page)
If you'd like to create a lead capture page and want to start very simply – I can highly recommend MailChimp.
Sign-up or log-in to MailChimp on their website.
Navigate to AUDIENCE via the link at the top (on a desktop).
Create an AUDIENCE, call it something sensible such as Kaydee Web Newsletter – this will be public.
Your audience will be all the golden contacts that have signed up to your newsletter.
You'll now need to create a landing page, so go to CAMPAIGNS.
On the left hand side you should see a link to LANDING PAGE. This is where you can create multiple landing pages for different reasons – be it a sign-up or a sale.
What is the correct answer? What is a landing page?
A landing page is where the visitor 'lands'. It is where they end up after taking a course of action – be it clicking a result on a search engine result page (SERP) or clicking a link on social media.
After reading this post you will understand the lingo. Marketers and search engine optimisers seem to be using the term differently, and both are correct. Now you know what a landing page is.