There are powerful benefits of blogging for small businesses – a well-written, informative and inspiring blog is the foundation for growing a business online.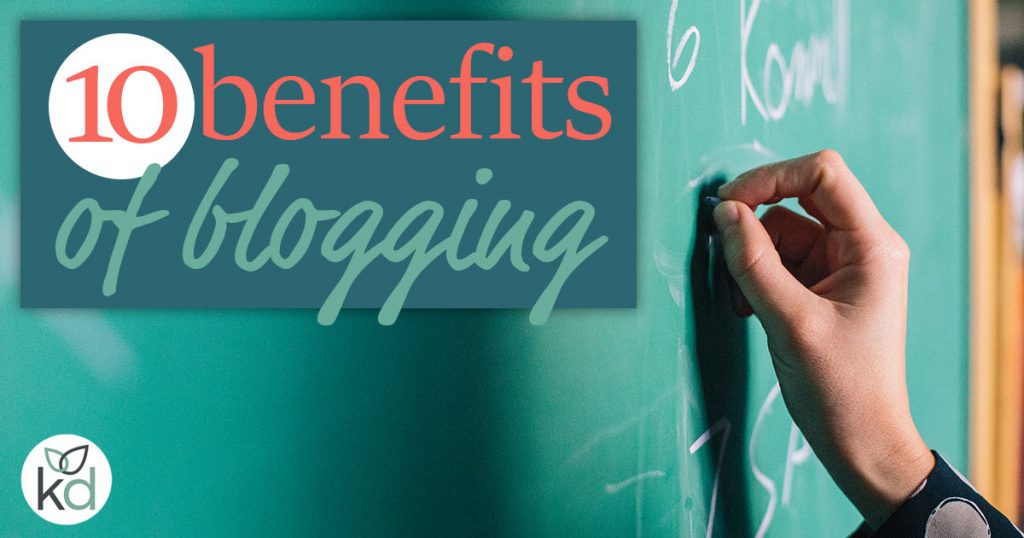 Blogging is key to gaining further online reach and showing knowledge within an industry. The content becomes assets. It's an extremely important tool in SEO and online marketing.
Here's how a blog will serve your business.
1. Increases search engine visibility
A blog is really an extension of a website.
Search engines crawl and rank blog posts, just like they would pages on a website.
A website is an organised area where visitors can find services or products.
Whereas, a blog can have an infinite number of posts that show knowledge and helps visitors.
More content means further reach.
The blog supports the website and gains momentum on search engines.
2. Appears in a wider variety of searches
A page or post is able to rank for 3 or 4 key phrases if they are targeted well.
Use a blog to appear in a wider variety of searches, by people interested in what you do. Pique their interest and their curiosity.
Constantly add content around different key phrases. Write articles that provide answers in different ways.
Keywords can be targeted in different forms of content.
Stick within your industry – the material on a domain must relate.
Location-based businesses can use a blog to dominate in local searches, by producing helpful content related to the area.
3. Drives traffic to a website
Over one domain, strong content supports weaker content. Informative and original content helps the domain to rank higher overall. This is known as Domain Authority.
To strengthen a domain, host the blog at the same address as the website. The blog can be in a directory (domainname.com/blog) or on a sub-domain (blog.domainname.com).
When writing articles, regularly link back to pages on the website to encourage traffic.
4. Encourages back-links
Great blog content naturally encourages back-links from third-party websites.
Backlinks are a strong SEO factor because they are a measure of online popularity.
Search engines reward links within websites. They encourage website owners to build networks of related, informative content.
So, intelligent websites link to content that helps their visitors.
Incoming links increase Domain Authority and that improves search engine visibility. In turn, encouraging more back-links.
The probability of receiving back-links to an inspiring post is far greater than getting them to a service page.
Give websites a reason to link to your blog by providing fantastic content.
5. Assists your learning
I'll never stop learning and I find that blogging assists my learning within my industry.
Blogging increases knowledge and cements beliefs or concepts, as you curate content and check facts.
Producing content triggers ideas, explanations and more questions that can be answered on the blog.
6. Boosts awareness of the brand
Use a blog to become influential in your industry. Show up, present your knowledge and build trust.
With a high rank, a brand is consistently in front of people who make related searches online.
People read content and watch videos, and they learn to trust the brand.
7. Generates content for social networks
Share blog content across social media networks to drive traffic back to the domain.
Share engaging, educational posts to pull people onto your website.
Show you are informed within your industry. Advise, explain, amaze and entertain your audience to encourage social clicks, likes and shares.
Connections can see each other's activity, so engagement places your posts in front of a wider audience.
There's also evidence to say that a brand's social popularity helps the visibility of a website. It certainly increases brand awareness.
8. Serves as a hub for media
The bulk of a blog is made up of informative or inspiring written articles but it doesn't end there.
A blog hosts news articles, events, videos and images. All of these will rank independently, depending on the search.
Use video and images to strengthen each blog post, by creating them around the same topics.
Repurpose content by turning written blog posts into scripts for video. Take snippets and use them on social media.
9. Contributes to product sales and online leads
A buyer is 60% decided on a purchase before they even make contact with a company.
The 2020 buyer is an informed buyer and the decision is made through online learning, inspiration or entertainment.
Reach this audience by producing quality content and showing up.
A business blog informs and engages an audience, building an online community.
Visitors connect with and trust the brand before they make a purchase.
10. Builds a customer support area
Existing connections are more valuable than new connections and it's your job to keep them engaged.
Their trust has already been established and they are likely to purchase with you again.
When a client asks a question I answer it on my blog and I send them a link.
That way I offer great customer service, whilst I produce valuable content for my blog.
Offer online training, and share 'how to' videos or infographics. Keep customers well informed and up to date.
Ownership and control
There's another benefit of a blog – you own it. You develop, control and nurture it.
My blog is my own space, a platform on which I can develop.
Social media is effective for building connections and is a wonderful way to share content, however, the platforms change algorithms regularly. They are platforms where you really have no control.
Social posts disappear as time moves on.
On the other hand, a blog is a searchable nerve centre where all articles are available all the time, ready to reshare.
Opinions and skillset
Aside from the huge benefits that blogging has for my business, I enjoy blogging for one more reason.
It's a platform on which I voice my opinions and personality, publicly. As I change and evolve, my blog changes and evolves with me.
Writing a blog and producing content showcases my skillset, learned over a lifetime.
There's something quite magical about that.
Why aren't you using a blog for your business?
The 10 benefits of blogging
To wrap up, I'll list the 10 powerful benefits of blogging. A blog :
Increases search engine visibility.
Appears in a wider variety of searches.
Drives traffic to a website.
Encourages back-links.
Assists your own learning.
Boosts awareness of the brand.
Generates content for social networks.
Serves as a hub for media.
Contributes to product sales and online leads.
Builds a customer support area.
If you need help setting up a blog contact me.