To rank higher on Google (and other search engines) a website owner must be committed – organic SEO is a long game.
With time, effort and a strategy in place, good rank is entirely achievable for a small business.
High rank will help to sell a product or service because the brand appears more regularly in front of potential buyers when they search. People develop a connection with that brand.
The aim is to be on the first page for lots of different key phrases related to the business.
Rank higher using content
Mostly, good rank comes down to content.
Content is information on a website. That information is provided in many different ways. A strong website will contain a good amount of written content which is supported and reinforced by images and video.
To accomplish that rank, provide content that truly educates or entertains visitors. You must do this on the website itself and then extend your reach using a blog.
You'll find some quick tips to help rank at the end of this post but mostly this will explain the longer processes to genuinely rank higher on Google and stay there.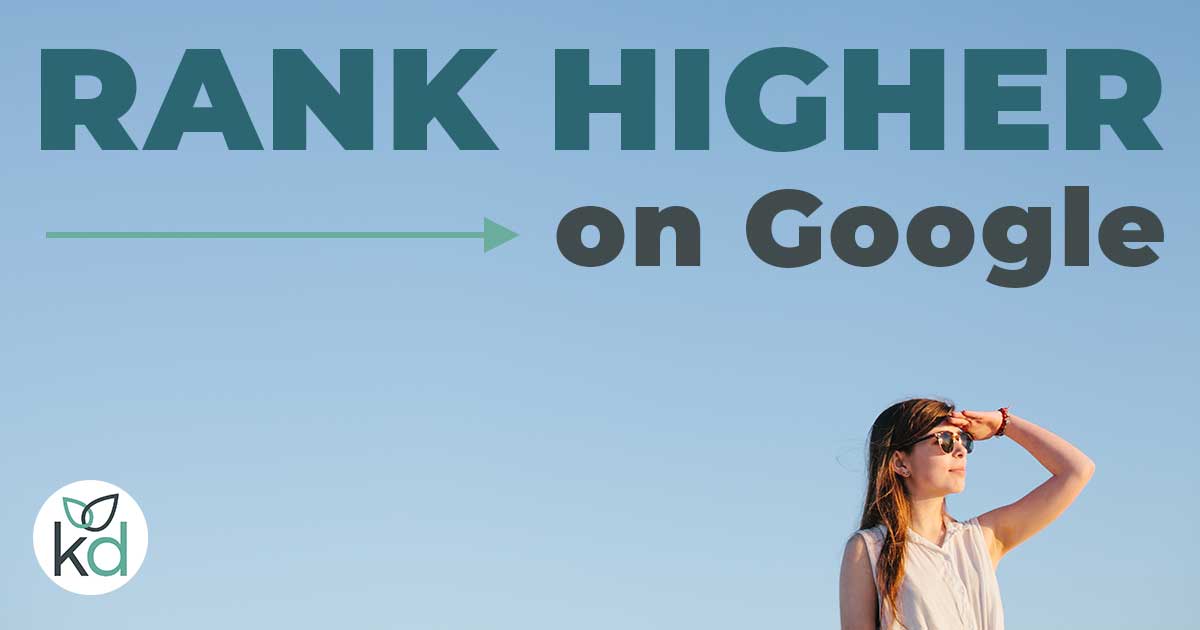 "Google's mission is to organize the world's information and make it universally accessible and useful."
– Google
Written content
Every page and post on a website must be useful. It could be useful in an educational way or it could have an impact by being inspirational or entertaining.
Google doesn't rank content that is meaningless, simply because we humans wouldn't use Google if they sent us to useless web pages.
Content must be worth reading, worth ranking and worth sharing. This is why, for the most part, longer articles rank better. A small business owner should start writing articles at about 1000 words.
Short articles can rank well, don't get me wrong, but if you are starting out seek to provide more.
It's true, no one will read every single word – most of us scan articles. You're probably doing that right now.
The point is, the article has to be better than the next to outrank it. Do that by addressing everything you can on the topic.
By way of example, if I were to write a blog post about walking in the Lake District, here's what I would include:
Examples of different walks.
Weather systems.
Names of lakes and peaks.
Clothes to wear.
Equipment to bring.
Cafes and restaurants to stop at.
Accommodation in the area.
Where to buy hiking equipment.
The list goes on.
I'd probably do this general blog post as outlined above and then do articles on each walk too, to really give some strength to my walking website and the domain.
How content helps ranks
Content builds a relationship with Google. You're saying 'hey, Google, I'm knowledgeable in this subject, and I'm an expert. I care about and provide for my audience'.
As soon as Google recognises the business as an authority within an industry, the website starts to rank higher for related terms.
A website owner must always produce and create. By creating content Google's bot will crawl the site more frequently and more frequent crawling means that any latest releases are ranked sooner.
Even weak pages rank better when the overall domain has a good reputation – rich content supports poor content.
As you are growing and learning, go back and improve weak pages whenever you have the chance.
What to avoid
There are common mistakes that small businesses make when trying to rank well. They try to rank for:
A single keyword,
a term that is too broad,
a popular phrase with high competition and/or
a key phrase that no one searches for.
Turn your attention to a researched long-tail key phrase that is possible to rank for.
For example, a keyword like 'walks' would be difficult to rank for with such high competition.
However "one hour walks in the lake district" is more specific and has a lower difficulty score when it comes to being able to rank for it.
Low competition phrases usually have fewer people searching for them but that really is fine! Your business probably couldn't handle 3000 enquiries per month.
Aim to rank highly for several, low competition phrases that will supply a stream of ideal customers to your website.
The narrower the competition, the more likely a site is to rank and receive the click, which can turn into a sale.
Evergreen content
Articles known as evergreen are useful for the visitor over an extended period of time.
This is the very opposite of news articles or trending topics that are highly searched for over a short period.
If you've started out in blogging or search engine optimisation aim to write articles that will need very little editing over the coming years.
Only create timely content when the Google bot is crawling the site super regularly.
Use links to rank higher
Internal and external links are positive SEO factors – Google loves to build a network of related, outstanding websites.
Internal links
Your page will benefit more from links within the content as opposed to a few links at the end of the article.
This is simply because it is better from the visitor's perspective. As they read, they may want to know more about the topic. We don't scroll to the bottom of the article to find a relevant link, we expect it to be at our fingertips.
Link the words within paragraphs to convenient pages or posts within your own website and blog. Help the visitor to find more information as they read.
External links
Within content, also link to external websites to strengthen points and enhance the user experience.
Just check first that the external website will sincerely look after the visitor. Only link if the website has a good reputation itself.
Regularly maintain links because external websites change and links become irrelevant. Dud links are signs to Google that the site isn't looking after visitors.
Where you've linked to a page, and the page is now redirected to another, change your link, don't leave it. You always want to link directly to the content.
Backlinks
Encourage links to your content – Google ranks websites higher when relevant and well-ranked websites link to them. These are called backlinks.
Backlinks are valuable because they are hard to achieve – your content needs to be top-notch.
Networking really helps with backlinks – business website owners are more likely to link to you when they know you and understand your business.
Ask people to directly link to your site. It really helps to have targeted keywords used within a text link that links to a related page – for example, "Organic search engine optimisation services".
Other media content for a good rank
You may start with blog posts and then also discover ideas for other material, which would do better in a different form. Images and video bolster web pages.
How to rank higher on Google using images
Web pages are lifeless without an image that supports the written content. A web page with no image looks something like a report and you'll find that visitors quickly leave.
Google understands that images are important to humans and expects to see an image on any decent page or post. When a relevant image is included they'd rank the web page higher than one without.
That reinforces my point about a good experience for a human – that's really the most important factor in ranking well.
How to rank higher on Google using video
You'll find that video is ranked even before written articles in certain searches, especially when the video is hosted on YouTube.
Google owns YouTube and it's rather partial to sending us there.
Embedded video enhances written content when the two are related.
Once you've written a blog post, create a video using similar text so that you repurpose what you've written. This also works the other way around if you prefer to do video first.
Current rank
Knowledge of where a website is positioned on search engines will provide direction and enthusiasm when trying to gain a higher rank on Google.
Use website SEO analysis software so you can see what key phrases you currently rank for.
I love MOZ, and use it for my SEO campaigns. MOZ Pro enables a business to track where they rank by keyword and associate phrases to pages giving page optimisation scores.
MOZ gives more keyword suggestions around a term, and provides data on how often a phrase is searched and how difficult it would be to rank for that term, helping webmasters improve pages.
Using an intelligent system like this lets business owners target key phrases and improve content around those key phrases.
This sort of intelligence helps produce the content your audience craves.
Rank for more key phrases
Try not to concentrate on one single key phrase. To rank well the website should be a hub of information. Related key phrases support each other.
You may find the site does really well for an unexpected term.
Google rewards a website that provides quality information. Posts and pages that rank highly will increase the overall domain authority, meaning that other posts and pages are more generously ranked.
Expand the website to provide better content with a blog.
A blog is an extension of a website. A blog helps a website to become informative using the business owner's expert knowledge.
Make sure the blog is on the same domain as your website to get the benefit of the blog supporting the website.
User experience
It's not only great content that enables a website to rank. Google also requires website owners to provide an easy user experience. There are a few factors that affect user experience:
Quick to load.
Easy to use.
Simple to navigate.
Reads well.
If a site is hard to navigate or downloads very slowly Google will penalise it on rank. So all your writing efforts could be lost. This is included in Google's quality guidelines.
Rejuvenating blog posts
Revisit posts that are not ranking well. Channel them around a different set of key phrases after doing some research. Use the content you've already got, but just sharpen it up.
Keeping your site fresh also shows search engines that it's up to date and well worth visiting.
Search engine crawlers can detect the last modified date and time of pages and posts. If there is new content it will be re-indexed.
The more often crawlers visit, the better your chances of improving ranking for the keywords on the page.
Show that your website is authoritative and encourage search engines to index your pages faster; this works in your favour when it comes to future listings and developments.
Quick ways to rank higher on Google
In truth, there's no quick way to rank well organically on Google. An unlimited budget or unlimited time would help, but who has that? A few quick fixes, that are within the ability of a small business are to:
Create a Google local page and complete all fields such as opening times and price range. Include a logo, photographs and a great description. Encourage Google reviews too. Having complete and up-to-date information will help the business to rank on Google maps.
Ensure all social platforms are up to date with informative, relevant descriptions.
Spur on some social shares – but valuable content really helps in this area.
Check directory listings are correct – search the company name online and update any current listing on external websites. Be sure the company name is correct and all links are up to date.
Paid for adverts – can be really helpful if you are running a sale, a promotion or what to try a product out. They just don't last long and can get expensive but are so useful for a quick fix.
How to increase page rank
So, in summary: analyse, write, optimise, repeat. The analysis will really help to see how well you are doing over time and encourage content creation.
Page rank is increased only with time and effort but is truly worth it in the end.
Steps and processes to rank higher on Google
Write informative web pages and link internally.
Use a blog to support the website and rank for more key phrases.
Always use a relevant image on any post or page.
Repurpose blog posts and create videos.
Share content across social media.
Encourage backlinks and network regularly.