You should change the WordPress username if it is admin. Or if it is anything else that is simple to guess, such as your first name. Purely because these easy usernames are an invitation to hackers.
You can't directly change the username within WordPress – but there is a simple way around it for WordPress users.
We are going to change the WordPress username by changing a user email address, then adding a new user.
Just because, in an ideal world, you're main email address (or work email address) should be associated with your WordPress user ID.
You'll need access to more than one email address to make this work. You can do it with a made up email address, but I don't recommend it in case you lock yourself out.
Here's what to do.
First login to WordPress.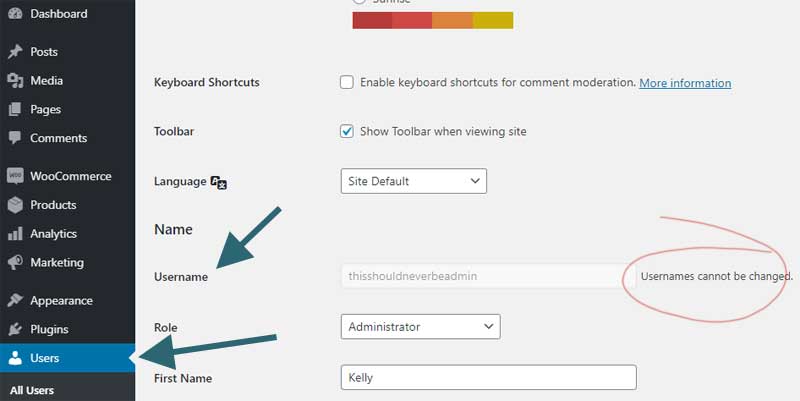 Go to USERS within the main menu on the left-hand side of WordPress.
Hover over the user known as ADMIN and click EDIT.
Change the email address in the email address field. Preferably to an email address you have access to just in case, although this could be made up if you know what you are doing.
Now that the ADMIN user is associated with a different email address, you can add yourself back as an administrator with a NEW username.
Click USERS > ADD NEW on the left-hand menu.
Choose a new (and obscure) username, add your email address and choose a secure password.
You can now log in as the newest user, then delete the ADMIN user.
Deleting a user with username ADMIN will be beneficial in keeping your WordPress website safer.