This article will help you to form blog post ideas for your business blog. Have original content to write about that is completely unique to you.
Put your mind into a place that can recognise a new blog post title during your work, when you're chatting with clients and colleagues, or when you are in the flow of writing.
By the end of the article, you'll have loads of blogging ideas ready to go.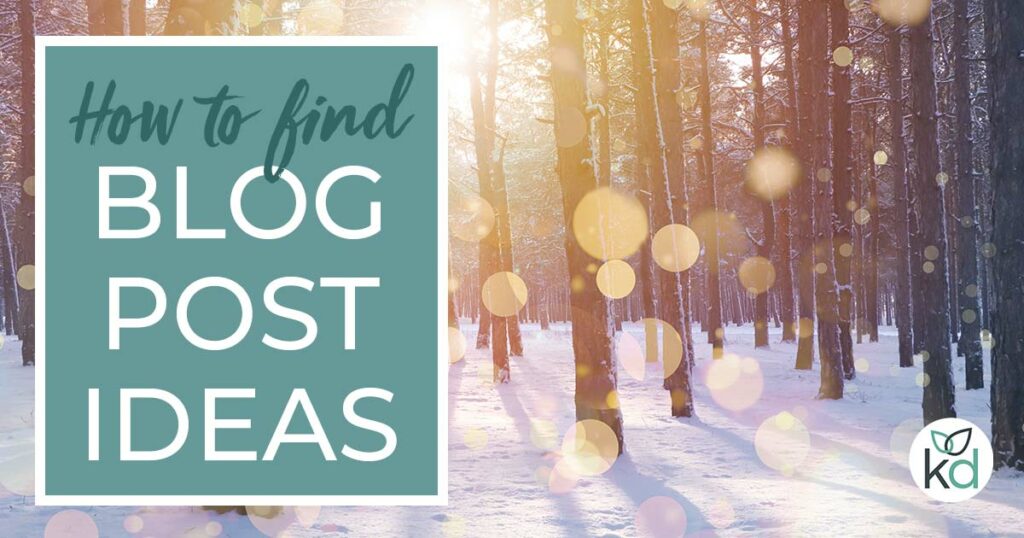 Let's discover some blog post ideas.
Build a list of ideas
First up, build a list of titles so that you've always got something to blog about. This is really beneficial when you sit down to write but your head feels empty, believe me.
You can then choose the topic you feel like writing about at that moment. Sometimes you just don't feel like writing about widgets and you want to be more profound.
Two blog post lists will be beneficial:
List 1 – a mind dump to throw things onto whilst you are in the middle of something.
List 2 – organised blog post titles after you've researched the key phrases (we will get to this).
My preferred place to keep my 'ideas lists' is Google Drive. Here I can create lists as a Doc (word document) or as a Sheet (spreadsheet), whatever your preference.
I can access these documents quickly via my smartphone and share them with other people so they can edit them too.
On the Google Docs phone app, there's a voice-to-text feature that makes a brain dump really easy.
Your blogging ideas could be kept on any online organisational tool – Trello, Evernote, ClickUp – or just keep a physical notebook handy.
I recommend that the 'dump' list is always on hand. Blog post ideas will often come when you are out for a walk, scrolling social media or in a meeting. You need to be able to note them down quickly.
Recognise a good blog post idea
If you've been in business a while, you'll learn that almost everything that you do within your business could become a blog post.
Remember:
People don't know or understand everything you do within your business. Keep showing them.
Fans love to know how you do what you do, where you do it and why. Show some behind-the-scenes action.
Consumers expect honesty, openness and clarity on a website and blog. They make their purchasing decisions due to what they read or see. The decision is made way before they make contact.
The point of a blog post is to answer the client's questions, help or inspire them.
During your day, note down the questions that people ask you.
Look back amongst emails, social media posts and messages. You'll find past troubles and dilemmas that you've probably already answered.
When you are networking, consulting or training people, queries arise. Write them down.
My mum asks me questions about my job and I note those down too.
You'll end up with a long list of questions that you can answer within blog posts.
Once you are in the mindset, ideas will just keep coming.
Expand on ideas for blog posts
The search for blog post ideas gets easier as you write. New topics often stem from articles that have already been written. Expand on subjects in new articles.
When you're writing, you'll find yourself starting to explain something a little too much. That's when you ask yourself 'can this be covered in a different blog post?'.
It will almost certainly create the next title.
Read about your industry
No doubt you read about your industry to keep up to date. Look for inspiration there, whether you agree with it or not. Controversial blog posts work well and can ignite a conversation.
Note down the part that triggered your interest and the way it made you feel.
A quick email to yourself works too – send yourself the link and you can deal with it later.
Network
Be open to conversations with clients, followers and competitors. Blog post ideas surface frequently in relaxed environments and heated discussions.
Uncover people's fears about your particular business and write a blog post to put them at ease. They'll become your number one fan.
Content ideas on the internet
ContentGems
ContentGems offer a break down of all the articles across the internet that relate to those topics will be emailed to you daily or weekly.
This can spark ideas for blog posts, and allow you to be current and keep on top of the questions your customers are asking. Sign-up for ContentGems for free.
Google Alerts
Set up Google Alerts to keep up-to-date with industry news and trends. You could discover the next big blog post idea.
Alerts can be set-up for any word or phrase. When the phrase is discovered by Google you will be notified by email. This is internet-wide monitoring.
Alerts can be limited geographically if needed. Set alerts around your brand name, products, projects, services and competitors.
Quora
Quora is a popular social hub of questions and answers. Anyone can ask a question and people on the platform answer.
Search Quora by topic to find real-life questions within your industry. You'd be surprised at the things people ask.
Knowing what people are interested in will give you the ideas and confidence to write that next blog post.
Customers are key
Besides everything that I have told you, your customers and followers are the key focus when writing a blog post. Which makes the whole process so simple, really.
Address the challenges your customers face on your website and blog. It is so satisfying to send a link to someone when they ask a similar question.
Encourage your customers to talk to you and give feedback.
You could send a feedback form to them from SurveyMonkey once they've completed a lesson, ask them to reply to your latest e-newsletter or encourage them to have a catch-up Zoom meeting.
Ask directly what people would like to learn from you – conversation spurs ideas.
Social media
Keep a close eye on the social profiles of your followers and customers. A lot of information is accessible there, such as:
Who they follow.
The language they understand.
What they respond to.
Who influences them the most.
What communities and forums are they in.
Are there questions that consistently arise that you might be able to answer?
A bit of light stalking will enable you to gather ideas for posts.
Writing the blog post
I don't want to stop your creative writing but before you start to write a blog post, please research the key phrases to make sure that:
People are searching for the title i.e. it has volume.
It's a low competition phrase – small businesses can't compete with big brands.
Aim for the low hanging fruit before trying to rank well for more sought after terms.
Tools you can use to research key phrases are Google Ad's Keyword Planner, Moz's Keyword Explorer, Keyword Tool or SEMRush.
The mind map
If you are still stuck, then brainstorm initial ideas by putting pen to paper, it enables a certain flow.
A mind map is one of those lollipop diagrams you likely last drew at school. They really help to initiate ideas for blogging topics.
Here's how to devise a mind map.
Start with obvious topics related to the business and its customers.
Write them in the centre of the paper and circle each.

For a restaurant, this could be: FOOD, DRINK, LOCAL AREA

Around those ideas write associated subjects.

FOOD – production, health, source, presentation, complementary flavours, drinks.

Link correlating words by drawing a line between them.

DRINKS correlates with WINE.
The initial, broader topics narrow down and become specific, which allows you to find niches.
Items to kick off your blogging mind map:
Geographic area.
Buying/production process.
Materials used.
Everyday tasks.
Customer problems and fears.
Related sports or activities.
Famous people/industry influencers.
Related recipes or how-to articles.
Pros and cons, positives and negatives.
Check out my mind map animated gif on Giphy, just for fun
My conclusion on blog post ideas
I get quite passionate about this topic because I can see how easy it is for enthusiastic business owners to find blog post ideas once they put their mind to it.
It can be a lot fun writing for your own business with the knowledge that you are marketing well.
Here's a quick lowdown of ways to find blog post ideas:
Read about your industry.
Network.
ContentGems.
Google Alerts.
Quora.
Ask customers.
Look on social media.
Draw a mind map.
I trust this was helpful – and if you have any more ideas I could include here I would love to hear them. How do you come up with blog post ideas?