A new website won't automatically be indexed on Google; we have to make Google aware of it, crawl it and the website will be indexed it follows quality guidelines and is full of excellent content.
If you've already taken the steps to create a valuable website, how can you get on Google search faster? There's no magic – building a trusting relationship with Google takes time.
Let's begin with how Google will discover and index a website.
Google's web crawler
Googlebot is Google's web crawler – a programme that trawls the internet for new and updated web pages, known as crawling or fetching. It reads code to determine the post, page or media.
A crawl begins with web pages already captured during previous processes.
Whilst Googlebot trawls through data, it will detect new websites and web pages to add to the index.
It doesn't take long for a website to be indexed if it is well structured and contains all the technical SEO signals.
The Google Search Console is an excellent tool provided by Google. Webmasters can notify Google of new websites and updates to existing ones.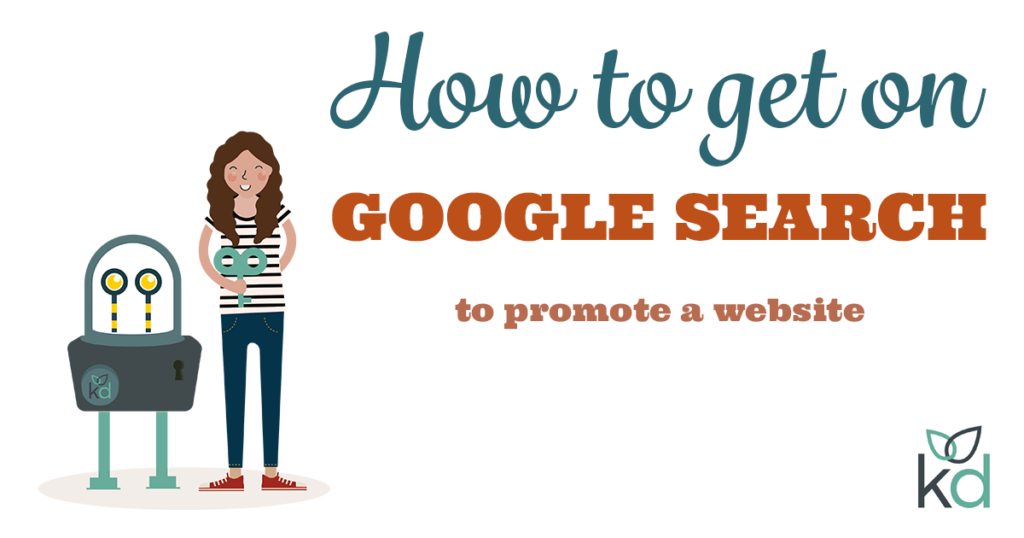 The Google Search Console (GSC)
The Google Search Console is a free online area that provides data and tools to maintain a Google-friendly website.
The tools help web admins find errors that could damage search engine ranks, like indexing or security errors.
Within GSC, webmasters add websites known as properties.
A webmaster needs to upload a file to the server by FTP or add a DNS record to add a property.
How to add a website to Google Search Console >
There are five main sections within The Google Search Console:
URL Inspection
Performance
Index
Experience
Enhancements
The ability to submit a 'Sitemap' is available within the index section. This vital file encourages Google to crawl your website and add pages to search results.
The GSC Sitemap
A sitemap is a simple list of web pages, posts and media (URLs) within a website contained within an XML file created for search engines. A sitemap informs search engines about the website structure and indicates what should be indexed.
The sitemap makes the job of a search engine bot much more manageable.
Within the sitemap, we list essential pages, posts and media that we want to be indexed. We can also tell Google the pages to skip.
Googlebot spends a limited time crawling each website; known as a crawl budget. The sitemap helps tell Googlebot what should be listed, avoiding pages we don't want to be ranked, such as shopping areas or login pages.
Notifying Googlebot saves precious crawl budget so that Google can prioritise the best content.
A sitemap is a way of being communicative with Google. The creation of an informational sitemap is part of technical SEO.
A website called pro-sitemaps.com will scan your website and create a sitemap file for you. Add the website to Pro Sitemaps, check the file, and then upload it to the website's root folder.
Yoast SEO plugin provides a sitemap for WordPress websites – submit this straight to the console. Here are instructions to find the Yoast SEO sitemap.
Indexing is at Google's discretion; submitting a sitemap doesn't necessarily mean a website will rank highly. Google ranks websites that are relevant and content-rich.
However, keeping Google informed by submitting a sitemap certainly helps.
How to submit a sitemap
You will find a link to the sitemap area within the Index section.
Add the URL of the sitemap you have created.
An example of a sitemap URL is https://kaydee.net/blog/sitemap_index.xml
Get listed on Google Maps
A Google Map is the first in the search results when we search a local area. Google lists local businesses and pinpoints them on a map.
Google assumes the search is for a business in the immediate vicinity, unless otherwise specified, so local results appear even when we don't include an area.
In a search, if you enter a city, town or village, Google will display a map of that specified area.
A business can capture local searches just by having a presence on Google Maps. A map listing is an easy way to appear on Google, whilst you wait for Googlebot to index the website.
Businesses appear towards the top of the map list if they have complete and up-to-date details and genuine reviews.
How to get a listing on Google Maps
Sign in to the correct Google account on your browser. It's best from a desktop computer.
Search for your business name. If it is not listed, you will need to create a Business Profile.
Run through the steps, completing as much information as you can. A Business profile will appear prominently when the business details are complete.
Update a Google Business Profile
Maintaining an up-to-date Business Profile is essential for good search engine optimisation.
The business details on a website, social media accounts and the Google Business Profile must match. Correlation helps Google understand where the business appears online and uses these signals to ensure the company is transparent in its activities.
Provide the correct telephone number, weblinks, social accounts and similar bios on every account.
An up-to-date Google Business Profile is more likely to appear higher for relevant searches on Google Maps and search engine result pages.
How to claim a business on Google Maps
If the business is already listed on Google Maps, you can claim it, which allows you to make edits and post updates.
You must have a Google Business Profile account to take control of a business listing.
On a desktop computer, search for the business name and location.
The business profile appears on the right-hand side of the search results within a Knowledge Panel.
Click the link 'Own this business?' under the business details.
You arrive at the Google Business Profile.
Click REQUEST ACCESS.
There are two access levels – Ownership or Management. If you are the owner of the business, request ownership. A manager cannot add or remove business group/business account managers, delete business group/business accounts or transfer business group/business account ownership.
Enter your position within the business which is probably the Owner in this case. The options 'Employee' or 'Agency' enable someone to manage the page alongside you.
Within Google Business Profile, an Owner can add, update and change business details on Google Maps and within the Knowledge Panel. A Knowledge Panel is the box that appears on a search, detailing the business.
How to verify a property on Google Business Profile Manager
Always verify the property. An unverified property won't appear on searches.
At the end of the row, on unverified properties, there will be a GET VERIFIED button.
Enter the address of the business.
On the next screen, you'll be asked to verify by text message or by email address. Choose your preference.
Enter the verification code received.
Ways to stay ahead on Google
A listing on Google is essential to business marketing. If customers can't find your business, you will quickly lose them to prominent competitors.
Use your website and blog to feed Google with unique industry content and media.
Target long-tail key phrases rather than specific one-word terms because long-tail key phrases are usually less competitive.
Regularly check for errors in Google Search Console, and make sure they get fixed quickly. Show Google you care about your visitors and that you are maintaining the website.
Use social media to share pages and posts, showing Google the business is active online.
Ask for backlinks from websites within the industry.
Read my post on website design and SEO to understand how websites can be created to help both visitors and search engines.