Your website is launched. You've taken a look on Google. It's nowhere to be seen. How do you get on Google search? And how do you get listed on Google Maps?
Let's begin with how Google will find and index a website.
Google web crawler
Googlebot is Google's web crawler which trawls the internet looking for new and updated web pages. This is known as crawling or fetching.
Googlebot starts with web pages captured during previous crawl processes.
Whilst it browses it will detect new websites and web pages to add to the index.
Google doesn't guarantee to add each and every website. But yours should be crawled and indexed in no time if it is well structured, has complete meta-tags and original content.
Let's now take a look at The Google Search Console, an excellent free tool provided by Google that tracks crawl time on a website.
The Google Search Console
The Google Search Console is an online area in which webmasters are provided with data and tools to help maintain a Google friendly website. These tools help webmasters to ascertain errors that could damage search engine rank, like indexing or security errors.
Within The Search Console webmasters add websites, known as properties.
The webmaster must verify that they are authorised to add a property, either by uploading a file to the server (by FTP) or adding a DNS record (via the host company). Email me to do that for you, if you are unfamiliar with this.
There are four main sections within The Google Search Console:
Search Appearance
Search Traffic
Google Index
Crawl
The 'Sitemap' section within the Crawl area will encourage Google to crawl your site, and add pages to Google search.
The Google Search Console Sitemap
A Sitemap is a file created for search engines that includes a list of web pages, posts and media (URLs) within a site. To let them know what should, and should not, be crawled. This makes their job easier.
We can let Google know how often items are updated so Google can return to re-crawl URLs.
A Sitemap can be created via websites such as www.xml-sitemaps.com. The outcome, a file labelled sitemap.xml, should be uploaded to your root folder.
If you are running a WordPress website the SEO plugin called Yoast will create a Sitemap which can be submitted straight to the console.
A submission does not mean a site will rank highly nor that Google will list every item you include. Indexing is at Google's discretion.
However, submission certainly helps to tempt Google's crawler.
How to submit a Sitemap
Go to The Google Search Console. Within the Crawl area, you will find Sitemap. Add the URL of the Sitemap you have created.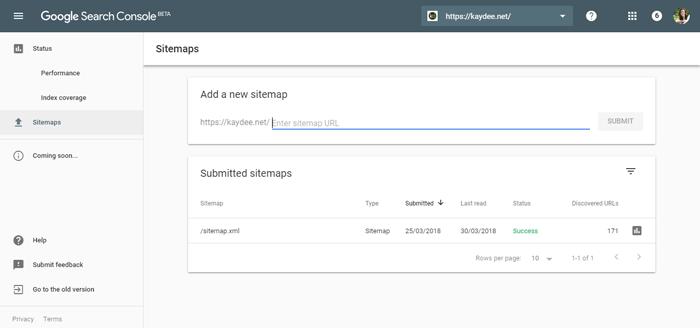 Google Maps
On local search engine result pages (SERPs), Google provides a list of local businesses and pinpoints them on a Google map. Google assumes the user is searching in the immediate vicinity unless otherwise specified.
If city, town or village is detailed in the user's search Google will display a map of that area.
Either way, this map appears prominently. Especially when using a mobile device.
Businesses with up-to-date information and the most (genuine) reviews appear toward the top of the map list.
Adding your website to Google Maps is a quick way for it to appear on Google whilst you are waiting for a site to be indexed.
How to get listed on Google Maps
On a desktop computer, open Google Maps.
Make sure you are signed into the correct Google account. Login helps Google to verify that you are the business owner.
Find your place of work, shop or establishment on the map. You can search by city to zoom in.
Right click the point, and then select 'add a missing place'.
Add relevant information.
This Google result is, of course, linked to your Google+ page.
Google+ page
A word to the wise: keep your Google+ page up to date. It is so much more important that business owners think.
Your business website, Google+ page information and other social media accounts must provide similar background information, telephone numbers, web links and social accounts. Google uses these signals to be sure the business exists, and is transparent.
An up-to-date Google+ page is more likely to appear higher for relevant searches on Google Maps or on Google SERPs.
How to claim a business on Google Maps
If you already have a business listing on Google Maps, but are not in control of it you can claim it.
You must have a Google My Business account to take control of your business listing.
On a desktop computer, open Google Maps.
Make sure you are signed in to the correct Google account.
Search for your company name in the search box using the name and address.
When your business appears, click it.
If the business has not already been verified you should see a link to 'Claim this business' under the business details in the left hand panel. Click the link.
Tick the box 'I am authorised'. Google will send a verification code either by calling you on the business phone number immediately, or by email or post.
You will need to come back to Google My Business to enter the code.
Manage your Google listing
Google My Business is an area for businesses to manage properties.
This is the place to add, update and change business details which appear on Google Maps and Google+ pages.
Always verify the property. If the property is not verified it will not appear on searches. Verification enables you to keep Google+ pages up-to-date, which means a better experience for any visitors.
How to verify a property on Google My Business
Go to Google My Business.
Choose MANAGE on your account.
Any property that is not verified will clearly state GET VERIFIED within the property box. Click the link.
The next page is a Google map.
If there is only one listing on Google Maps for the business, you will now be presented with options 'By phone now', by 'Email' or by 'Post'. The data they have on record will be visible.
Once the code is received, come back to Google My Business to verify the property.
If you choose 'By phone now' make sure you are next to the phone, as Google will call immediately. An automated voice will relay the code. This is the quickest way to verify a property.
I can help with any of the above if you struggle to do it yourself. Just ask.
Further tips to stay ahead on Google search
You've realised by now, a listing on Google is essential to any marketing campaign. If your customers cannot find your business you will quickly lose them to competitors that are prominent.
Once you have a website, feed Google with remarkable industry content and media. Or you will soon find it sinks down the great Google rank.
Target long tail key terms, rather than specific searches. These key terms will have a lower search volume, but your site is much more likely to rank highly.
Consistently check any website you own for errors and make sure they get fixed.
To understand how websites should be created to help both visitors and search engines, read my post website design and SEO.