Here's a glossary to help you with some frequently heard website terms and technical SEO jargon. These are terms you will read about as you evolve your website.
Many of them are included in my SUCCESSFUL WEBSITE GUIDE, which you can download here.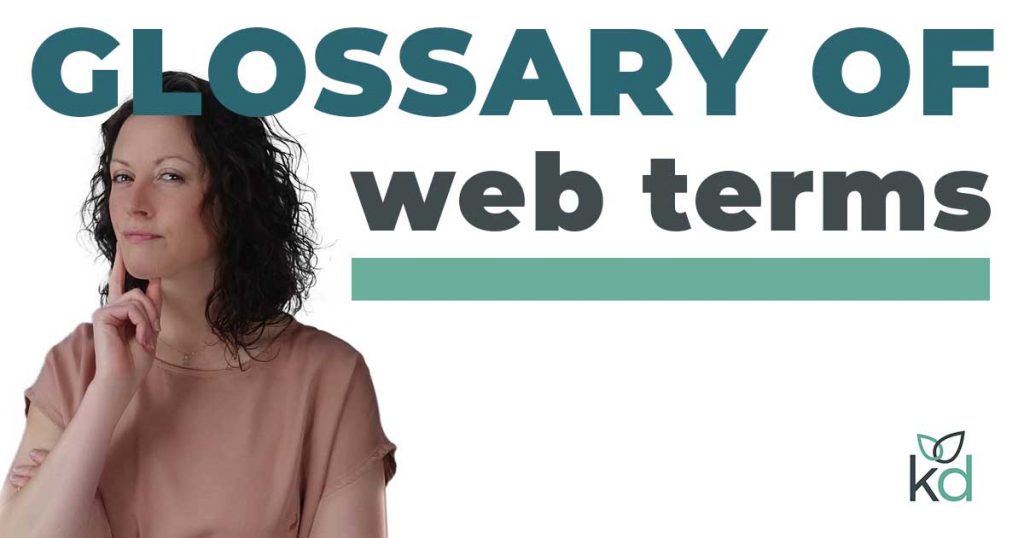 Website terms
Address bar
On a browser (see below) the address bar is the field in which you type a website address. On most browsers you can now use the address bar to search too.
Avatar
An avatar is an icon or a picture that represents a user/business on social media, forums and directories. Your avatar might be a photograph of you or your logo – although if you are networking online I always recommend using a nice photograph, a close up of your face. There's a trend for circular avatars at the time of writing.
Browser
Chrome, Edge and Safari are all browsers. They are programmes which transform the code of a website or search engine. Once rendered by the browser websites look organised and stylish to our eye. We don't see the code that we might not understand.
Browsers themselves have lots of different features. You may see that a website looks different in one browser to another. Browsers live up to their name – they exist so that we can browse the web.
Cloud (the)
When we say the cloud, it sounds rather magical. The cloud refers to a place where files are stored on powerful computers known as cloud servers. They run software and services to provide companies and users with regular access. They are connected to the internet and are accessible at any time of day or night – unless there's a problem, of course.
Businesses do not have to manage these servers themselves. Cloud servers are located in data centres – big rooms full of computers where they are maintained and temperatures are regulated.
Domain name
Means website address. My domain name is kaydee.net. We no longer need to refer to the 'www'.
A domain name will always end with a suffix, like .com, .co.uk, .org or.fr.
For more information see my post 'What is a domain name?'
Domain
Domain refers to everything that is hosted under one domain name. A website, a blog and a shop could all have different designs but be hosted on one domain. Having everything hosted on one domain is important for SEO because content strengthens the domain.
FTP
An acronym for File Transfer Protocol, this would normally refer to the software used to transfer files from a local computer to a web host (aka server). This enables web designers to change how the website appears. You can also take files off the server to back them up, for example.
We say: "I'll FTP up to the host". Or "I was FTP-ing and my computer crashed".
Hosting (host)
Hosting is like renting space on the internet so that a website or blog can be visible to the public. Businesses rent space on a powerful computer called a server which hosts the files that make up the website.
Internet Service Providers (ISPs) provide this service – we sometimes call them the host. Some ISPs you may have heard of are GoDaddy, Namesco, 123Reg, A2 Hosting, SiteGround.
ISP
Acronym for Internet Service Provider. An ISP is a gateway to connect to the internet.
There are Tier 1 and Tier 2 ISPs. Tier 1 ISPs are at the top of the internet access pyramid – they are connected all over the world via huge cables.
Tier 2 ISPs distribute services from Tier 1. They charge businesses a fee for internet access, to host a website, domain name and email addresses. They run lots of powerful computers which allow us to access services. Tier 2 ISPs you may have heard of are Namesco, A2 Hosting, GoDaddy and SiteGround.
Rendering
When a browser renders a page they read the code, understand the order in which it should be shown to a human and then puts it onto our screens in that order, so it looks pretty or at least legible. Rendering basically means translating.
Saas
Stands for Software As A Service. This refers to online services and software hosted in the cloud. Usually paid for by subscription – annually or each month.
Server
A server is a computer that serves information to other computers. A web server will store website files on it – it will host a website. A host or an ISP (internet service provider) will manage and maintain many servers in a server room.
Software
Software is made up of code and runs on a computer, enabling the user to create something or make tasks easier. Almost anything you do on a computer will utilise software – even surfing the internet uses a web browser which is software for accessing the internet.
SSL certificate
An SSL certificate ensures that any information passed between a website and a server (a host or ISP) is encrypted. Basically, the way you interact and what you search for will be made into gobble-de-gook before the request goes to the host. When the host receives the request they decrypt it and pass information back to the browser, again encrypted. This all happens within milliseconds.
Search engines look for SSL certificates on websites because it ensures that you're keeping visitor activity safe.
Suffix
The end of a domain name, after the dot. The suffix of this domain name is .net. Other popular suffixes are .com, .org. There are domain name country suffixes such as .co.uk (United Kingdom), .fr (France) and .es (Spain).
WordPress
WordPress is software and was originally built as a blogging tool. It enabled non-web developers to blog and talk to the world. It was soon used for business websites too – after all, blogs and websites are very similar when it comes to programming.
WordPress is open source software – which means that the code is available for anyone to inspect, modify and enhance. Teams of people develop and improve WordPress all the time.
Using WordPress, non-web developers can add and edit websites and blogs. There are two versions of WordPress – the self-hosted version WordPress.org and the hosted version WordPress.com.
SEO terms
Bounce rate
Used in analysis, especially Google Analytics. It refers to visitors who arrive at the website from search engines and then leave, by hitting the back button or closing the window. Bouncers do not move on to visit another page. They could be on the page for a second or 5 minutes.
Indexing
The process of adding web pages into a search engine's database. The Google bot crawls the page and analyses its content, then decides where it will rank in comparison to similar web pages.
Keyword / key phrase
Words used on web pages to target an audience. See my post 'What is a key phrase?'.
Landing page
Can have a few meanings. In SEO terms it means a page geared around a search term, which will be competitive on a search engine. Landing pages bring traffic into the site – people land on them via search engines.
'Landing page' can also mean a page that is developed for people to instantly find information. A landing page for a launch is common and would encourage people to buy a product or service.
It can also mean a landing page for data capture – where people complete a form and subscribe to a newsletter.
PageRank / rank
The position on which your page/post appears on a SEARCH ENGINE RESULT PAGE (SERP) when a user enters a search term.
Search query / search term
Making a search on a search engine like Google or Bing. See my post 'What is a search term?'.
SERP
Search engine result page. The term once refered to the page rendered when someone does a search on a search engine. These results are ever-changing.
Traffic
Visitors to a website. Measuring website traffic is like measuring footfall in a shop or restaurant. Traffic comes onto the site, moves around to different pages or posts and leaves. Encouraging and tracking traffic on a website helps to improve it.