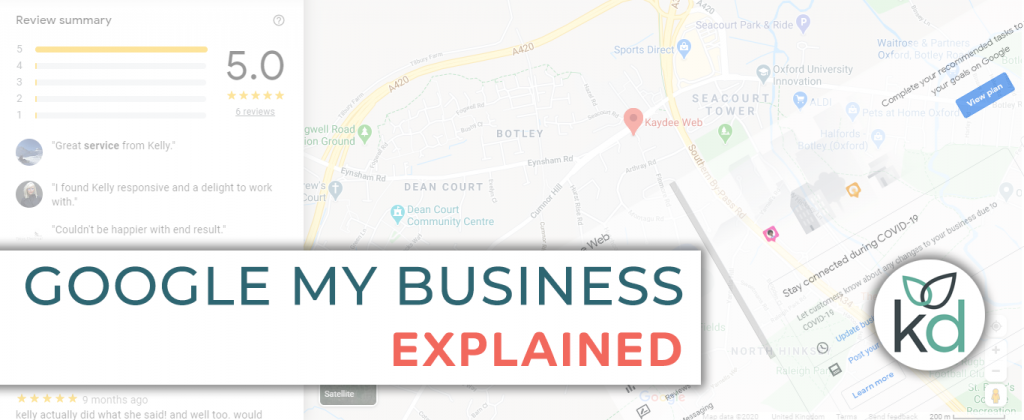 'Google My Business' is a free tool provided by Google. From it, businesses can manage information that appears on Google Location pages and Google Maps.
The Google Location page can be seen when a local search is taken out, such as 'restaurants in Oxford'.
When you do a local Google search (i.e. include a town/city), notice that the first, or most prominent result under the adverts is a map.
There are up to three (at time of writing) businesses shown on the map that are applicable to the search.
The top result is usually the one that has the most reviews and best reviews.
Often the result with the best reviews is displayed first.
To help a business get priority on the map listing be sure it is verified and that all business information on the Location page has been completed.
Google Location pages are critical in business visibility online. It is an underused social platform.
Google My Business dashboard
Within the Google My Business dashboard, a business owner can:
Manage Google Locations (you can manage hundreds from one Google account).
Verify Locations.
Add users.
Share updates – news, events and offers.
Manage media such as logo, photos and video.
Answer reviews.
Add services.
See insights on Google Location.
Create a website.
However, to do any of the above, first the business owner (or web master) must claim and verify the business.
Manage Google My Business
'Google Location' pages are managed under a dashboard called 'Google My Business', found here www.google.com/business.
To start, CLAIM YOUR BUSINESS.
Do a search on Google for your company name, and the location town on a computer (rather than a phone).
If you can't see your listing, click MORE PLACES and continue to look for it.
Once found, click the listing name. The business information will appear in a window over the top of the Google map on the right hand side.
There should be a text link 'Own this business?' click that and you will be asked to log in to your Google account, or create one.
If you are already logged in there will be a MANAGE NOW button.
Click here to see Google's instructions on claiming a buisness
This is the point that you will need to VERIFY your business and you will receive a post card at the business address.
Verify my business on Google
To verify a business on Google, you'll need access to the post at the brick and mortar address that is registered on Google.
Google sends a post card to that address. The postcard will have a verification code on it.
Once you have received the code, return to www.google.com/business, where you should see a listing (Location) for the business you are trying to claim.
Click on the name of that LOCATION. There will be an orange circle in the status column, which means PENDING VERIFICATION.
The area you see in front of you is the edit area for the Google Location page. It is quite obvious to click on the 'Enter verification code' link.
Enter your code in the field.
Now you have verified the business, there will be a green badge against the business name.
You can now maintain the business Location page. Any updates will complete almost instantly when a business has been claimed.
Incorrect business address on Google
Sometimes the business address is incorrect and the postcard can't be received.
How do you get around this?
Before you claim your business, edit the business.
Instead of the 'Own this business?' link, describe above, click the 'Suggest an edit' link. Here, you can suggest an edit to the business address.
If Google are happy with the change, they will update the address within a few weeks. You can then go ahead and claim the business.
If not, you will need to contact GOOGLE SUPPORT. The best way I have found to do this is to drop them a message on the Google My Business Facebook page.
It can take a month, but they are good at getting back to you considering they must have millions of requests.
Google Location pages info
I'd like to highlight how important it is to keep your Google Location page up to date and the info area is most important.
Google will recognise such things as the business name, contact details, description, logo, business hours for one business across the whole of the internet.
It is called NAP consistency (Name Address Phone).
Having out of date information anywhere, especially on a Google Location page, will send negative signals to Google – such as 'this business does not take care of it's online existence' or 'possibly out of service'.
Out of date information can cause a drop in rank.
Not to mention that information shows up on Google Maps and other Google properties. It is well worth having correct opening times at least.
Go to Google My Business, find your Location and hit the Info link on the menu on the left hand side.
Add and edit business information by clicking the pencil icons.
Reviews on Google Location pages
Please do encourage clients to leave reviews for your business on Google.
Having a good selection of reviews will result in your business being listed above others.
When a business has good reviews it will get priority visibility on the map.
Listing positions are influenced by reviews because (usually) reviews are from real people with traceable background information, so it is a genuine way that Google can judge the business as quality.
Fake Google reviews
It can be heartbreaking when, as a small business owner, you are faced with a fake review, especially if it is bad and brings the star rating down.
My advice is to reply to the review kindly, intelligently and publicly. Let people know you have never done business with this person.
Then message Google on the Google My Business Facebook page to request that they remove the review.
Unfortunately you may be stuck with the fake review for a time.
Google deletes fake accounts over time, so it may suddenly disappear. Crossed fingers.
As a consumer – you can usually spot a fake review. Bad spelling, grammar and little text are big giveaways.
You could also investigate the profile of the person, to see how many other bad reviews they have given. If there are a few, and many of them are similar it is likely to be a troll.
How to handle bad Google reviews
There's only way to handle a negative Google review, just like a real life complaint. Reply.
You cannot delete or hide a Google review that has been created on someone else's account. Even if it is about your verified company.
Calmly demonstrate your view point and how you would like to rectify the situation.
What we find is that people hardly take petulant reviews on board. IF they have an understanding answer from the business owner.
To bring your Google STAR rating back up encourage lots more positive reviews from real people.
Running a small business is consuming and unfortunately you can't please everyone all of the time. Even though we try so hard.
I advise you rectify the situation but then breath, smile and move on.
Google My Business posts and updates
There is a feature on Google My Business that enables the owner to post updates, news and offers. I've been using it, and it is nice and easy to use.
When a local search is placed for the business name, posts are included within the listing.
However, at the moment I cannot see a huge advantage in using it. In the days of Google+, when you released an update the update would at least appear in a normal Google search, if you were doing things right. The new updates don't seem to appear.
I will keep an eye on the UPDATES part of Google My Business, and report back when they develop it more.
Google My Business app
The Google My Business app is easy to use. Here the profile, posts and photos can all be edited.
I can see myself using the app to update my Location page in the future, as soon as I know where the posts and updates are displaying. Or if I discover a correlation between Location page updates and page rank. We will see.