What is a domain name and how does it work?
When we talk about a domain name in the case of the internet, we are basically referring to a 'website address'. We use domain names to view websites or send an email.
A domain name will always end with a suffix, like .com or .co.uk. A .com domain originally stood for a commercial company, but now often represents international companies.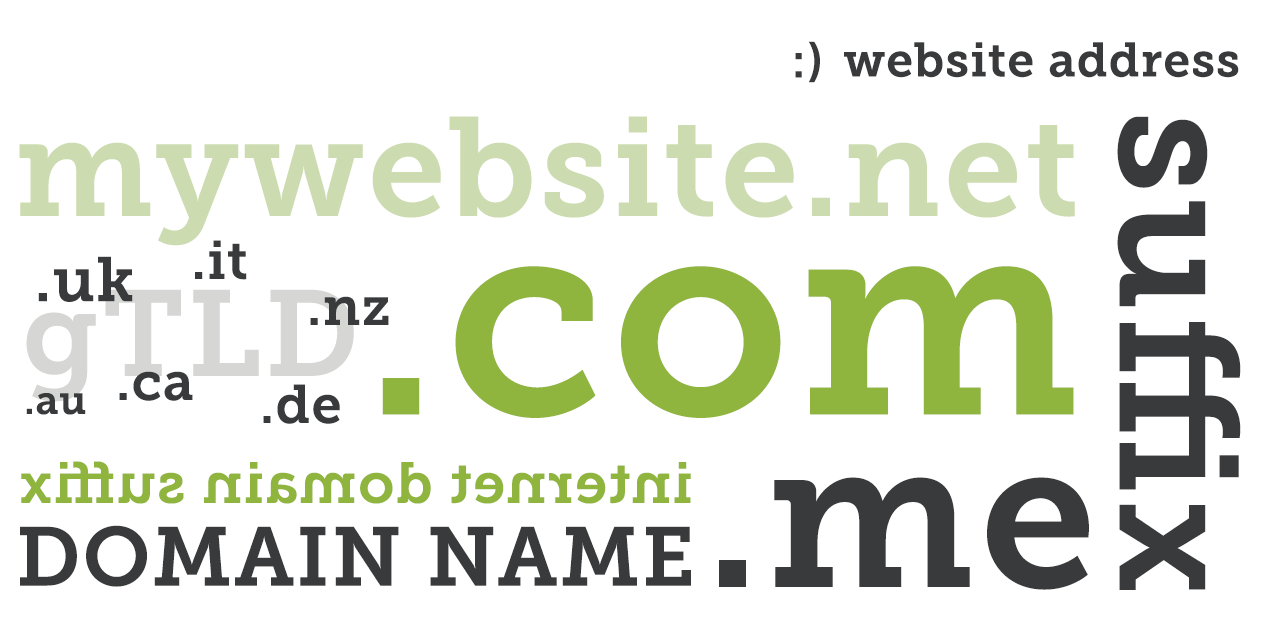 Suffixes can portray a country giving an indicator of geographical focus to humans and search engines. For example .fr for France, or .ca for Canada.
Or they can be more general like .me or .net. There are now hundreds of suffixes to choose from; more available to businesses.
The domain name itself is the part after the three w's (www), although not all domains use the w's these days. It's too much to type!
In the case of email, the domain is the part that comes after the @ symbol.
The server where a website rests is simply a computer, with an allocated IP address. Each one that is connected to the internet is identified by a unique IP address (like 182.134.25.25).
Numbers are less meaningful to humans so as the Internet grew memorable ways to identify those computers were needed. Enter 'domain names'.
A domain name is therefore the unique identifier that points to a specific IP address. That is why no two domain names can be the same.
Synonyms of domain name
There are lots of ways to refer to a domain name, such as:
There are also terms that are more specific, like:
Top level domain or TLD
Country code top level domain or ccTLD
Generic top level domain or gTLD
Related terms to domain name
Host name
A host name is the name of the computer on which a website rests. The host name is used to call the server and upload files, often for a website.
Sub domain
A sub domain divides the top level domain. Sub domains can be used for languages such as fr.kaydee.net. Or for sub sections of a website, like a blog. I.e. blog.kaydee.net. Usually the files for the sub domain are kept in a sub folder, of a similar name.
Domain name registration
Domain name registration is taken out through a registrar. Sometimes known as an Internet Service Provider, or ISP.
These are companies registered with a governing body (which is country dependent), who often provide lots of internet services, like connectivity as well as domains and hosting.
A domain holder, or owner, is referred to as a registrant.
Registrars that I like to use are HeartInternet and SiteGround. Both have brilliant technical support.
Important domain organisations
ICANN stands for Internet Corporation for Assigned Names and Numbers and this is the organisation that links up an IP address with the domain name. Here you can read about what ICANN is responsible for.
IANA is the global coordination of the DNS Root, IP addressing, and other Internet protocol resources is performed as the Internet Assigned Numbers Authority (IANA) functions.
The domain name registration body for any .uk domain is called Nominet UK.
Buy a domain name
On behalf of your company, I can buy a domain name and register that domain.
I always register a domain to the business owner or company. The ICANN lookup tool enables you to see the registrar and the registrant of any domain name.
Website hosting and professional email addresses can be provided too.
WordPress installations can be taken care of too if you prefer not to do it yourself.
Domain name definition
domain
[doh-meyn]
noun
7. Computers.
a group of computers and devices on a network that is administered under the same protocol.
The top-level in a domain name, indicating the type of organization, geographical location, or both, and officially designated in the suffix, as .edu for institutions of higher education.