Google Business Profiles have taken the place of Google Brand Pages and Google Location Pages – once upon a time, they were collectively known as Google Plus.
At the beginning of November 2021, Google announced that single businesses will use their "Google Business Profile" in the future. They can amend business details, respond to reviews and post updates for one company or location.
If you have multiple Google Business Profiles, you'll continue to manage them within an online area called Google My Business.
Within GMB, web admins and SEOs can run multiple businesses and have all the features of Google Business Profiles.
So as I said back in 2020, it looks like Google Business Profiles are sticking around. Google has settled on a social platform for business. And for those of us running multiple companies, GMB will still run too.
Check out BrightLocal's update on this and their update at the top reference GMB – Google Business Profile: What Does it Mean for Local Businesses?
You might also want to read Search Engine Journal – The New Google Business Profile: A Complete Guide for Local SEO (although it is not new at all).
Where do Google Business Profiles appear?
Having a Google Business Profile enables a listing on Google Maps, which appears on Google Search when someone searches an industry that may need a local result. A brick and mortar type business.
For example, when you search for "coffee" without specifying a location, Google predicts that you're looking for a place to drink coffee within your proximity. Results are therefore localised.
The first local result shows within a box called a Local Pack. The Local Pack is a SERP Feature. It contains the Google Map, on which businesses can be found via their Business Profiles.
In the Local Pack, you see ratings, opening times and facilities for each business – but only if the company has completed this information.
A Business Profile also appears in the sidebar – the Local Panel – of a Google result page when a person carries out a more specific local search, such as a business name + geographical area.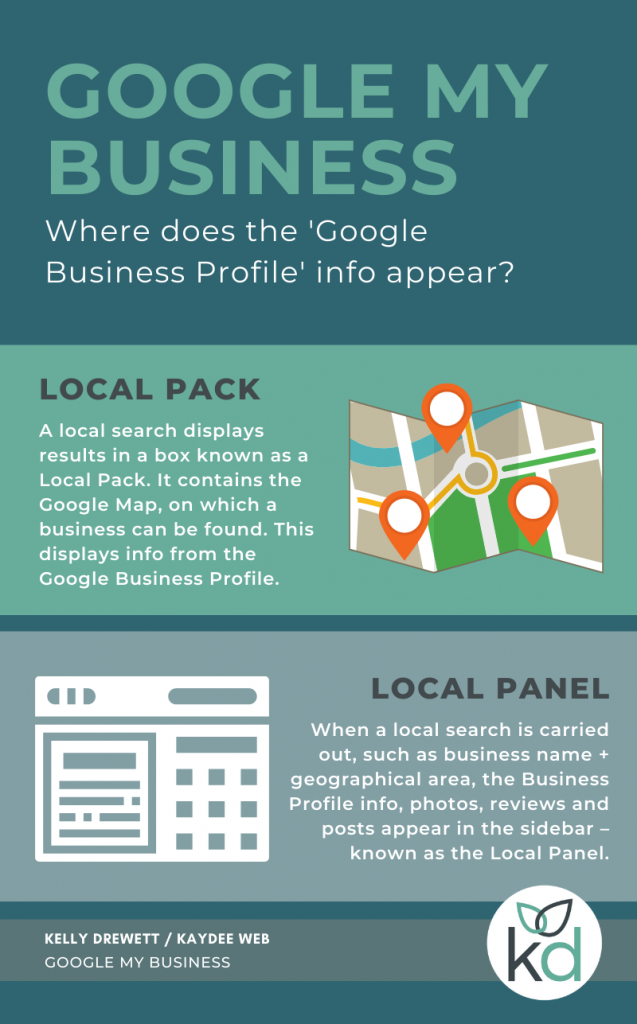 Why use Google My Business?
Google Business Profiles are an easy win for search engine optimisation – businesses get listed on Google Maps for free.
People often don't move past Google Map listings when they place a search – they'll make the decision right there. A business that targets people in a geographical area must have a listing to succeed.
A Google Business Profile is crucial to gaining customers.
Using Google My Business, a business can receive and reply to Google Reviews, display company information like opening times and price ranges, include an appointment link, add products and services, and post offers and events.
We can even post updates, just like we could on (the now obsolete) Google Brand Pages.
Read a post by Hallam Internet about Google posts.
During the Covid-19 pandemic, this was the place to let the world know if the business was open or not. It provides valuable information instantly.
Business details are accessible either via Google Maps or directly in the Local Panel during a search.
How to rank better on Google Maps
Businesses get more prominence on Google Maps when the Business Profile is verified, complete and clarified. Make sure you include everything you can on the profile and be transparent.
Encourage Google reviews – you'll notice that businesses with the most reviews appear somewhere near the top of the Local Pack on any local search. Those with the best reviews are ranked highest.
I've written a post on Google My Business to help you verify your profile and understand the importance of keeping it up to date.