It's challenging to find relevant accounts to follow on Twitter that will genuinely help a business grow. I want to tell you about a handy tool to help you: Twitter's advanced search.
Click here to access Twitter's advanced search. Bookmark the advanced search page; it is so beneficial and hugely underused.
The advanced search can also be accessed simply by making a standard search on Twitter and finding the Advanced search link under the Search filters box.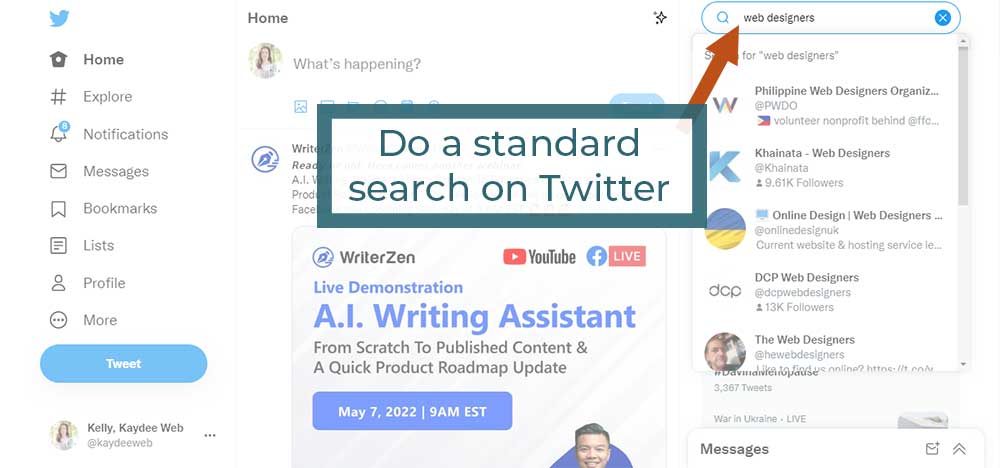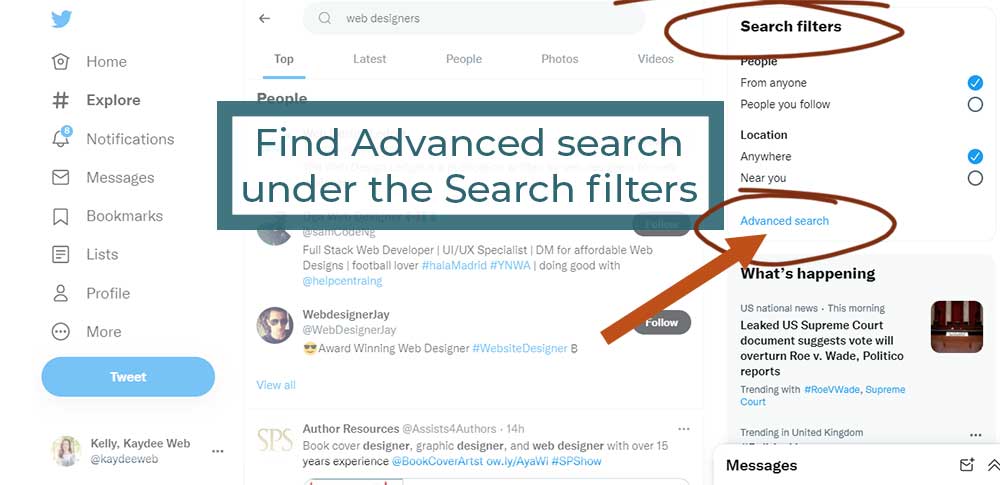 Twitter search helps you discover relevant Tweets much faster and join the conversation.
There are four sections to complete to help you find Tweets or accounts; however, you don't have to complete all the fields.
Words.
Accounts.
Filters.
Engagement.
Dates.
Words section in the advanced search
Searching by 'words' will search within all Tweets, account bios and account names. The results are organised into Top, Latest, People, Photos and Videos.
Within the Words section, there are five search fields:
All of these words – all the words you use in no particular order, where ever they are on the Tweet or the account bio.
This exact phrase – results in the same order you type the words.
Any of these words – results using any of the words you have searched.
None of these words – eliminate words and phrases from the search.
Hashtags – search only for hashtags.
You are also able to restrict search results by language.
Accounts section
Search by accounts to target people that have Tweeted to or from specific handles. We can find mentions of other accounts – useful to keep an eye on the competition.
Filters section
You can turn off replies, so you would only see the original Tweets. This cuts out a lot of noise when you are searching for something.
Links – include Tweets with links or only show Tweets with links.
Engagement section
Results can be limited to Tweets with multiple replies, likes and retweets, so you can see when a Tweet is popular. Engagement could be a way to discover Tweets you would like to use as inspiration.
Dates section
Search Tweets between specific dates. Great for re-sharing old, quality content.
What do you think of Twitter's advanced search?
I'd love to know what you think about Twitter's advanced search features. I think it's the best-kept secret about Twitter, but it may just pander to my search obsession.
What do you use the search for? Have you got any tricks to find people you want to connect with on the platform?