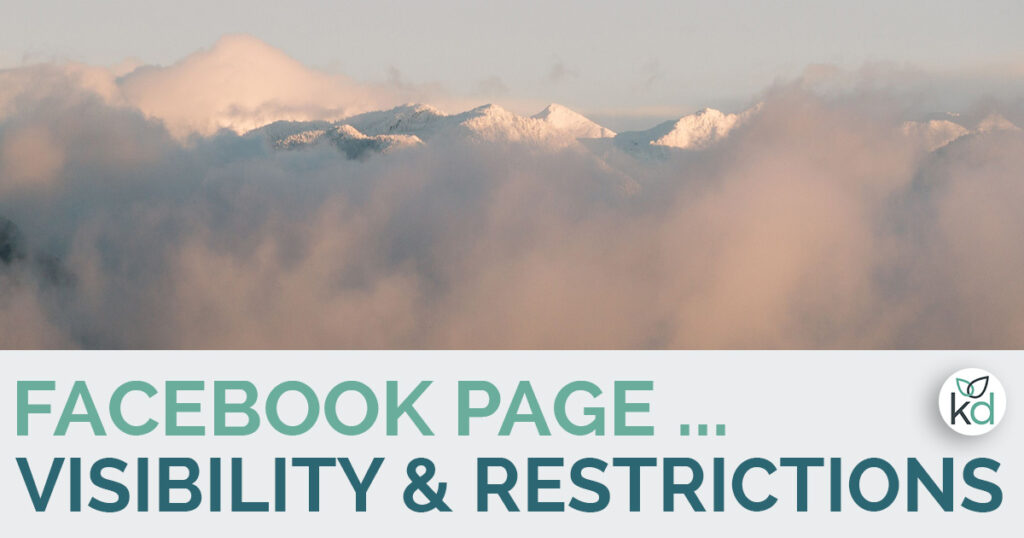 Manage your Facebook business page visibility, age and country restrictions. We'll learn how restrictions can make a page invisible to the public preventing all-important 'Facebook follows'.
Let's look at published/unpublished Facebook business pages first.
How to make your Facebook page visible
Published Facebook pages are visible to everyone on Facebook.
Unpublished pages are only visible to the people who manage the page – this might be the case when the page is first set up and you prefer that it's not available to the public. Or perhaps the business ceased trading for a period.
If your page is unpublished, you will see a notification at the top of your page when you view it. Let's change the settings so it becomes published.
Facebook page visibility settings
These instructions are for a desktop computer.
To manage visibility settings on your Facebook page go to the page. Click on Settings – you'll find the settings tab if you scroll down the menu on the left-hand side. It's at the bottom.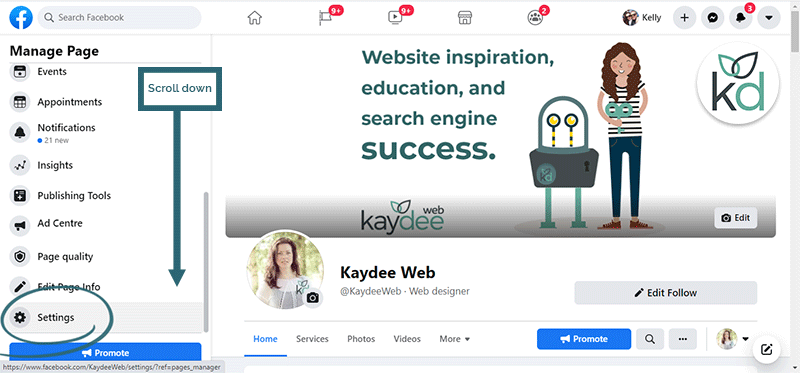 With General selected you should now see a row labelled Page visibility.
If the page is published then Page published will be selected. If it doesn't say that, click Edit to the right of the row.
In the edit area, you can Publish or Unpublish the Facebook page.

People can't see your Facebook page when logged out of Facebook
A page that uses restrictions won't be visible to visitors that aren't logged into Facebook. This happens frequently when people view a Facebook page from another app.
If restrictions are on, Facebook protects us by showing nothing at all. Disable the page restrictions so that the page can be seen by everyone.
People that aren't logged in to Facebook can then see information such as the website address, logo, reviews, telephone number, email address, description and services.
Fewer restrictions will encourage people to follow links or get in touch. It shows the business exists.
Remove Facebook page restrictions
Let people see your page when they are logged out of Facebook – remove all age and country restrictions:
From the General tab (as described above) click on 'Age restrictions'. Set this to 'PUBLIC'.
I recommend the PUBLIC option to most businesses if the content is suitable.
However, you can set the age restriction for the entire page to:
People 17 and over.
People 18 and over.
People 19 and over.
People 21 and over.
Alcohol-related.
Be responsible – if you only ever post adult content or sell alcohol put age restrictions on the Facebook page.
If you post adult content but posts are not always adult, you could use the RESTRICTED AUDIENCE options on each post, as described below.
Country restrictions on Facebook business pages
Facebook pages also have an option for country restrictions – the page can be shown or hidden to people in specified countries.
It's useful if you receive a lot of SPAM or are location-based. Indeed, it is a deterrent to false fans.
Use the country restrictions with some thought.
Be careful with the country restriction option
Reasons to use country restrictions are:
Receive a lot of spam followers from one place.
Sell your product to one country.
Useful for country-specific pages.
Just remember that travellers to that country won't be able to see the business page either. They could be looking for a gift for someone local to you or visiting your area in the near future.
Is it worth putting restrictions on Facebook spammers or should you just individually ban them?
My recommendation is to leave the Country restrictions blank – you risk losing connections. Country restrictions will stop visitors from seeing the page information when they aren't logged into Facebook.
Restricted audience on Facebook posts
There are post privacy options on a PERSONAL Facebook personal profile – public, custom or even Facebook lists. These options are useful if you want to stay friends with someone but manage the posts they can see.
On the personal profile, these are reversible – you can make a public post more private and vice versa.
On a business page, the owner can use the RESTRICTED AUDIENCE option on a post, but the restrictions are irreversible.
NB. In October 2022 there seems to be a bug in Facebook – I can no longer restrict my audience. I am looking into this.
The privacy options are useful to target content to certain people by their age group and their location – be that country or city.
Remember that Facebook restrictions are never absolute – it's possible someone could see the post if a friend comments on it or likes it.
Setting a post to Public is more advantageous to a business because people can share them.
If you can see the benefits of Facebook post restrictions, here's how to do it:
Go to your Facebook business page to create a post.
Hit Public, which is under the Facebook page name.
On the next screen hit 'Restricted audience (only certain people on Facebook)'.
Choose who is able to see the post – by age and/or location.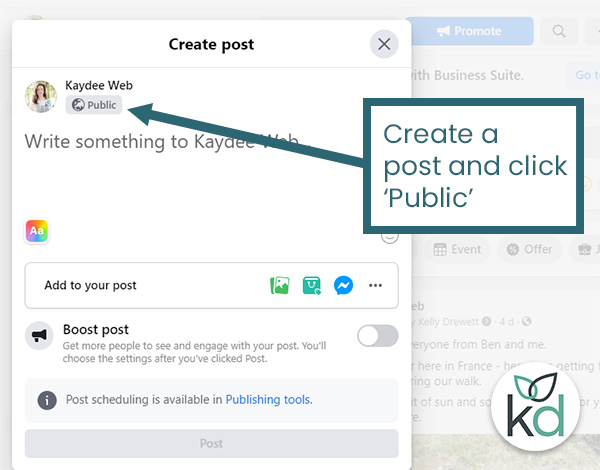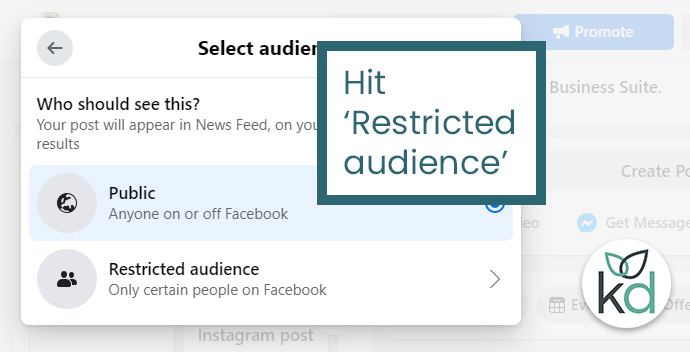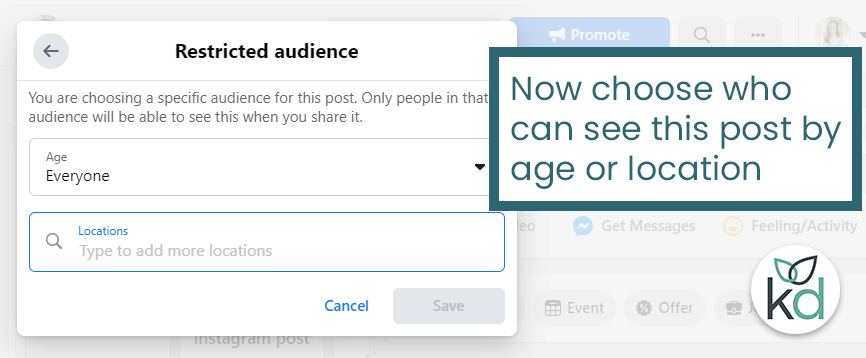 How to ban Facebook users from your page
You can easily ban people from your Facebook page. Banning someone means they will not be able to see the page and they won't be notified of your posts.
However, if your posts are public (and they should be), the person could see them on Facebook if they are shared.
The banned person will not be notified but they will discover the block if they visit the Facebook page. A ban also means they are removed from the Page Like/Follow so if you unban them, they'll have to follow the page again.
To block someone from your Facebook page:
Go to the page then scroll down the menu on the left-hand side and hit settings.
Now choose People and other Pages (left-hand side).
The screen on the right-hand side shows all the followers. This can be filtered or you can search.
Tick the box next to the person/page you would like to ban.
Click the cog, near the search box, top right of the list.
Select 'Ban from page'.
This can be undone, simply by going to the Banned people and Pages – tick the box then select the cog and 'Unban'.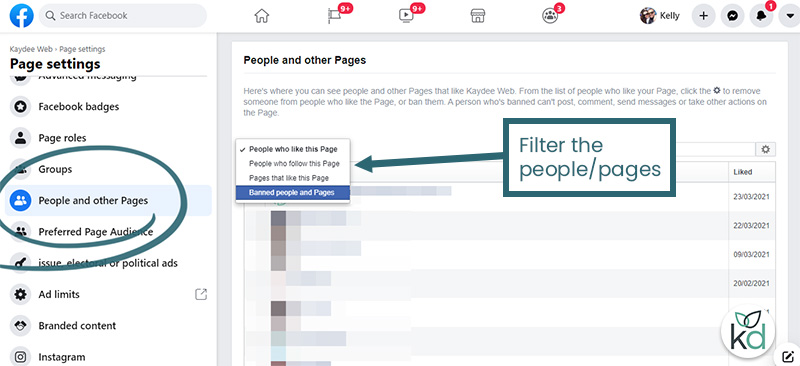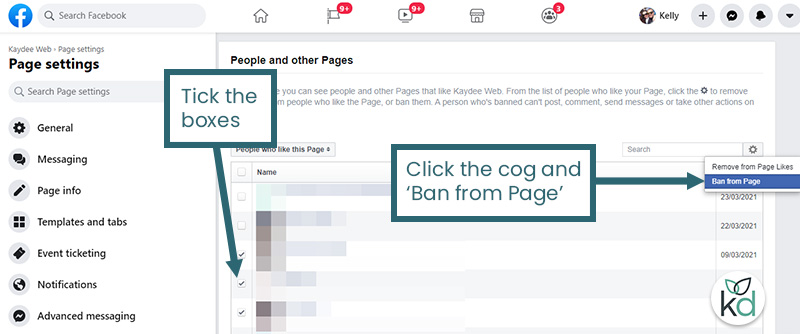 Facebook page spammers
It's pretty easy to recognise a Facebook spammer. Visit their Facebook profile using your personal Facebook account to check them out. Something you can't do as a Facebook page because there are access restrictions.
Sure signs of a Facebook spammer are:
They've joined Facebook within the last 6 months.
They have very few friends.
Have multiple posts/profile photos over a very short time period.
The profile does not look legitimate.
I hope that helps you to understand Facebook visibility when it comes to business pages and posts.
Brands must become more open online and use the Facebook page with Public settings. That way, we can earn the trust of our audience.