How to make your Facebook business page visible
Published pages are visible to the public. Unpublished pages are only visible to the people who manage the page.
If your page is unpublished, you will see a notification at the top of your page when you view it.
New pages may be unpublished.
Facebook page visibility settings
To manage visibility settings on your Facebook page click on settings when using Facebook as your page.
Using a computer click the SETTINGS link. It's under the blue Facebook bar, top right of your browser, highlighted below.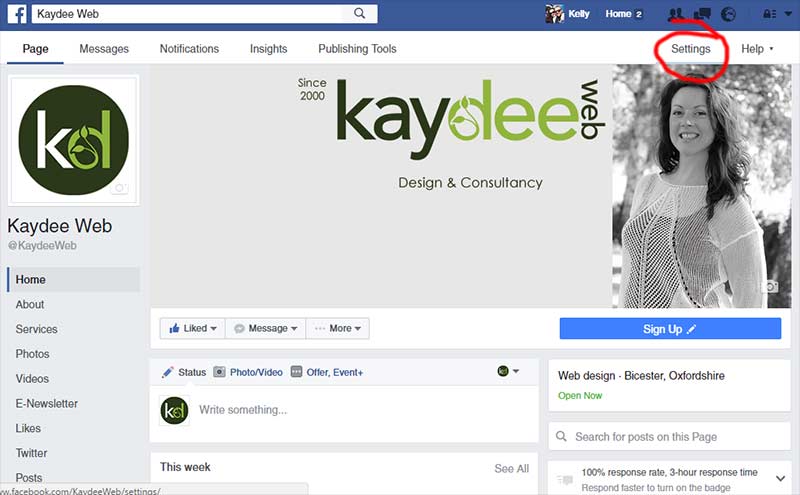 The first page you see is the GENERAL SETTINGS.
The second option here is 'page visibility'.  This is where you can publish or unpublish your page.
Why can't I see my Facebook page when I am logged out of Facebook?
If your page has age or country restrictions your page will be invisible when users are logged out of Facebook.
For businesses I recommended that you disable these restrictions.
If someone comes across a link to your page when they are logged out of Facebook it is better that they receive the information they want. That encourages them to log in and like your page.
Remove Facebook page restrictions
To let people see your page when they are logged out of Facebook remove ALL age and country restrictions:
From the general tab (as described above) click on 'Age restrictions'.
Set this to 'Anyone 13+' if you are happy that your content is suitable to anyone over the age of 13. I would recommend this option to most businesses.
Use your better judgement if you sell alcohol or anything with sexual content!  Facebook will monitor this.
Country restrictions on Facebook business pages
Facebook pages also has a country restrictions option.
Country restriction enables you to hide your page from people in certain countries.
This is useful if you are getting a lot of SPAM or are location based and would like to target your audience. It means that you do not get false fans liking your page.
Be careful with this option. If someone is visiting from abroad they might like to come to your business premises, be it shop, gym or accommodation. Do not use this option without thought. It could stop people finding your page when they are travelling in different countries.
I recommend having this option set to 'page is visible to everyone' or you risk people not finding your page.
With country restrictions ON your page will be not be visible if the user is not logged in to Facebook.