I have outlined some startup website ideas in this post, to help your business in the new venture.
Most businesses are aware they should have a web presence, but as a business owner it's difficult know what to include. A lot of businesses start with a small, static website while they test the waters.
Ideas and content expand and grow during the life time of the company. The beauty of a website is that it can expand and grow too.
A website coming soon message
Once you have reserved a domain name, do add a holding page with a welcoming message. This captures visitors, letting them know that you are in process of getting a website built.
Add a company name, what you do, registered address, a telephone number and an email address. If you already have a logo, make sure this goes on so that people start to recognise your brand.
Business startup website ideas
Websites with more content, more links and assets (like images or video) do much better when it comes to ranking on search result pages. Google rewards companies that are active online.
However, I have worked with start-up businesses for a long time, and I know large a website is often not in budget at stage one.
For a startup business who is cost conscious, I recommend a website of around 3 pages.
The website can consist of a home page, a product or service page and a contact/map page.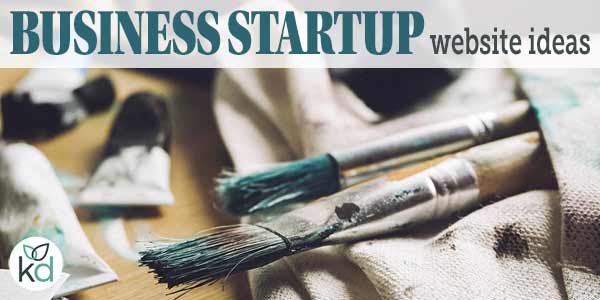 Home page website design ideas
A home page should inform the visitor about a company as soon as they arrive. Google ranks a website higher if it is really informative, providing quality content from the beginning.
An explanation of what the company does should be visible above the fold on any home page.
Further down the home page offer more information, for example the background of the company and a meet the team panel. Be clear about who you are and what you do, as Google looks for clarity within a company website.
Getting to know the people behind the company also helps the visitor on the path to purchase. They will get to know you through your website.
Include on the home page a list of services or images of products. Link these directly to the correct area on the next page, offering up more detailed information.
Google rewards a website when the user can easily find what they are looking for.
Product page website design ideas
A full eCommerce site tends to be expensive as a large amount of work goes in to putting on products and creating a secure buying experience.
Unless you know your product has value, you may like to save money by adding examples of your products, or listing products without the ability to buy.
If you have eCommerce in mind a great tip is to let your website designer know from the start.
That way, when developing in WordPress, the designer can implement a shop plugin like WooCommerce. The basket and payment facility can be hidden, but during the initial stage you could show products in a simple brochure format.
The seed will be sown to start trading at a later date. A payment gateway and shopping basket can be added on, and you are not paying twice for that part of the set up.
Display products on-page with good images, and always optimise each for search engines.
Service page website design ideas
If you have one service to offer, detail it here. Try to use (much) more that 500 words on the page. Let your audience know why your the best person to help them with this service, and what you offer in your packages.
You may offer more than one service, all of which could be outlined on your service page. If you have a lot of content split the page up, but do remember this is often an extra cost.
Always try to include at least one photograph on each of your web pages. Search engines rank a page more highly when it contains images.
I recommend using a professional photographer to take photos of you and your team in an office, in the restaurant, in the gym, in your place of work. Genuine photographs in the work place helps the visitor to trust your brand.
If you do not have the chance to use your own photographs, stock websites like iStock Photo or ShutterStock can be useful to obtain a photograph or illustration.
Contact page website ideas
The contact page should obviously include full contact details and a contact form to make it really easy for users to get in touch with you. It is a legality to include the registered company address somewhere on a website.
You may want to include a separate address for post, or that of your accountant.
Depending on the type of business you may like to include a map. A map can be used to direct the customer to a shop/office. This is often an office time saver, as customers can be sent a link to the web page, where they can follow Google maps.
Maps could also be used to outline a catchment area.
Responsive website design
Do make sure that your website is responsive, or mobile friendly and looks good on every device. It might be a small site, but should run well.
Have each page optimised for search engines and you will have a great base for a larger website in the future. Your startup website can grow with your business.
Add pages or posts each month, or when you have the budget to develop the site into an informative portal for internet users.
Learn more about do-it-yourself website builders here.
Startup websites
So you see a website does not have to be a huge task, nor be too costly. Click to see my page on affordable websites for startups. Start small and grow the website with the company.