I have outlined some startup website ideas in this post, to help your business in the new venture.
Most businesses are aware they should have a web presence, but as a business owner, it's difficult to know what to include.
Start with a small, static website while you test the water. The beauty of a website is that it can expand and grow along with the business.
Ideas develop and content production becomes a natural part of the business-building process.
A website coming soon message
Once you have reserved a domain name, add a holding page with a welcoming message. This lets them know that the business is active and that you're in the process of having a website built.
Include
a company name,
description of who you are and what you do,
registered address,
a telephone number,
an email address,
and some social media accounts where people can connect with you.
Make sure the page is designed using corporate colours and that you put your logo on it so that people start to recognise the brand.
Business startup website ideas
Websites with more pages, posts and content such as written articles, images and video are much stronger when it comes to search result rank. Google rewards companies that are active online.
However, I have worked with start-up businesses for a long time and I know that a large website is often not within the budget at stage one.
For a startup business that is cost-conscious, I recommend a website of 4 or 5 pages.
The website can consist of a home page, an about page, a product or service page and a contact/map page.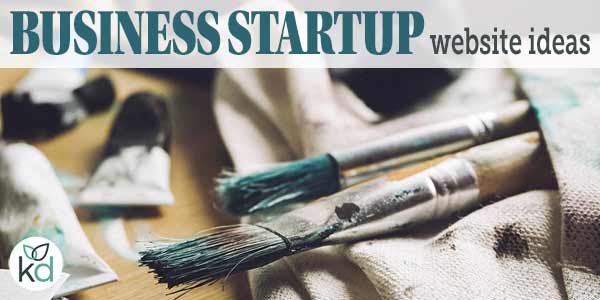 Home page website design ideas
Inform the visitor about the company and what it does as soon as they arrive on the home page. Give a general overview.
Imagine you are writing to someone who has never heard of your service, product or even industry. Be as clear and helpful as you can.
Google ranks a website higher if it is really informative, providing quality content from the beginning.
An explanation of what the company does should be visible above the fold on any home page. The fold is the part of the screen that people can see when they arrive at the website. It's at the top of the page.
Don't forget to mention your geographical location – too many website owners assume the visitor has an idea of the business location but people can come to your website from anywhere in the world. The mention of town or city will also help local search.
Further down the home page provide a paragraph of background information and the ethos of the company. This could link to the ABOUT page so that people can establish if they want to work with you.
Call to action (CTA)
Give visitors the opportunity to continue the journey through the website by linking to the other pages from the home page.
Use links within the text that you include on the front page and also use big, bright inviting buttons.
Include on the home page a list of services or images of products. Link these directly to the correct area on the next page, offering up more detailed information.
Google rewards a website when the user can easily find what they are looking for.
About page
The about page is an underestimated page on a startup website. I highly recommend you include one, and you make it appealing.
Be clear about who you are, what you do and why you do it. Google looks for honesty and clarity within a company website.
People buy from people that they know, like and understand. They need to find a connection with you to build trust with you.
Here are a few ideas of what to write about on an ABOUT page:
A story of how and why you started the business.
Where you come from and who inspired you along the way.
Your personal hobbies and passions. This really helps to connect with an ideal audience – remember people buy from real people.
Use a good photograph of yourself on the page. I recommend a professional photographer – they really can capture your personality.
Product page website design ideas
A full eCommerce site tends to be expensive as lots of time and effort goes into it, putting on products and creating a secure buying experience.
Unless you know your product has value, save money by including examples of products, or listing products without the ability to buy.
If you have eCommerce in mind let your website designer know from the start.
That way, when developing in WordPress, the designer can implement a shop plugin like WooCommerce. The basket and payment facility can be hidden, but during the initial stage, you could show products in a simple brochure format.
A payment gateway and shopping basket can be added later on. This way you don't pay twice for that part of the setup.
Display products using good images which are optimised for the web. Each individual product page should be well written and explanatory. Don't ever assume the visitor has read any other page on the site.
Service page website design ideas
I recommend one service per page. If you have more than one service they should really be split into separate pages so that each can rank well on search engines for individual key phrases.
However this might be out of price range, so if you are trying to keep costs down stick with one page detailing each service in detail.
Try to use more than 500 words per service – if they have individual pages, write more but always be sure it is interesting and not padded out or off-topic.
Let your audience know why you are the best person to help them with this service, and what you offer in your packages.
Always try to include at least one photograph on each of your web pages. Search engines rank a page more highly when it contains a relevant image.
A professional photographer can take photos of you and your team in an office, in the restaurant, in the gym, in your place of work. Genuine photographs in the workplace will help build brand trust and recognition. They can also be used on social media.
If you don't have the chance to use your own photographs, stock websites like iStock Photo or ShutterStock can be useful to obtain a photograph or illustration.
Contact page website ideas
The contact page must include full contact details. You are obliged by law to include the registered company address somewhere on the website.
Google wants to see honesty on a website and this is because the website can look illegitimate if there are no clear ways to make contact. A client that buys from you expects customer service.
So at a minimum include a telephone number and email address, so that people can contact you.
If you can also include opening times and prices, even if that is a price range.
A contact form will make it really easy for visitors to get in touch with you. I'd like to take the opportunity to remind you to check your web form every month to make sure the output reaches you.
When the business is a local service, serving a geographical area include a map. A map can be used to direct the customer to a restaurant/shop/office.
A map is a future admin time-saver – just send customers a link to the web page, where they can follow Google maps.
Maps are also used to highlight a catchment area.
Responsive website design
Make sure that your website is responsive – also known as mobile-friendly. A website must look good and run well on every device, even if it is small.
Remember to look at the website on each device size, checking that the text can be read easily, that images fit on the page and that all buttons/links can be followed. Sometimes overlapping layers hinder click-throughs.
Optimise for search engines
Ensure each page is optimised for search engines and you will have a great base for a larger website in the future. Your startup website can grow with your business.
Add pages or posts each month, or when you have the budget to develop the site into an informative portal for internet users.
Learn more about do-it-yourself website builders here.
Startup websites
A website does not have to be a huge task, nor be too costly. Start small and grow the website with the business.