Search engine optimisation is when a website is made more appealing to search engines by improving elements to make it coherent, logical and keep visitors safe and informed.
When a website adheres to search engine quality guidelines, the search engine ranks the website higher which is ultimately what the business strives for.
The point of optimising for search engines is to help an audience find a website.
Most people will choose from the top 4 or 5 results when they do a search so businesses tend to compete for those top spots.
Stick around if you want some search engine optimisation tips – it can be an enjoyable journey if you'd like your business to succeed online.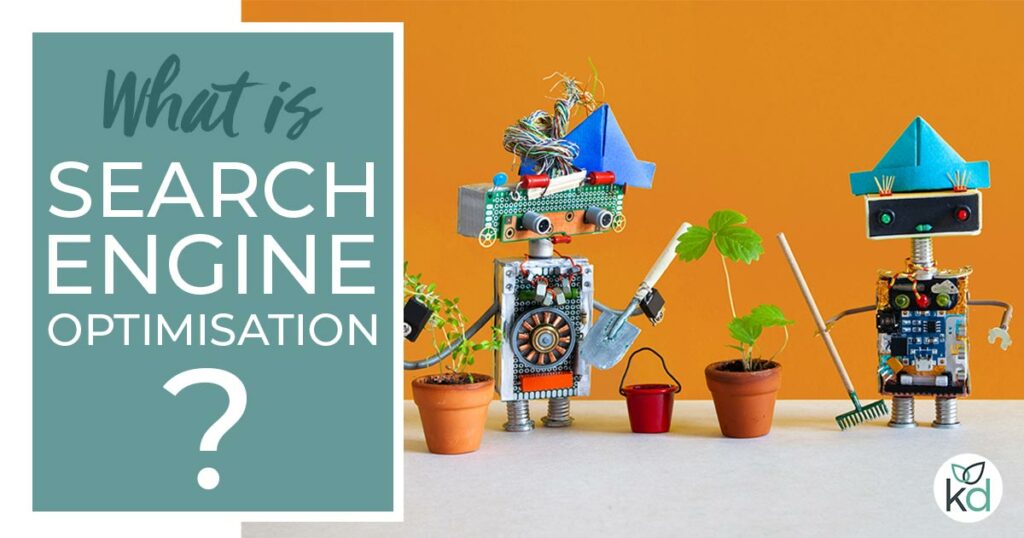 Why is search engine optimisation important?
Over the years, black hat tactics have been used to fool search engines into ranking illegitimate websites.
Scammers get wind of a way to rank well on a search engine and they add it to their website – like overloading pages with keywords or links.
In the past, they've been able to appear on top search results.
High ranking illegitimate websites are not good for the consumer so search engines respond.
Search engines protect us – they don't want to send us to rip off websites or we wouldn't use them.
So they penalise websites that they see as black hat.
Black hat websites go unmaintained, don't have a strong presence online or are overloaded with known SEO factors.
Unfortunately, there are many legitimate and hardworking small businesses with websites that are getting things wrong.
So search engine optimisation is important whether your business is big or small.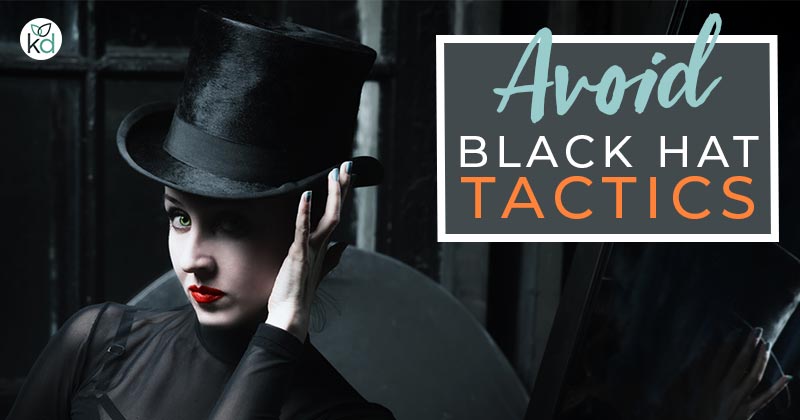 Search engine optimisation explained more thoroughly
Search engine optimisation could mean one, or many, of a broad range of on-page and off-page tactics to help a website rank more highly on search engine result pages (SERPs) and, in turn, increase website traffic.
To me, there are five main areas of SEO:
Foundations
Website construction such as speed, navigation and user-experience has an effect on page rank. I call these the foundations and they are really important – like the foundations a building needs just to stay standing.
On-page SEO
Most people think of on-page optimisation when talking about SEO. On-page SEO means the improvements and additions made to pages of the website to help it like fixing errors, adding meta-tags and creating internal links.
Off-page SEO
I've also mentioned off-page tactics which are factors outside of the website itself like NAP consistency, quality back-links and social shares. Often businesses don't consider that factors outside of the website itself, can have an effect on a website's rank.
Content creation
Don't tick off the first steps, there is always maintenance and monitoring to do. However, we can now start with content creation. This is the fun part! The business owner can produce articles, videos and images to strengthen the website.
Technical SEO
If you are only just finding out what search engine optimisation is, then the technical side of SEO may not interest you but we'll take a quick look at this too. There are ways that a website can help a search engine – using a sitemap and some code called Schema mark-up.
Search engines look at the overall online presence, authority and trustworthiness of a company when they position a page within search results. So these five areas really count.
If you want to start search engine optimisation for Google, then let's look at foundations first.
Foundations of a search engine friendly website
Website designers are not usually SEO professionals and visa versa.
Not all websites are built with search engines in mind and there is no SEO standard. Anyone can say that something is SEO ready. That we have to live with.
What we can learn is the requirements for strong foundations that help our own search engine optimisation.
Here are some fundamental search engine optimisation tips:
Design for mobile-first. A website should be accessible in all screen sizes and on all devices.
The navigation system should be clear and easy to use. Each and every page must be easy to access. Add a menu to the footer.
Have visual and cognitive impairments in mind – font size and colours are important factors.
Provide clear contact information – business name, address, phone number, email address and prices (NAP).
Use an SSL certificate to keep visitors safe.
Name page URLs according to the content of the page.
Save images using descriptive key terms and use ALT tags.
Write the website well, be to the point and informative.
Link internally to related content throughout the text to allow people to continue their journey.
Link externally to helpful, related sites.
Keep the website fast to download.
Start the life of a website with the basic rules in place but don't stop there.
A website should continuously improve and grow to encourage traffic and custom.
Websites for search engines
From the ground up a website should be built in a search engine friendly manner but there are difficulties that surround this.
The perfect website for search engines would be free from excess code.
Even the best do it yourself website builders like WordPress, Wix and Squarespace still tend to contain a lot of excess code so non-web designers can use them.
The great advantage of these website builders is that businesses can update their websites in-house, without the need to contact a professional website designer.
Small businesses gain freedom with website builders and this is wonderful. It encourages business owners to update their website. Hurray!
So I am an advocate for good website builders and my recommendation is WordPress.
There are ways in which a website can be built with search engine optimisation in mind so be sure to get the foundations correct.
On-page search engine optimisation
Now let's look at on-page optimisation, which is what comes to mind when most people think about search engine optimisation.
On-page optimisation is when we would add keywords to a page and use them correctly to help the search engine to understand what the page is about.
But keywords are not magic dust, a bad article won't rank just by sprinkling keywords through it.
To rank well, each page of a website has to be quality – they must provide something for the audience. To find out more about content creation, go to the end of this article.
With quality content in mind, the first thing to do would be to research some key phrases to help our on-page SEO.
It would be ultra difficult for a web page to rank for just one keyword. So we use key phrases instead.
Plus people rarely search one keyword – we now search very specifically, typing whole sentences or we use voice search.
Using the key phrase, we start to optimise the web page. Answer any questions on the topic and write around that key phrase.
Name the page according to the key phrase, add images to make the article look great and use ALT tags. Constructed it using h1, h2 and h3 tags and use links throughout the content.
And of course, use the key phrase within the meta-title and meta-description.
That's on-page optimisation in a low down and it should be complete for each page and post on the domain.
Off-page search engine optimisation
I believe it is important to get the foundations and then on-page optimisation correct first then look at off-page optimisation.
Off-page SEO is all about achieving alignment and relationships with other websites.
This is an easy but laborious part of search engine optimisation and there is no point doing it if your website isn't up to scratch.
Be sure that every mention of a brand is clear – if details differ the search engine assumes its not the same business.
The first thing that is important here is to check that any website that links to your website links to the correct place – there is a difference between www.website.com, website.com, https:// and http://.
Then we need to be sure that anything that refers to the business on any other website states the correct business name, address, phone number and email address (NAP consistency).
We should also be sure that we've got correct opening times, prices and descriptions across the whole of the internet – yes this matters.
This includes business websites, web directories and social media platforms.
A brand is also seen as trustworthy when it has social shares and engagement.
Link building
One of the most powerful parts of search engine optimisation is link building or back linking. This is part of off-page SEO.
During the process, we encourage links from other quality websites to our own, avoiding links from black hat websites.
Quality backlinks are like endorsements across the web. They tell search engines that your content is worth linking to.
This is a hard task because your website really must be valuable for good websites to link to it.
How do we create value? We create content that rocks! And this is where content creation comes in.
Content creation for search engine marketing
Content is the part of search engine optimisation where the business owner and employees can really make a difference.
Creating content is about caring for and providing for customers. That is what search engines look for within content.
Only quality content will rank well – and what is the definition of quality content?
Quality content is well thought out, well-structured, well-scripted, provides answers or entertainment. It takes the visitor on a journey and truly answers their questions.
Written articles, video, images and even podcasts can all be considered content. An audience consumes it in many different ways and each piece will support the other.
Show that you're dedicated, knowledgeable and trustworthy.
This content can be shared across your social media platforms which will also improve the business' online status.
Once picked up by search engines and other websites in the industry, you'll also encourage those all-important backlinks.
Technical search engine optimisation
There is a lot more to search engine optimisation and we could get really technical but I'd like to keep this article about the basics.
What is wonderful about WordPress is that there are plugins like Yoast SEO that will do the technical things for you – such as include canonical URLs, schema mark-up and Yoast also provides a sitemap.
Any website that wants results must submit a sitemap to Google Search Console.
My process for search engine optimisation
Build a website on solid foundations.
Create well-written pages, optimised for search engines.
Ensure off-page mentions are aligned with the brand.
Create fantastic content that will help your audience.
Build online relationships and earn great backlinks.
Embrace search engine optimisation – it's not a dark art, it is ultimately about doing the right thing for visitors to improve website rank and traffic.