Search engine optimisation could mean one, or many, of a broad range of on-page and off-page tactics to help a website rank more highly on search engine result pages (SERPs) and, in turn, increase website traffic.
The point of optimising for search engines is to help an audience find a website.
What is search engine optimisation?
Generally search engine optimisation is when a website is made more search engine friendly using a number of different tactics such as using meta-tags, informative URLs, internal links and by creating quality content on one domain.
SEO can also refer to more general site construction like the speed, it's ability to be navigated or the user experience on a mobile device (mobile friendly).
Search engine optimisation can also mean off-page tactics like quality back-links and social shares. Many companies do not consider that factors, outside of the website itself, can have an affect on a website's rank.
Search engines look at the over all online presence, authority and trust-worthiness of a company when deciding where to position a page within search results.
The reason search engine optimisation is so complicated is because there have been many black hat tactics used over the years to fool the search engines into ranking a site more highly. Search engines, namely Google, fight back and penalise over loaded sites.
Search engine optimisation is therefore sensitive.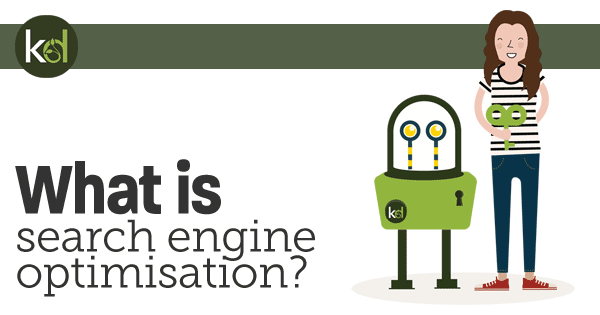 Websites for search engines
From the ground up a website should be built in a search engine friendly manner. In the modern world of the internet there are difficulties that surround this.
The perfect website for search engines would be free from excess code.
Do it yourself website builders like WordPress tend to contain a lot of excess code, especially when third party themes and plugins are used. The great advantage of these website builders is that businesses can update their websites in-house, without the need to contact a professional website designer. Which is why we use them.
Keeping an install clean and up to date, deleting old themes, plugins and media files really help to keep WordPress websites free from excess code. Website maintenance goes a long way.
Building a search engine friendly website
A professional website designer should build a site with search engines in mind.
There is no excuse to have a site that is not mobile friendly. Google uses different algorithms for mobile and desktop. If a site is not mobile friendly it will not rank well on mobile search. Mobile makes up over 60% percent of searches now.
I cover "how to optimise your website" at the end of this post, but the basics follow:
Each web page or post should be saved correctly, using researched key terms, and those terms must be used throughout the page on H1 and H2 tags as basic practise.
Images (and other media) should be saved using related key words and alt tags completed.
The navigation system should be easy to use, and each and every page easy to find.
A website should be well written, by a content writer that understands SEO. Links to related content must be used throughout the text, as well as external links to related sites.
Speed of the site must also be considered, although at the moment there is a fashion around large images. Image quality is compromised when they are compressed too much. If you must use them, put large images further down the page. Google rewards websites that provide answers quickly and easily.
Begin the life of a website using the rules above, and then continuously improve and update it.
How to improve website ranking
Once you have a good basic, search engine friendly website there is far more to do to improve website ranking. New websites will often do quite well on search engines, but soon start to drop when they do not offer quality content. Small websites often suffer in this way.
Simply put, Google wants to provide users with the answer, and will rank a website well if they provide that answer.
I like to look at it as if a potential client had walked in to my office. To win the job I would be expected to show my knowledge or skill. I think it is fair enough for Google to ask us to do this in the online world via blog posts or pages on a website.
With this in mind expand on your pages and provide your audience with informative blog posts. Blog posts that answer questions. Brainstorm blog post ideas within the company.
Google ranks websites that provide an audience with information around an industry.
Pages or posts that rank well will improve the over all rank of the site. Continue to expand on those pages, and write more content around related subjects.
Improve website rank by building on quality back-links from relevant third party websites. Links play a major roll in search engine rankings. If your content is linked to by trusted websites, Google values it.
Ask third party websites to use your key terms in keyword anchor text, such as "WordPress Website Designer", as oppose to "click here".
Analyse site for SEO
To improve and assess page rank it is so important to analyse your company's online presence and website.
Analysis will highlight crawl errors such as dud links, missing meta-tags and over complicated URLS, which can have a negative effect on a site. You may be quite shocked!
It is clear which steps to take to move forward, when you analyse.
As your site grows, and more content is written and moved, continue to analyse. Links change, pages are renamed, images deleted. To keep on top businesses should regularly analyse.
MOZ Pro provides valuable information like page optimisation scores, key word rank and opportunities, search visibility scores, crawl errors, back-links and suggestions. All which will help your search engine optimisation strategy.
Best SEO site checker
I love MOZ Pro, I'm an addict and provide analysis using MOZ Pro for my clients.
MOZ Pro provides clear and concise information and tracks the site, giving weekly reports and finding SEO opportunities within an industry. You can also track up to 2 competitors on one campaign and compare their search rank to your own.
There are lots of free site checkers out there. Neil Patel's SEO Analyzer is excellent.
How to optimise your website
WordPress website owners can optimise a website using the free version of Yoast SEO. Even the free version of Yoast is really comprehensive and easy to use.
Once installed and activated you will find a Yoast box within each post and page of your WordPress site. Yoast used a traffic light system to highlight SEO errors.
Optimise each page individually, and never repeat content or target the same keywords on any two pages/posts.
Optimising a web page
First, choose a targeted key phrase. This phrase should be used within the URL or slug, in H1 and H2 tags and as the alt-tag for a relevant image on the page.
Use the key phrase throughout the text on the page, namely the first paragraph and the last.
Use online tools that provide keyword suggestions like MOZ's Keyword Explorer. Google's Search Console will also give you great keyword ideas.
Try not to over load the page with the key term though, as this can be seen as SPAMMING. Create the page for humans, not for search engines.
Structure the content well. Write pages clearly in an authoritative voice, separating text into easy to read or easy to scan paragraphs.
Each page or post should contain more than 600 words, informative blog posts can be much longer. 1000 – 3000 words of quality, knowledgeable information, explaining the subject in depth.
Do not fluff articles up just to increase the word count. Google looks for concise information.
Add links to your articles to help the user find more information on the subject, or enable them to visit reference sites easily.
Now add the key phrase in the meta-tags. The title of the page and the meta-description are still important. Use a maximum of 155 words in the meta-description to help Google clearly list what the page is about.
Revisit and re-evaluate old posts that may be out of date, to keep your content fresh and current. Share posts across social media to encourage re-shares and back-links.