In this post, I reveal ways to effectively promote a travel website. It will benefit businesses in the travel, tourism and leisure industries.
The goal of promoting a website is to gain web traffic – a healthy number of well-suited visitors that would be interested in your brand.
The design, the structure, the written content and the media included has an enormous impact when endeavouring to promote a travel website online.
Fundamentals of a website
When a website doesn't follow search engine guidelines it won't rank highly. First, check the fundamentals that will impact search results, which I cover in my post on website maintenance.
Once the website is up to scratch structurally, the website owner can continue to help bring a website to the top of search engine result pages, gaining traffic and brand awareness.
There are also many tactics that a website owner can use that are external to the website itself.
What I cover in this post
SEO to promote a travel website.
Researching and targeting key terms.
Creating landing pages.
Targeting easy to rank search queries.
'Local search'.
Directories and reviews.
Linking and Domain Authority.
Building and expanding using a blog.
SEO for travel and tourism website
A search engine user is 30% more likely to click on the number 1 or number 2 result listed on a search engine result page.
Backlinko has a great summary of click-through rates by search engine position.
So the secret to good website traffic is a good search engine position. But the website also needs to rank well for relevant key terms, key terms that will position the site in front of the right audience.
How do you achieve that position?
SEO is an anagram for search engine optimisation, which means to refine a website to adhere to search engine quality guidelines and develop that site so that pages and posts gain a good search engine position.
As I've said, there are lots of website factors to get right first, but once you've nailed the fundamentals you can start that expansion and development. Read on.
Researching key terms for pages and posts
Competition online is rife – especially in travel, tourism and leisure industries.
It can feel like there is too much competition and that gaining a good rank is near impossible.
I'm here to tell you that your website can rank. For lower competition key terms.
Low competition key terms
A string of keywords on a web page is called a key term. Key terms are geared around searches that people make online. Certain key terms are more highly searched than others.
Frequently searched terms have higher competition. It is difficult to be at the top of search results.
Billions of searches happen each second, so there are undiscovered key terms and terms that are searched less frequently. This means websites are not competing for them so aggressively.
The difficulty of ranking for these is much lower.
A website that is just starting to develop its online marketing has a much better chance of ranking well for low competition key terms.
There may be only 10-50 searches per month for these terms, but when a website is ranked at number 1 it is valuable for the business.
Say you get 35 hits per month on a post. 35 visitors is a great start.
35 visitors on 35 posts equal 1,225 visitors to your site per month. Not a bad start.
Only when a website is ranking well for lower competition key terms should the owner target terms with higher competition, which can be done by expanding the website using a blog (covered later).
Successful web pages and posts are ranked for many different questions or queries.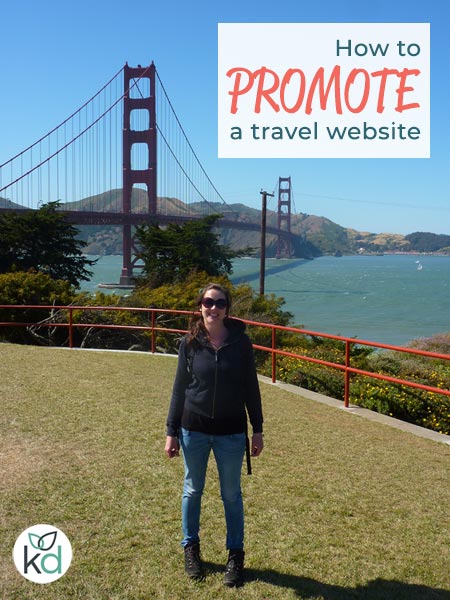 Website landing pages
To target specific key terms use landing pages.
Many travel websites I see put all services on one single page. A mistake.
I'll use a simple example such as a website for a local café.
The café has a page titled FOOD, on which they promote their breakfast and lunch menus.
The one page has a short explanation about the two different services and photos of breakfast and lunch.
The page is far too general to work well on search engines. We don't search for broad terms such as "food". We are much more specific with our searches.
Separate the pages to make the website more successful. One page for breakfast, one page for lunch.
Gear each around a researched key term such as "Healthy Breakfast in Oxford UK".
When I talk about research – I mean that the website owner has used online tools such as Moz Pro to be sure that there are searches being made.
I see many, many blogs and websites written around subjects that wouldn't even be searched for – such as "My rainy trip to Hội An".
Use the researched term within certain aspects of the page.
Click here to see my post – what is SEO writing?
Landing pages must dig really deep, giving as much information as possible about the subject and using the key term throughout the content.
Ideas around the breakfast page are:
serving times,
what options are available,
vegan/vegetarian choices,
where the ingredients are from,
why this is such a healthy breakfast,
where the customer can sit,
the atmosphere,
who cooks,
drinks served.
A well-built page, targeted page will gain more traffic than an unspecific, generalised page.
Think of things that people would ask about your service and on your page, answer all of those questions. Yes, even the stupid ones.
A tip is to listen to your clients – what do your clients ask you?
Digital businesses can simply look through their emails to answer this question.
Local search
A café business doesn't need to compete with all cafés that provide breakfast on the planet, and not even nationally.
The target audiences are:
people that are either already in the local area
or people that are coming to the area.
The website owner must inform search engines where the business is located.
Specify the location clearly on the company website including the full address, postcode, coordinates and a map.
Provide correct information on external websites, directories (Yell, Booking.com), review sites (Google, Tripadvisor) and social platforms such as Facebook.
This comparison of information helps search engines match websites to the directory listing or social page.
It enables the search engines to recognise the business, find its location and list it on local searches, known as local search.
We'll look specifically at Google's local search.
Google My Business
Google My Business is a free Google tool, in which you can directly edit business details that appear on Google Maps and within local search results.
When you type a search such as "Café Oxford" into Google, Google displays a map of Oxford.
However, if you are actually in the city, the location doesn't even need to be entered. Google rightly assumes you'd like cafés located in the area. All you need type is "Café ".
On the interactive map, you'll notice pins of cafés in the location.
Listed at the top is the café with the most reviews, then the cafés with the best reviews.
Reviews on Google are certainly important when it comes to exposure on local searches like this.
The position of the company on Google maps will have a significant effect on the user's decision.
Business owners within the travel, tourism and leisure industry cannot ignore the power of Google local listings.
Other influences that will help a business to show at the top of Google's local search are:
Complete company details (edit via 'Google My Business'),
use the correct company name (same as the website),
provide the correct logo in the correct format,
use the correct website address (check https://),
provide images of the interior and exterior,
use the correct phone number,
complete the about / background story,
update opening times,
provide a clear pricing structure,
how well the business website ranks on organic search,
how well known the business is – Google determines this by results around the web.
It's important that the company name and all other details are an exact match to those on the business website. If they aren't, Google can treat the two as separate businesses.
If your travel business has more than one location, then create separate Google local pages for each location.
Google sends a verification code to each property so a physical address is necessary.
Directories and review sites
Online directories are large websites that list details of businesses. Some list by location, some by industry or others use both.
Often you can directly search a web directory. Sometimes public reviews are available.
Directories pick up details of a business from official websites or from other directory sites across the web. Many use the same database of information.
It is important for any website, but especially a travel website, to keep details on ALL directory websites up to date.
A business website could be losing a lot of traffic from incorrect business details or inaccurate links on directory sites.
Directory listings must be up-to-date and aligned with the details on the company website – company name, address, logo, website address, phone number, prices and opening times.
Don't leave any listing whatsoever with incorrect information.
There are some major directories in the travel industry for small businesses:
Usually, the business can claim a free listing on each directory site.
Of course, companies will be in touch to sell upgrades – decide what works best for your own company.
Having a good listing on all or most of them will help a website to rank.
Why are links from directories so important for website promotion?
The reason these directories are so important is to do with 'Domain Authority'.
Domain Authority is a great method to judge how a search engine rates the popularity of a domain name. I.e. a website address and everything included on it such as website, blog and media.
The authority of the domain name will be determined by many factors, but the most significant is the number of domains that link to the website and media. And how trusted and authoritative those links are.
The scoring system is out of 100. It is really hard to get a mark of 100.
A website such as Tripadvisor has a Domain Authority of 89. Lonely Planet has a DA of 92.
Quality links gain credibility for the website and this is the way 'link juice' works.
The more credible the websites that link to yours, the better link juice for your website.
It is then likely to climb up search engine result pages.
Links from official tourism websites
Links from government or state-run websites – official tourism websites – will also provide that all-important link juice.
The official 'Visit Oxford' website, for example, has a Domain Authority of 54. The website for the 'State of Alabama' has a Domain Authority of 64.
Compared to Tripadvisor/Lonely Planet this may seem low, but note that most good websites would be marked at about 30/40.
So you can now see how important these links are to boost the rank of a travel website.
Providing local information
Local search can be helped hugely by building a website that is incredibly helpful to visitors of the area.
Serve visitors to that location and think about all the possible requirements a visitor might have. For example:
Where can people eat?
accommodation options,
tourist attractions,
leisure facilities,
nightlife,
transportation,
local tips and
travel information.
Link to websites that are relevant to the cause. Links to and from regional businesses and places of interest will boost the chance of your site appearing in local searches.
Search engines rank websites higher on local searches when the website provides useful information.
The information you've provided will also help when connecting with local businesses, and encouraging back-links from their websites.
When search engines perceive a website to be popular in an area, it will rank higher for local search terms.
Tourist attractions, leisure facilities, accommodation and food establishments will benefit greatly from local search tactics.
A travel website targeting more than one location
One website can rank well for different locations.
For example, a chalet company that has a chalet in separate parts of the Alps.
To rank well use individual landing pages for each chalet location, which provides information around each area.
To be really successful, websites with the capabilities to add categories and pages should create mini websites around each location.
Extend the site with a travel blog
A website must provide great, well-written content and media around the location/s they are trying to sell.
For example – a guesthouse in the Cotswolds would not only write informative pieces about their guesthouse and their proximity in the Cotswolds, but they can extend reach by writing about walks in the Cotswolds, bike rides and best restaurants.
The terms do not directly sell beds, but when a website ranks highly for one search term it helps the posts and pages that are not ranking as well.
Well ranked articles will help the authority and trustworthiness of the domain.
Remember to research the key terms each time you begin to write a post or a page.
There are tools such as Moz Keyword Explorer to help with keyword research.
The research will help you to understand the number of people searching that term each month, and how difficult it is to rank for.
Write around subjects that are related to the travel location/s you are selling or the area in which you are based.
Be informative, check spelling and grammar.
Badly written, unhelpful articles with thin content will not rank well. Content that answers questions and is deemed popular, ranks higher.
Search engines recognise good content through the number of links and engagement it has across the net.
To help the post make it:
original,
informative,
back up arguments with excerpts,
link to other content,
provide conclusions,
structure it well,
and provide related media.
Dedicate yourself to writing posts that really offer value to a visitor.
Types of blog posts
People will read articles that are inspirational, informational or instructional. These are the three main reasons people use the internet.
To rank well on a search engine a website must simply meet the human desire.
It is essential to keep this in mind when writing articles to gain traffic.
Inspirational
Humans love to feel inspired, to feel in awe of achievement, a moment or a journey, accomplished by someone else.
Travel and culture can always excite and impress. Use your own travel experience to connect with an audience.
Awe sparks certain energy that encourages people to take action.
Social media followers are more likely to share or engage with inspirational posts.
Use your inspirational posts to entertain an audience on social media, encourage comments and shares.
Informational (education)
Show your own travel knowledge, accomplishments and experience in informational posts such as city guides, travel tips, where to eat, traditions, culture. Include travel guides and maps.
In these informational posts, help and inform the audience.
Instead of writing about your trip to Rome, answer questions and make the post about your audience.
If I were targeting people travelling to Rome I'd create a post that answered questions.
Here are some terms I have researched:
Why visit Rome?
Is it safe to travel in Rome?
What is there to do in Rome?
What is the best location to stay in Rome?
Your audience will appreciate your guidance and will start to trust your brand.
Instructional (how to)
Instructional posts and videos are enticing because humans have an incessant need to learn.
The need is so powerful that there really could ever be enough content online.
Overcome the feeling that you're might be repeating what has been done before. You are your own brand.
Never outright copy and always to be true to your own personality but you can get ideas from other channels and websites. See the curation section below.
When it comes to instructional posts, videos really work to support the post.
Videos help visitors to develop relationships with you and your brand. When they think they know you, they are more likely to purchase.
Include a mixture of all three types of posts, as they will attract fans in different ways.
Tips to writing travel and tourism blog posts
Get to the point
People are too busy to read a huge post unless they are learning something valuable or reading something incredibly inspirational. Get to the point and be clear about what you are offering.
It's true that thin content doesn't rank well, but if the domain is strong and there is only one point to be made, make it. Don't get hung up on word count – rank depends on the material.
Write as much as possible to reiterate points and give the post true value.
Break up the text
Break up the paragraphs, so that the article is scan-able.
We scan to find the answer we're looking for, so search engines reward articles that are easy to read.
Include headers – H2 and H3 headers – throughout the content as this will help people to find what they are looking for.
Include images
Incorporate at least one image on every page or post.
Search engines understand that humans are visual creatures. Research shows that articles that include images rank better.
Video
Create your own videos that cover similar topics to your posts, and embed them onto the post to reinforce it.
Give the audience the option to read the text or watch.
Video is an increasingly popular medium and a fantastic way to connect.
Linking within content
Search engines love to see that website owners are helping visitors to move around a website by providing links to related articles throughout the content.
Links, to content on the same site and links to external sites, strengthen posts.
Be sure that linked content flows, and truly helps the visitor in their quest for information.
Links have more value if they are placed within text content, not added at the end of a blog post.
Dud links
Keep track of links within your site. Dud links are a sign of neglect and something that Google penalises. Consistently check your site, using a website analysis tool, for links that no longer work. Correct any that are found.
Finishing your post
Use lists at the end of your post or page to highlight the points that have been made. Or write a conclusion.
This is useful for people who scan content and is likely to be picked up in Google's SERP features too – the accordion and featured snippet.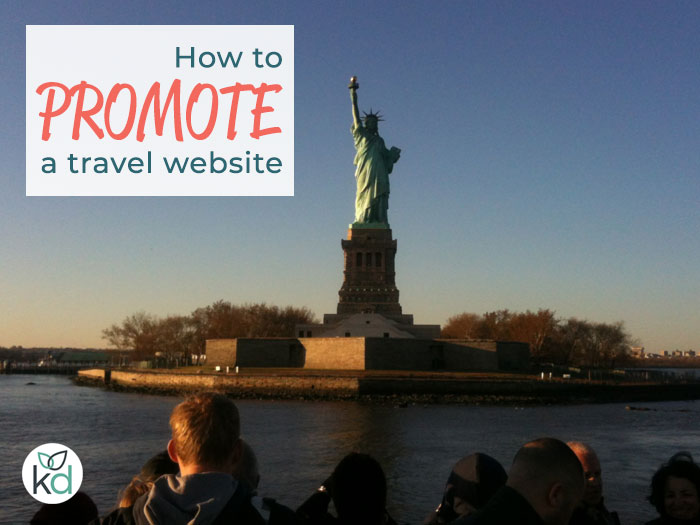 Building backlinks
Backlinks are links to and from other websites.
Be generous with links to other websites, your generosity will help the website to rank well.
Encourage backlinks from external sites.
This is where face to face networking in the local area helps. People are much more likely to provide a link to your website if you already have a strong connection.
When providing or receiving links be sure that the sites contain related content – i.e. are within the travel, tourism and leisure industry.
Check that sites linking to yours do not have a high spam score.
There are many reasons a website can be given a high spam score, but one of the most common is a site that has thin content and too many external links – we've all seen websites that are just full of links with no real purpose.
Links from sites such as these have a negative effect on SEO because search engines associate them with link building campaigns.
Website owners can disavow links within Google Search Console but should be careful with this tool.
Use online tools to check a website's SPAM SCORE.
Evergreen content versus news
Evergreen content is the sort of content that lasts for years.
For example a post about Rome would likely be evergreen content. Rome itself doesn't change much and is unlikely to change on a regular basis.
Writing a post about tourism in Rome would be relevant and useful for a number of years.
On new websites or sites that don't currently rank well, blog posts can take 6 months to a year to start to rank highly.
Posts in the now – news articles – should be kept for websites with already well-ranked material.
Once your website ranks well and has a good Domain Authority, search engines crawl it more regularly.
News articles can be ranked within minutes.
They can be a huge success, with lots of traffic gained from a timely post written around a trending search term.
Revamping blog posts
Warning: if you have a lovingly written journal of content, backup your travel website or travel blog before revamping your content.
I see so many travel posts with titles such as: "Our rainy trip to Rome".
You may now be able to see that a post like this is not targeting any useful key terms.
It's easy to revamp these posts.
Someone is much more likely to search for a term like "What to do in Rome when it rains" or "When does it rain in Rome".
Make the post useful to someone searching for answers. Revisits posts constantly to improve and update.
You may see a post ranking at 15 on the second page of Google. That would be a good post to revisit, using some of the tips I have covered here, you'll see posts climb as you gradually improve them.
Curating content
Don't be afraid to research facts online and reuse them. Curating content will help to inspire your writing or your video production.
Always reform what you have found, never directly copy. Duplicate content is penalised by search engines.
If you'd like to use facts within your own content, cite the original author. It's even valuable to link to the original article to strengthen the point.
Ways to promote a travel website
You see there are so many ways to promote a website for the travel, tourism and leisure industries. All are easily done by the business owner, but it takes hard work and dedication.
If you'd like to grow your business, it is all manageable. I like to encourage business owners to monitor their own websites – as this creates a certain passion when it comes to gaining rank and seeing a traffic increase.
Without analysis, media and content creation are uninspiring and when uninspired, you're likely to stop the promotion.