In this post I cover how to get a website listed on Google search, and how to get a business listed on Google maps, including Google places pages (also known as Google business pages or, sometimes, properties).
How to get a website on Google
When a website is launched, a business owner often expects it to be listed on Google search result pages instantly. However, that is is not the case.
All websites that have links to them, via another site or social media sites would eventually be crawled, but small businesses want their websites listed fast.
A new website, on a new URL, will not be listed for a while unless it is submitted to Google's index.
To let Google know that a site has been launched the webmaster must submit the URL to Google.
How to get your business on Google search
Once your site is complete and launched, submit your URL to Google.
Google does not guarantee all websites will be added to the index, but if your site is well structured, has complete meta-tags and genuine, well written content it will be crawled and indexed fairly quickly. Google does not set a time on this but I've seen sites listed within a week.
The simple submission of a website to Google's index does not mean that it will rank highly through the entirety of its life, if at all.
Good search rank has to be worked at.
New websites will often do very well, but will start to slide down SERP's (search engine result pages) if content is not to standard, and updated regularly.
Sometimes competition does a much better job of keeping Google happy, which will also effect results.
Let's first take a look at Google search console, as this is an amazing free tool provided by Google.
Google search console
The Google search console is an online area in which webmasters are provided with data and tools to help maintain a Google friendly website, track when the site is crawled and discover indexing or security errors.
Within the search console webmasters can add websites, known as 'properties'.
The webmaster must verify that they are authorised to submit a website, either by uploading a file to the server or adding a DNS record.
There are four main sections within the Google search console:
Search Appearance
Search Traffic
Google Index
Crawl
Let's concentrate on Sitemap within the Crawl area.
Submitting a Sitemap in the Google search console
A Sitemap is a file that includes a list of web pages within a site. They are created for search engines, to let them know what should, and should not, be crawled. Making their job easier.
Within a Sitemap webmasters list web pages, posts and media. We can let Google know how often articles are updated so Google can return to re-crawl a site.
Submitting a Sitemap to the Google search console can help Google to list your site faster.
Adding a Sitemap via the search console does not mean a site will rank highly nor that Google will list every item you include in it, but submission does start the long road to an organic listing.
Understand how Google lists a website
The Googlebot is the search bot that Google sends out to collect information about web pages on the internet to add to Google's searchable index. This is called crawling or fetching.
Googlebot starts with web pages captured during previous crawl processes. As it browses web pages previously crawled, it will detect new web links to add to the index.
Googlebot will add in sitemap data provided by webmasters.
Once Googlebot gets round to crawling the pages a site will start to appear on search results.
Read my post: How to increase page rank
Why should your business be on Google maps?
It is really important to get your business listed on Google maps, especially if you depend on local business.
In search result pages Google will provide a user with results from the area when they do a search, especially when they are using a mobile device.
So if a user is in Chicago searching for "Chinese restaurant", results will be provided from Chicago, as Google presumes they are looking for food in the area.
The first result in any local search will be Google maps, and will list restaurants that have a Google map listing. Listings with up to date information and more reviews appear at the top.
How to get listed on Google maps
On a desktop computer, open Google Maps.
Make sure you are signed in to the correct Google account. I have a personal Google account, as well as a business one. I use my business account for all things to do with my business. Being signed in helps Google to verify that you are the business owner.
Now find your place of work, shop or establishment on the map. You can search by city to zoom in.
Right click the point, and then select 'add a missing place'.
Add any relevant information, then click submit.
This Google result is, of course, linked to your Google+ local page, or Google places page.
Keep this page up to date, add an informative description and great photographs so that users have a better experience. The page is then more likely to appear for relevant searches.
How to claim a business on Google maps
You may already have a business listing on Google maps, but not be in control of it. You must have a Google My Business account to take control of your business listing.
On a desktop computer, open Google Maps.
Make sure you are signed in to the correct Google account.
Search for your company name in the search box using the name and address.
When your business comes up, click it.
If the business has not already been verified you should see a link to 'Claim this business' under the business details in the left hand panel. Click the link.
Tick the box 'I am authorised'. This is when Google will send a verification code and you will need to come back to Google My Business to enter the code.
Managing your Google listing through Google My Business
Google My Business is an area for businesses to manage properties. These properties, or Google places pages, appear on Google maps and on Google search results.
You may have more than property. Webmasters like myself run lots of Google pages for other companies.
This is the place to add, update and change business details.
Always verify the property. If you don't it will not appear to your customers within a search. Google gives a verification code either by the phone, email or by post.
How to verify a property on Google My Business
Choose MANAGE on your account.
Any property that is not verified will clearly state GET VERIFIED within the property box. Click the GET VERIFIED link on property you would like to verify.
The next page is a Google map.
If there is only one listing on Google maps for the business, you will now be presented with options 'By phone now', by 'Email' or by 'Post'. You will see the data they have on record.
Once the code is received, come back to Google My Business to verify the property. Verification keeps Google pages up to date, meaning a better user experience.
If you choose 'By phone now' make sure you are next to the phone, as Google will call instantly. An automated voice will tell you the code. This is the quickest way to verify a property.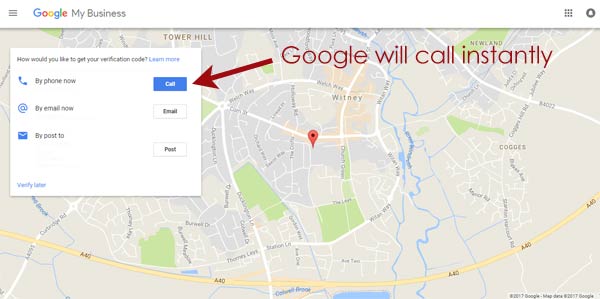 If your business has more than one Google location page floating around Google may ask you which you want to use, and merge the two.
A business website and online presence
Make sure your website, Google property information and other social media accounts are all aligned. They must all use the same website link, phone number and keywords. Google will use these signals to rank you in your industry.
Providing great content on the business website, and correct information across all social accounts will reap rewards.