When a new website is launched the business owner quickly expects it to be listed on Google search result pages.
It is worth noting that a new website will not be instantly listed, although Google would eventually find it.
When a site is newly launched it will be necessary to type the address into the address bar to view it.
There are ways of letting Google know that a site has been launched, decreasing waiting time to get a site listed much sooner.
How to get a website listed on Google search
Once your site is complete and launched, submit your URL to Google's search console (once Google Webmaster Tools). Google will thenn add it to the index.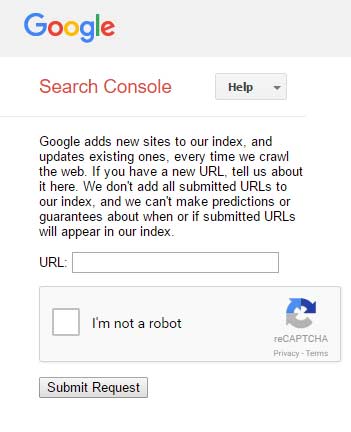 Google search console
The Google search console is an online area in which webmasters are provided with data and tools to help maintain a Google friendly website.
In the search console information about the business should be added, which includes the company name and website.
As the webmaster you must verify you are authorised to submit a site, either by uploading a file to the server or changing some DNS.
Submitting a site map in the Google search console
Within the search console webmasters can provide Google with a sitemap, once the property is verified.
Sitemaps are a way of telling Google what is included in your site, and what you want to be crawled.
A sitemap is a list of all your web pages. Within it you can let Google know how often the pages are updated so Google can easily crawl your site.
Submitting a sitemap to the Google search console can dramatically decrease the waiting time for a site to be listed.
Understand how Google lists a website
The Googlebot is the search bot that Google sends out to collect information about web pages on the internet to add to Google's searchable index.
Googlebot starts with web pages captured during previous crawl processes and adds in sitemap data provided by webmasters.
As it browses web pages previously crawled, it will detect new web links to add to the list of pages to be crawled.
Once Googlebot gets round to crawling your web pages your site will start to show as an organic listing.
Increase exposure with inbound links to your website
Links from related, topical and relevant sites that are already ranked highly can help you get indexed.
Googlebot crawls pages that are already listed, looking for new links. These will then be added to the system.
Social network sites like Facebook, Twitter, LinkedIn and Pinterest help when trying to gain your own organic listings.
These huge networks already have search engine listings, so listing and sharing your site on them shows Google that a site is active on the web. Ask others to share it too.
Now read my post, getting better search results
Do drop me an email if you need more information on any of the above.