Organic search is a term we use to refer to the natural results that appear on a search engine result page (SERP) as opposed to paid for adverts (Ads).
Natural results are obtained by the website owner – by providing an informative web page, amongst many other influences.
The organic search result
Once you place a search, on a search engine, you are presented with a list of web pages – which should contain the information you require.
The list of pages will be displayed depending on the type of search you entered, your location and the type of device you used.
This is because Google tries to second guess the intention of the search.
SERP Features
On Google, organic search results can also be demonstrated in the form of SERP Features – which come in many forms.
These are useful ways in which Google displays information, instead of just a long paginated lists of websites.
SERP Features can be seen as text boxes (called featured snippets), carousels of images and accordions containing 'other suggestions'.
They can also be in the form of video or images.
The results you see on Google are organic search results unless labelled as Ad or Sponsored.
Website owners can influence organic search by optimising a website for search engines (SEO). There are many factors which help a website to rank well, organically.
What is a 'search engine organic listing'?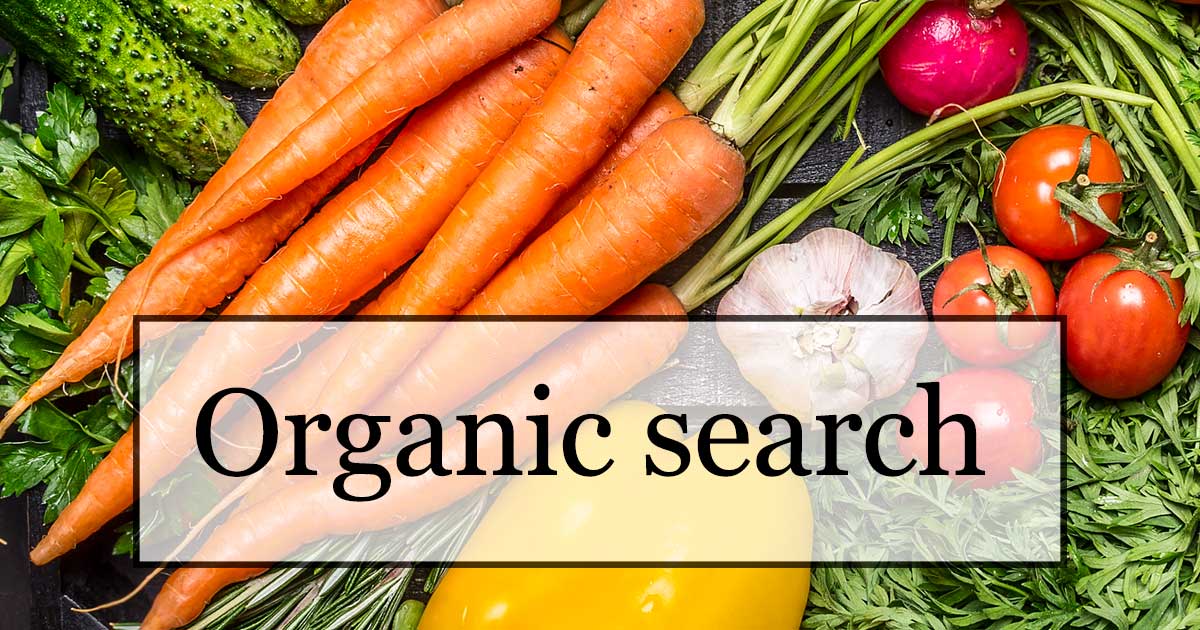 How organic search results are indexed
Google looks to give users the best result when they make a search. That is why Google is by far the most popular search engine.
Over the years marketers have found unorthodox ways to achieve listings – you've probably heard of keyword stuffing.
Google continuously works to weed out black hat practises and strives to improve user experience above all. That is why search engine guidelines exist.
In 2020 Google will also be looking at matching results with the intent of the search, which is why you'll find different results on different devices or if the search has been made in certain countries.
Search engines continuously update algorithms, so optimisation continuously changes.
For the moment gain good organic search results by being clear, informative, honest and open.
Factors that affect organic search results
There are many factors that will have an affect on organic search results. Some of which I have listed here. I extend on each below.
Programming of website.
Hierarchy of categories and pages.
Valuable, up-to-date content.
Page layout including readability and internal links.
Meta-title and description.
Key phrases used within the page.
Inclusion of media.
Back-links and website popularity.
Overall internet presence.
Consistency.
Website programming to improve search results
Good organic search engine rank begins with the programming of the website. Google must be able to crawl the code of the website and easily understand it.
Fast loading websites
Fast loading websites optimised for mobile as well as desktop will be ranked higher.
Mobile users often have a slower connection than a desktop user.
Google knows that a user will not wait for a web page to load, so penalises slow loading websites. Heavy code or large images slow web pages down.
Provide information about the page, first
Providing the information quickly to a user will also get a page ranked more highly than the next. Displaying information at the top of a page, as oppose to a large image, could make a big difference in page rank.
Users spend little time on one web page, as pace of life is so fast.
You may ask yourself "what is the point If someone spends so little time on my site?".
If one page of your site ranks well, the next page will have a higher rank, even if certain elements are not perfect.
People see and recognise your brand as they search the internet over time.
Valuable, up to date content matters
Google provide users with the most relevant web page associated with a search. If a site is not providing that content, there is no way it will rank well.
Users require knowledge, inspiration or entertainment. Google provides.
Contribute by writing articles around your industry, answering questions that your clients ask.
Website copy should always be written for humans, not search engines. Use key phrases that resonate with a target audience.
Each page should have at least one key phrase used throughout paragraphs and headings.
Search engines value quality content and returning visitors. Search engines engage with fresh information.
The website will be penalised if text is repeated on your own site or copied from another website. If you'd like to quote, be sure to credit the author.
Page layout and hierarchy
Include copy on the page in the correct structure, using meta-tags.
Using headers and breaking the text up not only helps visitors to easily read content, but helps search engines to decipher it so they can rank the page.
Page title
The text you see on the browser tab is the page title. This is an important meta-tag that informs search engines about the page topic.
The title tag must to be relevant to the copy on the page, and it is useful to use your targeted key phrase here too.
Page name
Naming a page about garden design "page1.htm" is unhelpful to search engines.
Naming that page garden-design-oxfordshire.htm help search engines to have a clear understanding what the page is about.
Meta descriptions
Meta descriptions should always be used and need to run parallel to the rest of your strategy.
Alt tags
Search engines do not "see" images, they trawl lines of coding.
Save images in a descriptive manner and always add a TAG to it, explaining the what it is. That way it can be clearly distinguished to the search engines.
They will use that name in listings and in Google Images.
Links
The sites that link to your website (inbound links aka backlinks) provide context about the subject of your site and can indicate its popularity.
The more links you have coming in to your website, from quality, relevant websites, the better Google ranks your website.
Links to your website include relevant websites as well as posts on Facebook, Twitter, Pinterest and other social networks.
Links should be accumulated naturally. Taking part in link reciprocal exchange schemes or link scheme (such as link wheels or link pyramids) disregards the quality of the links or the sources. This is in violation of Google's Webmaster Guidelines and can have a negative impact on your site's ranking.
Too many links can have a negative affect on the rank of your website.
DO NOT pay for back links – most of them will be irrelevant and you could be rewarded with a penalty from Google.
Having outbound links to additional information provides evidence that you are including value for your visitors.
User activity demonstrates people are getting value out of your site and that has a positive impact on your search listings.
Remember: you will be penalised by Google for over optimising a website. You need fresh, original content and a well designed website.