Professional website design
Professional website design for a small business. Shaken Oak Mustards have been a client for a number of years, and it was time the website was revamped.
I wanted the website to be delicious, as Shaken Oak manufacture wonderful mustard in all flavours, as a condiment to foods traditional British foods. It certainly makes me hungry!
Not only did we put the 4 mustard sections on the homepage, so they are easy to find, we also used a 'mega menu'. This enables visitors to view the full product list as soon as they hover over the products tab.
The products area has been put together using WooCommerce, so that Shaken Oaks can upgrade to a full shopping site in the future if need be.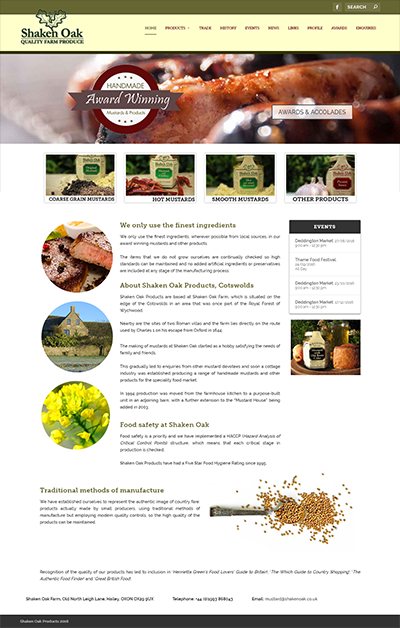 Recipes are available within the product pages, which gives some attraction for search engines.
It was imperative that Bruce had an events area on the website that he could update in-house, as he regularly takes part in food fayres. Event Manager was used so that we could include a Google map to each event. The event list is automatically kept up to date by Event Manager; it deletes old events when they pass.
Bruce has a fabulous profile page, which goes in depth to his background and the background of the company. A key element for Google, as Google rewards transparency.