Business coaching website design
Coaching website design created in WordPress using the Astra theme and Elementor page builder.
Leadership and performance coach Gail Gibson works out of beautiful Malaysia and often Singapore. Gail was born in Australia, and she lived in the UK for several years too, where I was fortunate enough to meet her.
I was honoured to design a website for an influential person such as Gail.
Her open, inclusive, energetic attitude delights me, as well as her mindful approach to her business coaching.
The challenge was to express that through the website whilst keeping a clean, easy to use design with practical elements.
The initial brief was around a WordPress theme which Gail had spotted online.
I suggested a more lightweight theme to keep the website reasonably speedy - better for SEO. I knew I could create the features.
There are "call to action" buttons throughout the website so the visitor can continue their journey.
Photography for business coaching websites
I adore the photos on the Gail Gibson website with Gail dressed in the brand colours. It complements the design so well.
The images were taken virtually during lockdown by Annie Armitage on a virtual photo shoot.
Annie pre-plans the shoot by asking the subject to send over photographs of the intended 'studio' or backdrop.
Via video link, Annie controls the whole branding photography process - all the lighting and angles. She then edits the photos and sends them back, all ready to use across the net.
We can agree that Gail is a great model too.
E-commerce shop to sell business books
Gail Gibson has co-written two self-development books and written one alone, which required a simple shop area.
Woocommerce and Elementor have been used to create the shop's product pages, and Stripe is the payment gateway.
I highly recommend you check the Gail Gibson books out:
Making Connections: How to Network Effectively to Build Better Business Relationships
By Gail Gibson
The Rise of SEE-19™ Leadership: See Beyond and Become the Leader You Are Born to Be
By Kavita Satwalekar and Gail Gibson
The Working Women's Guide to Menopause: When the Heat is On, Don't Sweat It!
By Gail Gibson and Ruby McGuire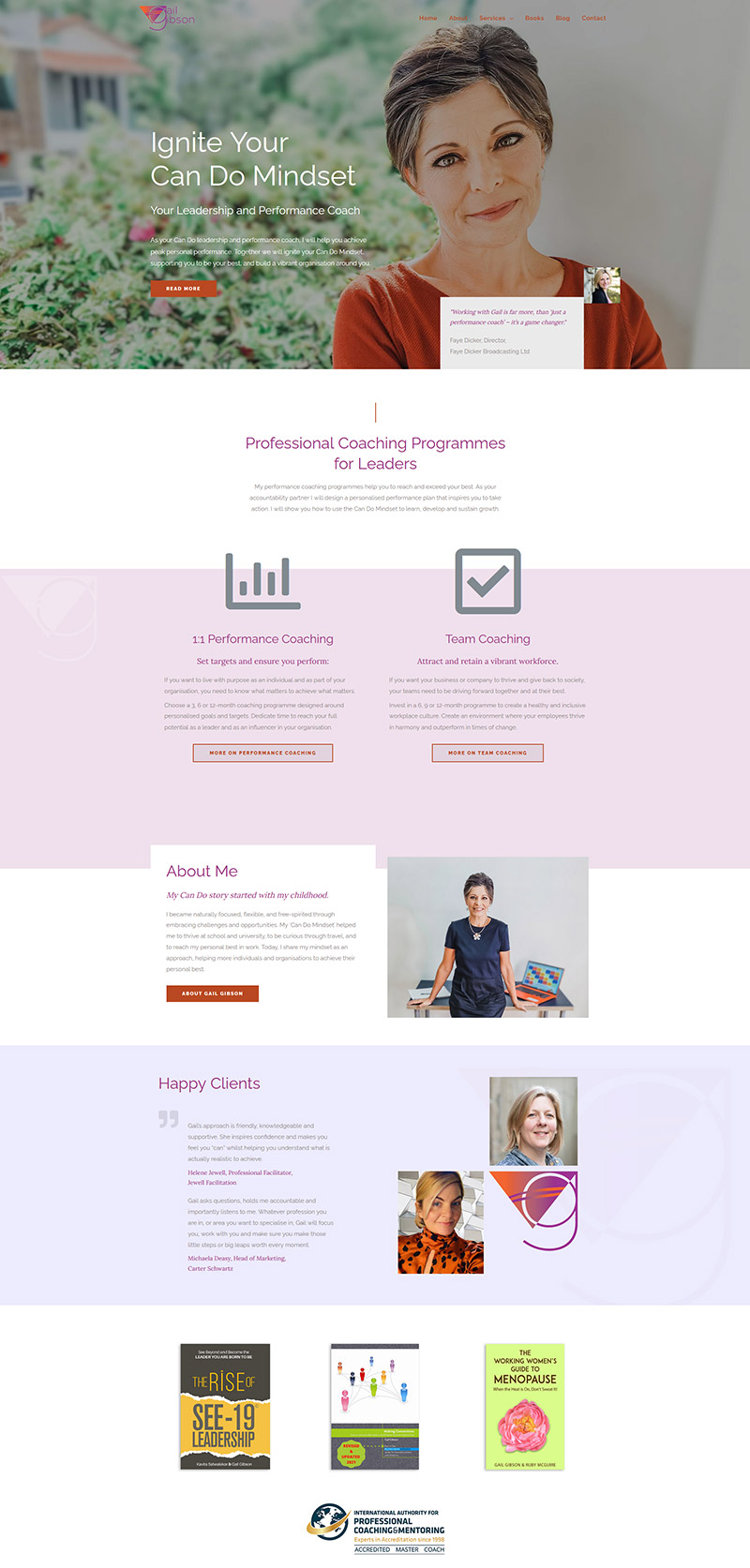 Business coaching blog
Gail's blog is full of helpful business coaching tips and recommendations, but she didn't want to keep all her blog posts from her old website.
I downloaded the old content to back up and transferred what we needed to a new WordPress install. I then added redirects, so people didn't come across 404 errors.
We all evolve in our writing, but I don't recommend deleting blog posts unless you can redirect them to better content.
Gail Gibson podcast, The Can Do Way.
Gail has a regular podcast called The Can Do Way. From across the globe, Gail's guests have stories of growth, resilience, and success.
View more of my web design portfolio