Online vocal coach website
I was pleased to be recommended to Fiona Jessica, an esteemed vocal coach and chart-topping soprano entertainer.
Fiona approached me for a website and blog that she could update herself. She wanted to keep the design clean and crisp.
I've created the website using a WordPress content management system, which means she can log in and keep things updated.
Fiona has lots of ideas for great content that will engage her audience.
A stunning photo of Fiona sits on the home page. I've placed it further down so that it is one of the last things to download on the page. The careful placement follows Google's advice on-page load for Core Web Vitals.
The image has a parallax effect that gives the website some movement.
The about page is essential for a small business to connect with visitors. Fiona wrote this well - it includes some history and her life experiences.
Fiona has a lovely intro video on her vocal coaching page. The video is embedded from YouTube so that it streams easily on any platform.
We've displayed a charity cherished by Fiona - the British Lung Foundation, where she is involved in raising funds via their running, walking and cycling races known as Team Breathe.
Fiona recorded a song called Kindness which is available on iTunes, and all proceeds go towards fighting lung disease.
I genuinely believe that business people can help the greater good by using their online platforms to help chosen charities. Charity support is good for mental health, self-esteem and is likely to sway like-minded visitors into contacting you.
If you are active within a charitable organisation, show it.
Vocal coach blog
Fiona's blog will be full of posts and embedded YouTube videos that teach singing and increase confidence. This kind of content helps the website to rank well and will connect with an audience.
Soprano at Sea
Before Covid struck, Fiona Jessica travelled the world as a cruise ship guest entertainer. She has many fabulous stories of her trips, and she uses her blog to share these with her audience.
The blog is a friendly way to get to know Fiona. It will warm her audience towards employing her and will aid her online exposure.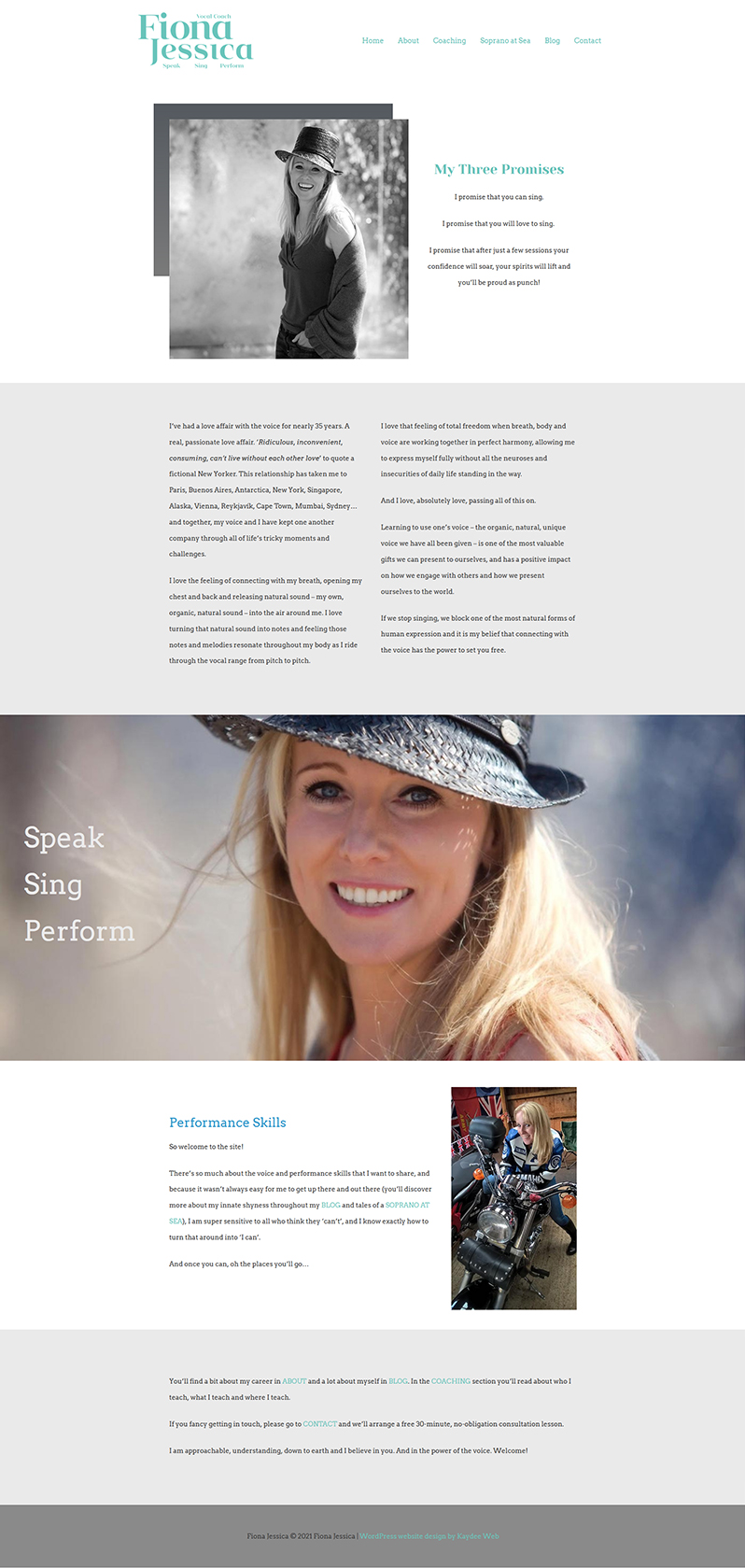 Listen to Fiona Jessica
I encourage you to listen to Fiona's voice: it is incredible. She recorded an operatic piece that featured in the BBC drama Broken. It's called In Paradisum. You can listen to In Paradisum on Spotify in all its glory.
View more of my web design portfolio