A simple tutorial to help beginners in WordPress to create a WordPress post for a blog or news area.
Add a post to your WordPress blog
Once logged in to your admin area, notice the left hand menu. This left hand menu is your way to (almost) everything in WordPress.
In this tutorial we start with the menu item labelled Posts.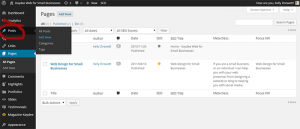 Clicking menu item 'Posts' will take you to a list of posts within your blog, both drafts and published.
To create a new post, either click Add New, at the top of the Posts page, or hover over the menu item 'Posts' and then click Add New.
Create a new post on WordPress
It is a good idea to have already researched a key term, as this should be the title of your post.
What ever you input as the title will become 'slug', unless you change it. A slug is a URL, basically what the page is saved as.
Write effective copy for search engines
Saving a WordPress post as a draft
You can save your post as a DRAFT, which you can come back to later.  I do this whilst I am editing a post, so that it is not live on the site: just look over on the right hand side of the screen, you may have to scroll up as it is at the top of the page. In the publish box there is a SAVE DRAFT button.  Click on that.  The public will not be able to see your post, but it is safely stored in the database now for you to come back to later.
Please note: if you are logged in you will be able to see your post on the front end.  This is so that you can test it.  Also drafts are saved by WordPress automatically.
Categorising your blog post
I may of already set up some categories for you.  Over on the right hand side of the screen, under the Publish box is the Categories box.  It is a good idea to categorise your posts so that your users can find things easily.  Just tick the box next to the relevant category and save your draft.
Add a new category from a blog post
You can add a new category by clicking on the "+Add New Category" link under the Categories box. Don't worry, you will not navigate away from your current post. Just type in the name of your new category, choose a Parent Category if you have one, otherwise just leave this drop down box saying 'Parent Category'.  Now click the button 'Add New Category'.
There will be an automatic tick next to your new category.  This means your post will be listed under that category.
Writing your blog post
Make your post informative and interesting using your keywords. pictures (be sure you have permission to use them) and links.
Publish your blog post
Once you are happy with your post you will need to PUBLISH it.  Look over on the right hand side, you may need to scroll up.  Now click the blue PUBLISH button.
You CAN publish your blog post later. Just look in the Publish box. There is a little calendar icon and it says Publish: immediately.  Click EDIT next to this line.  Choose a date in the future.  Now click the blue PUBLISH button. Your blog post will be published on that time and date.
Blogging can be great fun, and invaluable support for your website. Have a go!